member since April 03, 2005
I am a big fan of Nature, I find myself drawn to her over and over. Photography has given me a new perspective on the world. I try to see the beauty where ever I am.
-Ron Livingston
Bio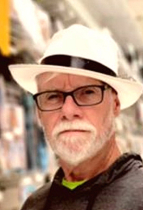 I am a retired middle school teacher. I taught science for 35.5 yrs. in inner city Detroit.
I hybridize hostas. This hobby led me into photography. I continually wanted to improve the photos of my plants. As I progressed, I upgraded my cameras and enjoyed the photography more and more.
I am a volunteer gardener at the Detroit Zoo, and enjoy photographing the animals there.
I recently bought a Canon Rebel T2i, a fabulous upgrade over my older cameras. I love nature and being outdoors. I took up running about a year and a half ago to improve my health and to increase my longevitity.
I would love to be able to sell my photography.
My photo website is www.artinthelens.com
Contact Ron Livingston
Copyright
Copyright for these photos belongs to Ron Livingston
Images may not be copied, downloaded, or used in any way without the expressed, written permission of the photographer.