Lightning
© Jim Miotke, 2002
All Rights Reserved

We are often asked at BetterPhoto "What is the best way to take pictures at a concert or night club?"

My theory as to why we get this question so much is that this subject matter can be quite difficult to shoot. The challenges are numerous and formidable.

The word photography is derived of the Greek words meaning "writing or painting" and "light". If you take away one of these two elements (namely light), you are left with just plain old "writing". When you enter a totally dark concert hall, you are entering the realm that only the most masterful photographers can handle. Night and low-light photography is incredibly challenging - without light, good photography can only be achieved by taking full manual control of your camera and pushing it to do what it "thinks" it cannot do.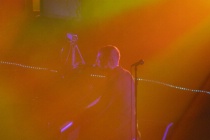 Orange Yellow
© Denise Miotke, 2002
All Rights Reserved

All the same, there are a few tricks and tips that you can keep in mind when trying to get good concert photos. The following techniques will save you a great deal of time and effort when shooting in such low-light situations.


Note: Before you arrive at the concert hall, make sure that cameras are allowed at the venue. Most clubs, auditoriums, and concert halls have adopted a "No Cameras" policy. Also know that generally any pictures you do get from such an event will most likely only be for your own personal or editorial use. A photographer would not be able to sell such photos without a model release.




Forget the Tripod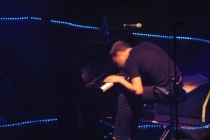 Inches Off the Keyboard
© Jim Miotke, 2002
All Rights Reserved

This is the only time you are going to hear me say that one! As anyone can tell you, I love to tell budding photographers to drag their tripod everywhere they go. This is the one exception.

Tripods are simply too cumbersome and awkward in concert halls, with hoards of people milling about. As an alternative, you can use a monopod - basically a one-legged tripod - but this can still get easily bumped into by your fellow concert-goers. If you are sitting down, you can also use your elbows placed firmly on your knees as your own tripod to steady yourself.


Forget the Flash, Too
Not only will a flash most likely not be allowed (and unnecessarily distract the performers), it will probably do you no good. On-camera flashes are rarely powerful enough to reach the required distance. Taking a picture with your flash will more often than not illuminate nothing other than the back of the head of the person directly in front of you. Your camera will as well be metering for that flashed head in front of you, rather than the band members on the stage further on. With your flash turned on, your chances of getting any decent shots are greatly diminished.


Use a Fast Film Speed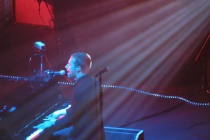 Blue Rays
© Jim Miotke, 2002
All Rights Reserved

Most often in these low-light situations, you are going to want to turn to other techniques such as using a fast film or fast ISO equivalent. 1600 or 3200 should be the numbers in your head when you are preparing for a concert shoot. Don't even think about 100. Sure, your images are going to be grainy or "noisy" compared to a slow speed film, but that just makes them look all the more "cool" or "raw".


Tip: if you are using a digital camera, also remember to turn off the LCD viewing screen so that each resulting image does not light up your corner of the concert hall and distract those around you.

And my number one tip for shooting concerts...


If You Can't Beat 'Em, Join 'Em
Half way through the concert illustrated in this article, I finally faced the fact that very few of my images were going to turn out. After all, even with my ISO set to 1600, I was still shooting at 1/15 or 1/30 of a second with a fully-extended 100-300mm zoom lens. Handheld!

The basic rule of thumb is to use a shutter speed equal to or greater than the focal length of your lens. In other words, if am I shooting at 300mm, I should be using a 1/500 of a second shutter speed. I might be able to get by with 1/250 but 1/15... come on... that just isn't right!

So I paid attention to the lights, trying to synchronize shots when the lights got brighter at times. I also had fun using my zoom lens to zoom in or out as the shutter was clicking. These kind of special effects techniques yielded my favorite image - the one at the top of this page - as well as the images below.


White Light
© Jim Miotke, 2002
All Rights Reserved

Guitarist Triptych
© Jim Miotke, 2002
All Rights Reserved

Drummer, Lead, and Guitarist
© Jim Miotke, 2002
All Rights Reserved
For More Information
Want to learn more? Consider signing up an online photography course here at BetterPhoto.