The BetterPhoto Better-Than-Money-Back Guarantee
100%, No Risk, No Hassle Guarantee: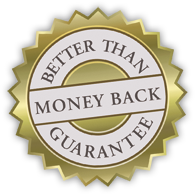 We are so certain we can help you become a better photographer, we back up every offer with a generous "Better-Than-Money-Back" guarantee:
Our Online Photography Interactive Course Guarantee
Having thousands of happy customers behind us, we're confident that you will be delighted with your photography course at BetterPhoto. All the same, our guarantee is straightforward. This is my promise to you:
For our 4-week interactive courses, we offer a 100% money back guarantee before the Wednesday that Lesson #2 is sent out from BetterPhoto. If for any reason you are not satisfied and you let the ordering department know that you would like to withdraw before the Wednesday that Lesson #2 is sent, you will be refunded within 7 days. After the second lesson has been sent out, no refunds will be given. Jim Miotke, Owner

Ready to learn photography and rediscover your creative side? To start your journey, visit the main Photography Courses page to select your favorite photography class.

Our Deluxe and Pro Websites for Photographers Guarantee
Again, everybody tells us they love our Deluxe and Pro Websites. They say they appreciate how quick and easy it is to set up a site. This allows them to get back out photographing instead of stay chained to a computer, working out technical details.
But even more than the speed and ease with which a site can be created, our customers tell us all the time about our amazing customer support and how satisfied they are with the entire experience. We make it easy for our customers to showcase their photos... and they love us for it.
All the same, we stand by our services. In case you are not 100% satisfied and let us know within 14 days, we will refund you the cost of your website, less a $35 admin fee. 100% satisfaction guarantee is about much more than refunds; it is about our promise to you to deliver total satisfaction. If you don't find the site everything you've wished for - and the experience extremely easy and quick - we will refund you and let you transfer your domain name to a new provider. We want, above all, for you to be happy.
Learn how you can get set up with one of our beautiful Deluxe and Pro Websites for Photographers.

Our Monthly Mission Program Guarantees
#1 100%, No Risk, No Hassle 30-day Guarantee:
If you aren't completely thrilled with the Monthly Mission, simply let us know and you can get a full refund. And like everything at BetterPhoto, this guarantee is straightforward. You won't find in teeny, tiny fine print. You don't need a note from your mother. If you aren't happy, simply ask and you'll get an immediate, 100% refund. Period. Take a month to look it over. Read the newsletters. Try the assignments. Listen to the teleseminars. Most importantly, use what you learn and start making some masterpieces! Put it to work until you begin to see a great improvement both in the quality of your photography and your personal enjoyment level. If you are not totally elated with the Monthly Mission or the results, we insist that you get a prompt and cheerful refund.
#2 One Year Guarantee: You will be making images that continue to inspire you for years to come. Like a classic movie, you will return to these images with more and more appreciation over time (rather than less and less). As long as you do the assignments and apply at least one of big principles you learn on a consistent basis, you will be confidently producing at least one awesome photo each month. Be like Ansel. Make it happen. With the Monthly Mission, YOU CAN!
#3 Guarantee of Exceptional Support: We also stand by our customer service. You will never feel alone. You will never be left out in the cold. Members with questions about making great photos will be given a direct, toll-free number and are invited to call our team and get help. This special "concierge" service line will be open Monday through Friday from 8:30am to 4:30pm Pacific time. You can also reach us 24 hours a day with our special, members-only Concierge email address and fax line. Email us or fax us at anytime and you'll get prompt, respectful, and courteous service - the kind of treatment you deserve!
Students who have spent time with Kerry on a workshop, in an online class, or at one of our BetterPhoto Summits know he is a professional who creates balance with a special combination of seasoned professionalism and friendship. That's why we can make these guarantees to you. The entire team stands by our offer to support you in your goals and provide inspiration and guidance.
Learn more about the Monthly Mission program here.