Free Gallery by: Afrodita Ellerman
member since March 26, 2007
No images have been uploaded to this member's gallery yet. Visit the Contest or Galleries to see other images.
Bio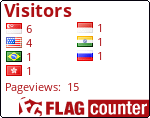 Afrodita's Photography & Art Page


Promote Your Page Too
Contact Afrodita Ellerman
Copyright
Copyright for these photos belongs to Afrodita Ellerman
Images may not be copied, downloaded, or used in any way without the expressed, written permission of the photographer.