Free Gallery by: Alice Lero
member since September 03, 2005
-Alice Lero
Bio
Thank you so much for visiting my gallery!
There are so many wonderful events through the years that have inspired my creative energies.

My passion for photography and art go back as far as I can remember. From the moment my parents gave me my first Brownie camera, put a brush and canvas under the Christmas Tree to my first digital camera about 10 years ago.

My photographs lie somewhere between fact and fiction, reality and imagination and what I feel reflects and enhances the intellectual and or emotional pleasure. A form of ART! Capturing the special moments in my life, the people and places I have been and the excitement of that instant picture is an accomplishment to savor for ever.
I am inspired by the beauty of the world around me. Living in the Tampa Bay Area the Gulf of Mexico celebrates vacationers all year round, with endless sunshine, warm weather and endless opportunities for picture taking and fun.
I hope you enjoy my pictures, believe me when I say, I loved taking them. If you do, please drop me a line and let me know. I will enjoy hearing from you!
Sincerely, Ali ~
You can also find me on Facebook at "Creative Photo Art" by Ali and "Fine Art America" http://www.fineartamerica.com
alice-lero.fineartamerica.com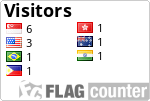 Free counters
Contact Alice Lero
Copyright
Copyright for these photos belongs to Alice Lero
Images may not be copied, downloaded, or used in any way without the expressed, written permission of the photographer.