Photographing Your Paintings Through a Glass, Darkly
With only trial and error as your method of shooting, glass can be a big pain. However, a few simple tips can make your job a lot easier.
First, turn off our flash (you still have that thing on?!?). Next, possibly enlist the help of a filter. Third, watch out for reflections.
Glass, Plexiglas, Non-glared Glass or No Glass
The choices are endless. When it comes to shooting our work, though, nothing beats a painting without any protection on it. Glass of any kind can get in the way of a good photograph. If it is super easy, you can take the image out of a glass frame. If not, don't worry about it; you can shoot around this.
Again the best thing is to turn off the flash. With the flash on, you will need to place yourself at a 45 degree angle and this will be a strict violation of rule #3, Keeping Things Straight.
You may begin to think we have a thing against flash. We don't. In fact, we love it. But only in certain circumstances. As an artist, you want the best and you probably have a keen eye. In this case, using a flash against glass will not give you want you are after; instead your painting will be obscured by a big ugly glob of glare.
| | | |
| --- | --- | --- |
| Glare Alert | | Detail |
Another trick in combatting glare is to use a polarizing filter. This helpful accessory comes in two flavors - one for autofocus and one for manual focus. Both are best used with an SLR but if your point and shoot has threads for a filter (or if you don't mind holding a filter in front of your lens), you can make it work for you, too.
The only other thing you will want to do to make a good exposure of a painting behind glass is to watch out for reflections. It sounds simple but it is easy to completely overlook these at the time you take the picture. To combat this, take a moment and look everything over carefully before shooting. Make a note on your hand if you have to! Tape a little piece of paper to your sleeve that says, "Wait! Look! What am I going to see later that I am overlooking now?" And then adjust yourself, your camera, or your painting until you get it right.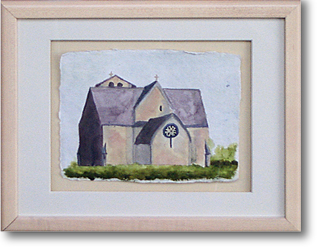 French Church, Just Right
1) How to Photograph Paintings - Introduction
2) Turn Off Your Flash
3) Up Against the Wall
4) Dealing with Frames
5) Dealing with Glass
6) Digital Fixing