September 2001 Photo Contest Winners
Check out these September 2001 contest winners with great photo subjects such as Stones in Heaven, Grasshoppers, Lobster Boats and more. Enjoy!
Grand Prize Winner
Prize: Dreamsuite by AutoFX
First Place Prize Winners
Prize: Tamrac 5201 Camera Bag

© Guy Biechele
Lobster Boats

© Gregory Anzalone
Stripes

© Bob Garas
Grass Hopper
Second Place Prize Winners
Prize: BetterPhoto Gallery or Snappy the Turtle T-Shirt

© Debra Brucker
The Bride

© Trine Sirnes
Stones in Heaven III

© Mike Cahill
Under Fire

© Charles Goldstein
Southampton House

© Mercedez Buzbee
Ray

© Cardone Paolo
Italian Procession

© Vince Lowe
Hang Glider

© Gloria Payne
Let Me Out!

© Lisa Young
The Dome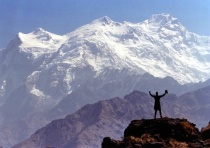 © Simon Kirwan
Himal Chuli
See all the Contest Finalists