Creative Photography Composition Guide, Tutorials and Videos!
---
Stop wasting time scouring the Internet and re-reading books trying to put all the pieces together. Get out of the rut and get on the fast track to making creative photos every time! We have compiled all the most important rules the pros follow (and those they break) ALL IN ONE PLACE.
Creative Photo Composition
Self-Paced Photography Course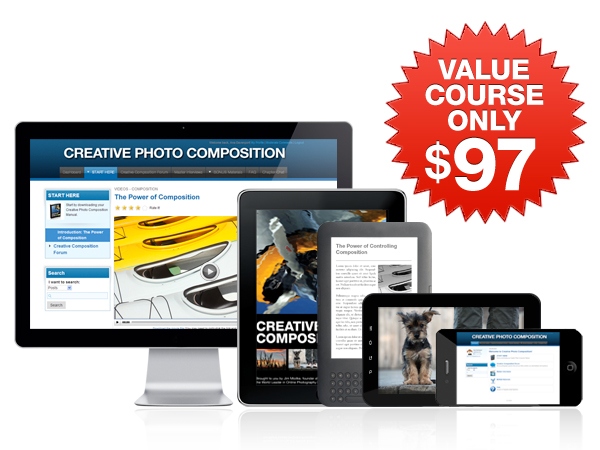 Photography Course
Composition 101

This photography composition and framing course contains 6 chapters full of techniques to change how you shoot and videos with Before and After photos for instant recognition and understanding. PLUS 10 BONUS ITEMS!

Start your journey in photography with an illustrated introduction to the art of photography. With Jim's guidance, you'll find photography easy, fun, and ever-rewarding.


WHAT YOU GET:
74 Page eBook Guide including:
Chapter 1: A Review of the Basics
Chapter 2: Getting Creative I: Point of View
Chapter 3: Getting Creative II: Lens and Format
Chapter 4: Photographing People and Pets
Chapter 5: Photographing Nature and Landscapes
Chapter 6: Wrapping it up & Photo Editing
Videos - Introduction to Creative Composition
01 - Hello and Welcome: What You'll Be Learning
02 - What It's All About: Looking Beyond the Obvious
03 - Doing Whatever It Takes: Tools and Tricks to Get the "Wow" Response
Videos - Making the Subject #1 / Making the Background a Supporting Character
04 - Clear Background + Clear Focus = Surprising Pet Portrait
05 - Isolate and Simplify the Background
06 - Moving In to Make Your Subject Really "Pop!" Off the Plate
07 - Figure Out What Made You Stop... and Magnify It
08 - Moving in and Working the Subject for a Variety of Interpretations
Videos - Subject Placement
09 - Off-Center Subject for Simpler Background and So Much More
10 - Classic Rule of Thirds Subject Placement
11 - Partial Rule of Thirds with Important Background Element
12 - Off-Center Subject Placement with Portraits
13 - Denise Miotke: Moving In Close to Capture the Essence While Traveling
14 - Playfully Photographing: Let Your Soul Sing
15 - Big Picture Lensbaby or Getting Super Close to Details
Videos - Applying Compositional Principles to People, Kids, and Pets
16 - Eyes on the Upper Third (with a Bonus of Great Light!)
17 - Making Exceptions to the Classic Rules... and Having Fun!
18 - Make Sure Full Body Portraits are Indeed Full Body
19 - Working the Subject, Filling the Frame and Getting Eye Contact
Videos - Landscapes, Seascapes, Animals and Details
20 - Where to Place the Horizon
21 - Tight on Details and Graphic Elements
22 - Flock of Seagulls: When to Go Telephoto; When to Include More
Videos - Other Tools to Have in Your Toolbelt
23 - Making Sacrifices: Choosing the Great Over the Good
24 - Making Use of Line
25 - Off-Center with Soft Background for Context
26 - Denise Miotke: Framing with Silhouettes
27 - How to Create Art: Work the Subject, Simplify, and Vary Orientation
28 - Looking Down for Fun Surprises
29 - Denise Miotke: Shadows for Textured Subject or Subtle Background
30 - Finding Details on the Farm
31 - The Rule of Thirds Revisited
32 - A Splash of Color
33 - Saying Yes to Shadows and Goodbye to Unwanted Reflection
You also get these
9 Value Added Bonuses
Shooting Check List
Model Release Two-Pack
Tutorial Take-Along: 8 Ways to Destroy Blur
Tutorial Take-Along: Frame Within A Frame
Tutorial Take-Along: The Pursuit of Light
Tutorial Take-Along: Getting Close With Wide-Angle
Tutorial Take-Along: Anytime Shooting Tips
Tutorial Take-Along: Storytelling Photography
Tutorial Take-Along: Creative Composition
PLUS 3
FREE eBooks!
Inspirations eBook
Camera Phone eBook
BetterPhoto Tips eBook
---
Jim's powerful framing and composition techniques will help you gain control over your digital camera. With this guide, you will become consistently better in:
Simplifying Your Scene
Subject and Horizon Placement
Getting More Creative with Point of View
Moving vs. Zooming
Capturing Candid and Fast Action
Nature Close ups and Details
Tight Portraits vs. Environmental Shots
Landscapes Big and Small
Zoo and Wildlife Photography
Photo Editing
---
What students are saying about BetterPhoto's Self-Guided Value Courses:
I enjoyed the course immensely. It was well worth the money spent. The information was easy to understand and the visual detail expressed through the video and pictures in the composition book made the different subjects that much more interesting and easy to follow. I was thoroughly amazed about how much more I learned about the Rule of Thirds, just by the visual demonstration and examples. I was fully engaged the entire time and enjoyed Jim & his wife's teaching style. In fact, I watched all the video's in two days. It was so much more interesting than just reading a book about photography.
--Faustina M Hartley
I could not have found this at a better time! I am making a huge life change...thank you for the inspirations!

At this point I would like to say that I LOVE this course!! It is simply worth every penny! What really works for me is that I can see and hear as I learn. And afterwards I can read the transcription and thereby remember what I just learned (or go back and read). And thank you, Jim for making it possible to download the videos and transcriptions, so that I can go back and watch and read without having to be online. This is simply a GREAT course in every way!!

This was motivating and a great Reminder. I recently moved out-of-state and have been missing my former "subjects," so the ideas here have inspired me to look outside the box of my normal/previous shooting habits.

So far (I'm half-way through) the book has made a great review and reminder for some of the essential things that I sometimes forget.
---

Introduction to Composition Essentials
A outstanding first step
Learn how to get stunning photos with any camera
See and appreciate beauty
---
This self-paced downloadable workbook gives detailed explanations in Jim's friendly style. People often take along Jim's photography books with them when they go out and shoot because he's such a fun companion. In this self-paced independent course, Jim has distilled all the most important tools you need to make consistently great photos every time!
---
"Make WOW photos NOW!"
Start taking better pictures, using better technique, and getting better results.
Get instant Expertise

$97

FAQ
Are the assignments emailed to me?
Creative Photo Composition is a self guided Fundamentals Photography Course. The book contains many chapters full of techniques to change how you shoot and the results you get. The videos with Before and After photos for instant understanding. You don't have to go anywhere. As soon as you sign up, you immediately be sent a downloadable workbook by email. Then you'll get access to your course with videos and course materials.
Are there assignment due dates?
No - Go at your own pace applying these skills! Techniques are taught by workbook lessons and videos. There are no assignments due. You do not submit photo assignments for review. This is a self-guided course. But you are always free to upload your resulting beautiful photos to BetterPhoto and our fun contest, if you like.
Are there videos and workbook mailed to me?
No. Creative Photo Composition is 100% Internet-based. All images of DVDs and workbooks images represented are intended to show materials you can download from this self guided course.
How do I get the materials and watch videos?
The Creative Photo Composition Manual and Bonus Materials are all available as PDFs. Upon enrollment, you will receive an email with a instructions on how to log in to your Creative Photo Composition Course. All videos are available to view on your device.
How long will I have access to the course?
For one year, at least. The truth is: it's so good, you'll like be out taking amazing photos in no time at all. But if you would like to be able to return to watch the videos and participate, you'll be able to do so as often as you like, for a year (maybe more if we forget to take it down).
What is the refund policy?
Our Course Guarantee is straightforward. If you aren't happy for any reason, let us know within 14 days and you'll get a 100% refund.
Is this different from Jim's 7 books on photography?
Yes, it is revised with new information. Plus, there's a lot of new topics covered too. The photos come from a variety of sources.
Do I need an SLR Camera?
No, you do not need an SLR camera to benefit from this course. This is a fundamentals course but also has advanced content so you can grow in knowledge. The basic photography principals are covered and much much more!
Established in 1996, BetterPhoto was the first to teach photography online and remains the worldwide leader in online photography education.
Get instant framing expertise

sign up for this photography course TODAY