Featured Gallery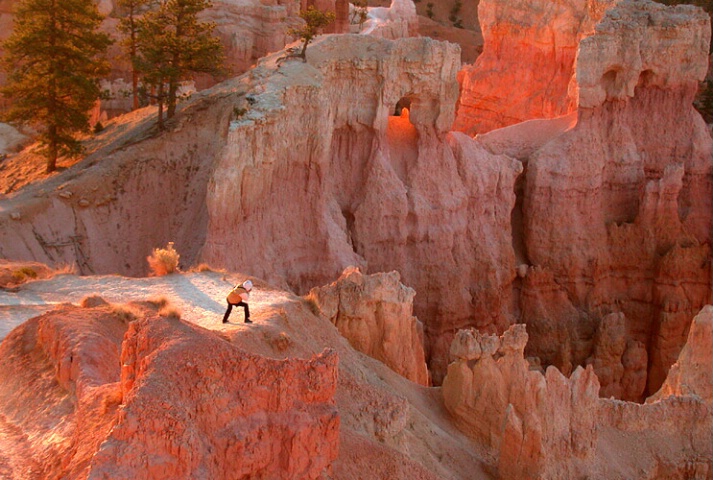 © - Elizabeth Stiles




Welcome to the 263rd issue of SnapShot!

Hello,

Lots of exciting things going on at BetterPhoto.com! The Summer session of our 8-Week Online Classes and 4-Week Short Courses has just been launched and promises to be our best session yet. We are also thrilled with the long-awaited redesign of the site. Some of the main features of the "new" BetterPhoto include better organized navigation, fewer buttons, better drop-down menus, and a faster home page (in fact, faster pages all around!). And, of course, we are looking forward to one of the great photographic events of 2006: the 2nd Annual BetterPhoto Summit. That's it for now ... enjoy this issue of SnapShot, and enjoy your week of photography!


Jim Miotke
Where Is Jim?



Updates From BetterPhoto


8-Week and 4-Week online classes. Learn more... Brenda Tharp and Jim Zuckerman.



Photo Q&A




1: Does Autofocus Follow Moving Subjects?

My next camera will be an autofocus DSLR, which is new territory for me. When it comes to autofocus lenses, will the lens refocus continuously as the subject moves closer/further? I ask because my Olympus digital camera locks its focus and then doesn't compensate if the subject changes distance, i.e. you have to refocus. This is unacceptable for action shots, hence my question. Thanks in advance.

- Steve Beckle


ANSWER 1:

Congrats on your upcoming purchase! An autofocus lens will focus continuously as long as you select continuous focusing with your camera in the menu. This isn't something the lens just does, it has to be selected in the menus. I have a Nikon D70 and I can choose for it to continuously focus or focus just once, then lock. I'm sure they all work the same way but I don't know firsthand.

- Sharon D


ANSWER 2:

Choice of autofocus modes is one of the many advantages of SLR over compact point & shoots. Nikon, Olympus, and Pentax DSLRs have choice of S (single servo locks focus) and C (continuous) autofocus modes. Canon calls their AF modes One-Shot (locks focus) and AI Servo (continuous autofocus).

- Jon Close
Read this Q&A at BetterPhoto.com

Answer this question:





2: How to Remove Date Stamp

I have some really nice photos, but unfortunately the orange date stamp on them spoils them. Is there any way I can easily remove this? Thanks for any info.

- Karen A. Jack


ANSWER 1:

The best way to tackle this would be to use the clone stamp tool. First, duplicate the background layer, since you never want to work directly on your original. Make sure your new layer is highlighted, then select the clone stamp tool. In the Options bar at the top, set the blend mode to Darken (if the date stamp is lighter than the rest of the picture, Lighten blend mode if it is darker) and the opacity to 50%. ALT/click on an area near the date stamp that matches the overall background, and slowly build up the cloned pixels over the numbers. The Darken blend mode means the clone stamp will only affect pixels lighter than the sampled area. If, after going over the area several times, you can still see the edges where the numbers were, up the opacity to 75-80% and go over it again. Once you're satisfied with the repair, save the image with the layers intact (.psd), or duplicate the image, flatten it and save as a .jpeg or .tiff.

- Paul Tobeck
Read this Q&A at BetterPhoto.com

Answer this question:





3: In-Camera Sharpening

I'm sure its been asked before, and I tried to looking at the previous questions, but there are soooooo many! Can anyone advise if I should try to sharpen "in camera" - Canon EOS 350D - Do I go into my parameters and up something, or just stick with PS - I'd really like to reduce some of the time spent in PS. Thanks.

- Robyn Ball


ANSWER 1:

Robyn:
From all accounts that I have read, most people prefer using the "unsharp mask" in PS, or whatever photo editing program you're using. Although the "in-camera" sharpening parameter works, in so doing, it creates little doughnuts or halos that most photographers dislike. If you shoot Raw, you could also use the Digital Photo Professional program provided with your camera. It uses a more complex algarithm than the one in the camera.
As a starting point, if using the 'unsharp mask', try setting the percentage to 50%, the threshold to zero and the radius to about 1.5 - 2.0.

- Bob Chance


ANSWER 2:

Robyn, if you sharpen in-camera, you can't change your mind later and make the image less sharp. Sharpening is a science and an art, and it takes practice, yes, but eventually you'll find it less time-consuming in PS.

- Kay Beausoleil


ANSWER 3:

Sharpening is more art than science, and to leave it to the camera is not a good idea, unless you're just taking snapshots. Different subjects require different sharpening techniques. I use a lot more sharpening on a landscape or flower photo than I do on a portrait, for example. Ask 50 photographers about sharpening, and you'll get 150 different techniques. I have all my regular sharpening routines set up as actions in Photoshop, which saves a lot of time. A great place to start is Dr. Glen Mitchell's .pdf tutorial on sharpening, which can be found here:
http://www.thelightsrightstudio.com/tutorials-pdf.htm
Look for "Putting a fine edge on your sharpening technique" and download the .pdf file. He also has some great free sharpening actions you may find usefull.
Hope this helps - have fun and keep shooting.

- Paul Tobeck
Read this Q&A at BetterPhoto.com

Answer this question:





4: Macro... What Is It?

Does anybody know what macro is? I looked in the user's guide for my camera, and it didn't have anything in there about it. Thanks.

- Zeki J. Ozyilmaz


ANSWER 1:

Macro is a general term for close-up photography. Until modern times, most cameras had mechanical restrictions on just how close you could focus. Generally it was rare for a camera to allow focusing on subjects closer than 24 inches (60cm). Modern cameras with chip logic are able to calculate exposure when close focusing. More importantly, a macro lens is capable of good performance at both standard and close subject distances.
Your camera, equipped with a macro lens, allows you to snap the girl next-door as well as stamps, bugs, and the likes.
Enjoy.

- Alan N. Marcus


ANSWER 2:

The acceptable standard of "true macro" is recognized as having the ability to focus close enough to achieve 1:1 lifesize (or at least 1/2 lifesize).
In other words, if you were to use a film camera to photograph Alan's postage stamp at the closest focusing distance of your lens, you could take the negative (or slide) after processing and lay that same stamp over the photographed one and it would cover it completely. That's 1:1 lifesize.
Many camera/lens manufacturers boast "macro-modes" and "macro capabilities". When shopping for a close-focusing lens, you should check the life-size reproduction ratio they claim to achieve to really determine how close they are designed to focus.

- Bob Cammarata


ANSWER 3:

Hi Zeki;
As of late, it seems that the measurement for macro has become lifesize on a 4X6 inch print. Most true macro lenses are prime lenses. These are single focal length lenses, such as 50mm, 85mm, 100mm. Zoom lenses are rarely macro, though most profess to be. Macro is a great art to undertake. At times, your camera may pick up detail that you cannot see. It's a lot of fun, and very addictive.
Have fun and keep shooting,
Mark H.

- Mark R. Hiatt
Read this Q&A at BetterPhoto.com

Answer this question:





5: Removing Glare in Photoshop?

Does anyone know of any filters for Photoshop that eliminate glare and reflections from a window? Thanks.

- Aingeal M. Puirséil


ANSWER 1:

Remember the old adage - "An ounce of prevention is worth a pound of cure."
This is your predicament. You can prevent this situation by mounting a polarizing filter to your lens when you photograph the scene, thus eliminating any need for post-shooting surgery.
To my knowledge, there is nothing in post software to help you here. Your situation would require a software to try to "guess" what was behind the glare in a window - something for which there is no basis for the software to begin with.
Michael H. Cothran

- Michael H. Cothran
Read this Q&A at BetterPhoto.com

Answer this question:





6: Wedding Photography ... the Ceremony

Where do you stand in the front of the church when the wedding party and bride is walking down the isle? I always feel like I am the center of attention.

- Jodi L. Snyder


ANSWER 1:

You don't normally stand at the front. You stand about halfway down the aisle and shoot them walking at you, and then of them walking away toward the alter.

- Joe B
Read this Q&A at BetterPhoto.com

Answer this question: