Welcome to the 11th issue of PhotoFlash
Hi

With just a couple days before the year 2004 kicks in, I wanted to give you this special bonus issue of PhotoFlash. I hope you have been enjoying a great holiday season and are looking forward to the New Year.
Our Featured Photo, a fun image by Connie Carpenter, takes advantage of controlled blur. It may make you nostalgic of recent fall colors and is an outstanding photo, very deserving of the First Place prize it earned in our recent photo contest.
The featured article by BetterPhoto instructor Kerry Drager shares a few tips and tricks that will help you capture photos with level horizons, which can be difficult especially when shooting expansive wide angle landscapes.
The subject of Brenda Tharp's Where in the World photo is a road stretching off into the horizon. It makes me think of the future stretching off in the distance and will prove to be fun challenge for all of you geography buffs.
Enjoy the featured article and photo, the educational and inspiring photo discussions, as well as our fun Where in the World quiz! And if you haven't already, be sure to check out our new site design, and enter our December contest while you still have a chance.
To read the online version of PhotoFlash at our Web site, visit http://www.betterphoto.com/photoflashes/
Have a great month!
Jim Miotke
http://www.betterphoto.com/MG.asp?ID=124
In This Issue: Tuesday, December 30, 2003
Featured Photo: Classic Fall Colors


Featured Article: Keeping Horizon Lines On The Level - by Kerry Drager
We've all captured photos in which a long, straight horizon line slants in one direction, making it appear as if everything is going to slide right out of the photo. This is an easy trap to fall into - and short of cropping digitally, this can be a tough problem to overcome. This article, by BetterPhoto instructor Kerry Drager ("Beginning Photography II: Making the Most of Your Equipment" and "Field Techniques: Dynamic Outdoor Photography") will show you some of the ways to prevent a tilting horizon.
Read more...


Where in the World?
Can you guess where this picture was taken? If you think you have a clue, try offering a response.
To learn the correct answer to the last quiz - and see who came the closest, visit the previous Where in the World quiz.
Join an Exciting Online PhotoCourse™ at BetterPhoto.com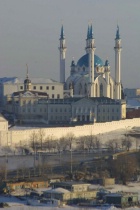 Improve your photographic skills while having a great time making stunningly pretty pictures.

Each of our online photography classes are designed to teach you how to make great photos - whether you shoot with a digital camera, shoot with a conventional camera, use a Polaroid transfer system, or tinker with Photoshop.

With eye-opening lessons, inspiring weekly assignments, and helpful critiques direct from the instructor, you just can't miss with an online photo course. Learn more...
New Photo Discussions

New Photo Discussion 1: Christmas Roses

This is a great shot, Bill! The black background really sets off the flowers and the composition is great. Don't be so hard on yourself!!!
- Joy E. Brown

Visit enJOYphotography.com - Joy's Deluxe BetterPholio™

Response 1:Looks good to me Bill, too. Just try all angles out, try roses without the white baby's breath, experiment, and you'll find many other great pics with these roses!
- Claudia Kuhn

See Claudia's Premium BetterPholio™

Response 2:Bill, I find the image a bit too busy. I like Claudia's suggetion of shooting without the baby's breath. I like the dark background and your exposure is perfect! You've got good detail through the image too. Sometimes though a more shallow dof works in flower images where one flower is in focus and others are blurred. I usually try 'em both ways. Keep shooting those florals... you'll be a flower photographer before you know it!
- Brenda W. LaFleur

See Brenda's Premium BetterPholio™

Response 3:This is a very pleasing image, Bill. The design, light and colors are fine. It is very difficult to shoot an OUTSTANDING flower image because so many people shot flower shots and there are tons of good shots. It usually takes an unusual perspective, a rare flower, stunning light or something that sets the image apart from all the others. These shots are rare indeed! So the best advise and several have already given it to you is to keep shooting and experimenting!
- Murry Grigsby

See Murry's Premium BetterPholio™

Visit mcgphotocards.com - Murry's Deluxe BetterPholio™

Response 4:I have not be able to shoot flowers very well myself. This is done very nicely with the black background and detail. I think one or two roses a little closer would be better. The colors are pretty enough that the white baby's breath takes away from the vibrant roses. Nice job tho. Thanks for submitting because I have learned something too!
- Barbara Bergeron

Response 5:You have done an admirable job Bill... like with all subjects, we need to develop our own style and then practice, practice, practice... I always try to use the existing light to showcase the beauty and lines of my flower subject... again well done Bill
- Gary O`Dell

Visit garysphotoimages.com - Gary's Deluxe BetterPholio™

Response 6:Looks good to me, Bill...you know the only thing I would have done is moved in closer due to my macro addiction*~*!
- Ellen Peach

See Ellen's Premium BetterPholio™

Response 7:You captured the range of color on these roses wonderfully Bill! Since color and shape are the most interesting qualities, I would move in closer to capture even more than you did. See the way the petals curl and you get the color on color effect? Focus in. The baby's breath does make it feel like it's more of a flower arrangement. That back left rose isn't doing anything for your composition, so I'd have removed it physically. I'm like Ellen and like to fill the frame with as much flower as I can get... unless I'm primarily emphasing the shape or composition and the black background really hightlights that. The composition of three on the angle that you chose is a tough one for anyone to pull off, so as Brenda said, selectively focusing on one rose, with the others softer would be nice. I always pull the piece apart and shoot one, then two, and so on until I find different combinations that work. Nothing beats natural lighting near a window if you can get it.

This concludes Lesson #1. Please turn the tape over and continue with Lesson #2. : )
- Patricia A. Kuniega

See Patricia's Premium BetterPholio™

Response 8:Thank you all so much for the suggestions, tips and encouragement. I'll work on the ideas and show you my progress in the future. At least I hope it will be progress ;-D
Happy New Year!
- William Raco

See William's Premium BetterPholio™

Response 9:Wow, Bill, this is not only a lovely photo but a great education in the art of flower photography! Thank you! I like the diagonal line you took here in composing this image as well as the clarity of the shot... looking foward to more!
- Carol Brill

Visit cdubvarsityfootball.com - Carol's Deluxe BetterPholio™

Response 10:This is lovely Bill ~ you are too hard on yourself. I've enjoyed the photo discussion you've started. I agree lots of practice to find your own style. The beauty of digital is you can shoot from all angles and perspective then delete what you don't like. I look forward to seeing more of your work!
- Susan Peek-Swint

Response 11:Bill, one thing I have learned in shooting flowers is to shoot from all perspectives, move your camera around, getting closer, move back a little, move around, turn the flower, and I do love all the suggestions above! A shallow dof, one flower in focus, the others blurred, and creative lighting.

This is a really good start - however, I think it is too complicated. When doing flowers, I find what works best is to keep your compostion really simple, there is just too much flower here. One flower closeup with great lighting and filling the frame would be awesome.
- Susan T. Evans

See Susan's Premium BetterPholio™

Read this discussion online
Respond to this discussion
New Photo Discussion 2: Green Vase

Very nice, Ellen.
- Ed Isaacs

See Ed's Premium BetterPholio™

Response 1:Great imagination and use of the rug and blind studio :0) Terrific abstract, Ellen! Super design and love the translucent green with the B&W tones!!
- Murry Grigsby

See Murry's Premium BetterPholio™

Visit mcgphotocards.com - Murry's Deluxe BetterPholio™

Response 2:Very imaginative and nice lines and shape. You are a brave woman with a white rug!
- Paula Lechten

See Paula's Premium BetterPholio™

Response 3:What's really impressive is all the shadows. There are the ones from the blinds, from the vase and the swirling shadows inside the vase. All with differing intensities and shapes. You are the 'Shadow Woman' Ellen!
- William Raco

See William's Premium BetterPholio™

Response 4:Very well captured interplay of light, shadows, and contrasts, Ellen!
- Carol Brill

Visit cdubvarsityfootball.com - Carol's Deluxe BetterPholio™

Response 5:Excellent lighting Ellen. I really like the colors of the vase and the shadows.
- Darren K. Fisher

See Darren's Premium BetterPholio™

Response 6:WOW! Everyone has said what I was thinking...it's just a wonderful image!!
- Roseann E. Dreasher

See Roseann's Premium BetterPholio™

Read this discussion online
Respond to this discussion
New Photo Discussion 3: Back Door Score

Josh

Your hockey photos are wonderful...We have a new hockey player in our house, our son is 5 years old and just started to play...I was wondering if you would not mind sharing with me the settings you use to get such clear hockey photos with the players so sharp and frozen in action...I have the Canon G2 and I can change my settings but I am not sure which settings are best...What ISO is best for a clear photo..I have attached 4 photos to show you what I got on the auto setting of the camera and action setting...Any help would be greatly appreciated, we would love to have good photos for when he is older so he can see what fun he was having...

Thank You
- Lisa Doyle

See Lisa's Premium BetterPholio™

Response 1:For film or a higher end DSLR, I have done a lot of trial and error. All of my hockey shots are 800-1000 ASA, shooting 1/125 to 1/300 sec. I keep the F/stops all the way open to get the fastest shutter speeds and dull the background. When you see newspaper photos of hockey, the NHL has flashes in all of the overhead lights that are radio controled. (I am trying to find the frequency on my radio slave because it allows them to shoot at 200 asa). For your G2, I would keep it on the highest JPEG for fast writting times. The problem you are going to have in your kids hockey are those windows. You need to figure out your camera's exposure for your kid and then go to manual exposure to keep your kid well exposed. Let's be real-- the little trooper is all that is important. I expose for the players and the ice and take an exposure that is inbetween. The only other hint-- get a monopod. Camera shake is terrible when you are in digital zoom.
- Josh Hudson

See Josh's Premium BetterPholio™

Response 2:Thank You Josh for you help... I have the monopod and will try that along with your other sugestions, I am sure I will have a lot of trial and error trying to get the correct exposure... Should I also change the ISO or leave that on auto?

I love your gallery and Web Site, I showed them to my husband and he also liked them very much...

I would like to thank you again for taking the time to help me out with the hockey photos. Our son will not stay this little for long and we would love to get some good photos that show how much fun he has at this age...
- Lisa Doyle

See Lisa's Premium BetterPholio™

Response 3:I never recommend using Auto for anything when shooting other than the occasional autofocus. Get your ball park information from the camera and then go manual. There is no way you can tell if that 1/125 at f/4.5 is going to stay that way on automatic in an action shot. The computer could change its mind.

Thank you for the kudos on my work. I appreciate it. If you ever know of someone that needs some photography work (weddings to commercial)-- send them my way. I could always use the work.
- Josh Hudson

See Josh's Premium BetterPholio™

Read this discussion online
Respond to this discussion
New Photo Discussion 4: Hang in There

Hi Jean! Not Going To Let Loose Of It!! Great Shot!
- Terry R. Hatfield

Response 1:A cat ACTION shot - excellent!! How did you set this up?? A great idea - I need to work on some action ideas with my kitties too. Good one, Jean!
- Mary-Ella Keith

See Mary-Ella's Premium BetterPholio™

Visit MEBKphotoart.com - Mary-Ella's Deluxe BetterPholio™

Response 2:Thanks, Terry and Mary-Ella! ...usually, around midnight, the cat be-witching hour, I round up any willing participants out of my 4 kitties, and play, play, play with them on the studio table while simultaneously shooting them....if I could find another playmate/wrangler, it would be a lot easier, or maybe a mechanical toy would fill the bill?
- Jean Papo

See Jean's Premium BetterPholio™

Response 3:This is a wonderful image, Jean!
- Evy Johansen

See Evy's Premium BetterPholio™

Response 4:I still dont' know how you get half of these shots (especially all on your own)! This action one is incredible!! Love the open mouth and how he's coming at you!
- Claudia Kuhn

See Claudia's Premium BetterPholio™

Response 5:Thanks, everyone! I am still working on nailing exposure and sharpness with some of these studio type shots. This one could have been a lot sharper throughout instead of where the paw grabs the toy, yet with such a wide open aperture to get more light and freeze the action better, it sometimes isn't possible. Any suggestions on how to accomplish my goals with some studio strobes (at midnightish) would be totally welcomed!
- Jean Papo

See Jean's Premium BetterPholio™

Response 6:Hi Jean! Increase the ISO setting then you can use a smaller aperature (or higher # F stop) for a better depth of field while keeping a faster shutter speed!!
- Terry R. Hatfield

Read this discussion online
Respond to this discussion
New Photo Discussion 5: Queen of the Missions

Nice shot, Anil. Is this a composite? I don't remember roses directly in front of the mission.
- Brian F. Smith

Response 1:No its not a composite. It was taken from the rose garden/display across the street from the mission.
- Anil Sudhakaran

Response 2:Great use of foreground roses for the image of the Mission. The red color of the roses contrasted with the green grass and white of the Mission works very well. Very strong composition and use of color. Good going!
- Kathleen T. Carr

See Kathleen Carr's Premium BetterPholio™
Visit Kathleen Carr's Web Site - KathleenCarr.com

Take an Online PhotoCourse™ with Kathleen Carr:
Polaroid Transfers

Read this discussion online
Respond to this discussion
New Photo Discussion 6: On the edge

On the edge
300 2.8 with 2x extender on tripod, 1/2000 f 5.6 iso 200, taken at the Womens Surfing Championship at Honolua Bay on Maui , Hawaii 12/11/03

© Randy Walton
Nikon D2H Digital ...

From the cliff, huh? Very nice shot, timing and color. You might have wanted to tighten up on the crop to hide more of that close out, but, when you get all that nice blue, it is hard to cut it out. I like your shot.
- Michael Rogers

Response 1:Hi Michael, and thanks for your comments. Yes this was from the cliff in front of the bay looking directly out towards Molokai. This image was uncropped just for the reason you mentioned, the blues were so special with the change of light I didn't want to crop anything out. Glad you like it.
- Randy Walton

Response 2:Yes, Randy, very nice shot. I've photographed from that spot, and you got great color and clarity--love those blues. Good use of a fast shutter speed to catch the surfer at a great moment. And I agree that to crop out those blues would have been a shame.
- Kathleen T. Carr

See Kathleen Carr's Premium BetterPholio™
Visit Kathleen Carr's Web Site - KathleenCarr.com

Take an Online PhotoCourse™ with Kathleen Carr:
Polaroid Transfers

Response 3:Thank you Kathleen! Shot several days from this and other spots. Normally I would have tightened the shot up as Michael suggested but hated to remove any of the great color in this one. Glad you liked the blues too!
- Randy Walton

Read this discussion online
Respond to this discussion
New Photo Discussion 7: Direct

Direct
Late afternoon at home. Now we moved into the open sun. This time we used the posterboard to shield the sunlight from hitting the subject directly, while keeping the beautiful lighting on the background plants. With the light blocked from her face, we were able to get nice open-eyed shots again.

© Fran Klaas
Canon EOS Rebel 20...

Hi Fran, really nice portrait, great use of the reflector.
- Patrick J. Whalen

Response 1:Excellent portrait and explanation, Fran!! Thank you for sharing your technique.
- Len Pierce

Response 2:Wow! Comments from real people! Thanks so much for taking the time. Understanding and using light effectively is my long-standing weak point, thus it's where I need to be focusing. Thanks, Pat and Len, for the encouragement.
- Fran Klaas

Read this discussion online
Respond to this discussion
New Photo Discussion 8: Feeding Frenzy

I love it!!!! GREAT!!
- Carolyn Fletcher

See Carolyn's Premium BetterPholio™

Visit PickYourShots.com - Carolyn's Deluxe BetterPholio™

Response 1:Great image, Bob!!
- Colette M. Metcalf

See Colette's Premium BetterPholio™

Response 2:I didn't know that mice used knives and forks!! Fun image, Bob, like your sense of humor!
- Carol Brill

Visit cdubvarsityfootball.com - Carol's Deluxe BetterPholio™

Response 3:LOL... very creative image, Bob!
- Evy Johansen

See Evy's Premium BetterPholio™

Response 4:Thanks, everyone for your nice comments.
Bob
- Bob Cammarata

Visit cammphoto.com - Bob's Deluxe BetterPholio™

Read this discussion online
Respond to this discussion
New Photo Discussion 9: Moonlighting

Very good pictures
- Erland Pillegaard

Response 1:Great shot!
- Kasia Elser

Response 2:I love this shot Andrew! Great low light siluette. Say, how do you like your camera? I am trying to deside between the Canon 10D and the Sigma SD10. The sigma says it is a 10.3 MP, but it also says 3.3 x 3 for each of the colors which I find totally confusing. How large have you blown up your photos with the Cannon? I need something that can handle at least a 20x24.
- Margaret Z. Wolff

See Margaret's Premium BetterPholio™

Response 3:Thank you both for your comments. To answer your question Margaret, I've only had the camera for a couple days. It was my Christmas gift but I got it early. Anyways I have just been spending the days getting used to it. I have yet to print anything so I can't say how big they will print. I do know that it is very possible to create large prints, how big I don't know. You're better off asking someone with a little more experience with the camera. Thanks again though.
- Andrew L. McClintock

See Andrew 's Premium BetterPholio™

Read this discussion online
Respond to this discussion
New Photo Discussion 10: Roman Numerals

Roman Numerals
I posted this one in the contest today and asked if anyone could guess what it is...I'm doing the same here just for fun! 1/180 @ f8.0, ISO 100, 35mm lens...

© Debbie S.
Canon EOS 10D Digi...

I think it's stairs with railing shadows... am I right? Whatever it is, the beauty of this image is that it's abstract, graphic, and full of design! Nice picture, Debbie!
- Brenda Tharp

See Brenda Tharp's Premium BetterPholio™
Visit Brenda Tharp's Web Site - BrendaTharp.com

Take an Online PhotoCourse™ with Brenda Tharp:
Creating Visual Impact
Beyond the Postcard: Travel Photography

Response 1:
YOU GOT IT!!! I'm attaching another image that shows more clearly what this is, but good looking! And thank you for taking the time to comment and play my little guessing game... maybe I'll see you in one of your classes some time... ;>)
- Debbie S.

See Debbie's Premium BetterPholio™

Response 2:These are pretty cool images, Debbie and it shows you are also really looking at things right at your feet, no pun intended! Good job on the other variation, too!
- Brenda Tharp

See Brenda Tharp's Premium BetterPholio™
Visit Brenda Tharp's Web Site - BrendaTharp.com

Take an Online PhotoCourse™ with Brenda Tharp:
Creating Visual Impact
Beyond the Postcard: Travel Photography

Read this discussion online
Respond to this discussion





The Next Step: Where to Go From Here



If you would like to be featured in PhotoFlash, we look for photo discussions that educate, inspire, and encourage BetterPhoto members. In the spirit of helping others become better photographers, we encourage you to share details, tips, and techniques in your discussions... after all, that is what BetterPhoto is all about - honest answers for budding photographers.

Until next time, thanks for reading and keep having fun with photography!
Jim Miotke
BetterPhoto.com, Inc.

~~~~~~~~~~~~~~~~~~~~~~~~~~~~~~~~~~~~~~~~~~~~~~~~~~

If you would rather not receive PhotoFlash, you may unsubscribe at:
http://www.betterphoto.com/subscribeun.asp?e=

To change your email address, visit:
http://www.betterphoto.com/subscribeCOA.asp?e=