Welcome to the 8th issue of PhotoFlash
Hi

I wanted to first let you all know that I will be joining Shutterbug Radio's Jack and Howard - the Foto Guys - on Friday morning at 8am Pacific time for a live talk about BetterPhoto. No need to dust off the old FM/AM box in your garage. All you have to do to tune into this Web radio ptogram is visit a particular Web site and click the "Listen Live" button:
http://www.fotoguysradio.com
Now, let me ask you a few questions... Would you like to learn how to use your digital or film camera with confidence? Have you been hoping to could better understand technical issues like exposure? Have you been hoping to someday master Photoshop?
Our BetterPhoto online courses are taught by some of the most respected names in photography today. Classes start in two weeks and enrollment is limited, so sign up today. Here are a few course suggestions:
Make the most of your equipment with Kerry Drager's "Beyond Snapshots" course:
http://www.betterphoto.com/photocourses/KRD01.asp
For a packed and informative class on digital black and white printing, enroll with George Schaub at:
http://www.betterphoto.com/photocourses/GEO01.asp
To learn how to use a large format view camera, check out:
http://www.betterphoto.com/photocourses/LEW01.asp
Explore all of our excellent classes at:
http://www.betterphoto.com/online-photography-courses.asp
In the meantime, enjoy the fun discussions on photographic technique that we have pulled aside for you this month!
Oh, one last thing... if you have not seen them yet, check out the August photo contest winners - once again, we have some amazing images to share with you!
http://www.betterphoto.com/contest/winners/0308.asp
To read the online version of PhotoFlash at our Web site, visit http://www.betterphoto.com/photoflashes/
Have a great month!
Jim Miotke
http://www.betterphoto.com/MG.asp?ID=124
In This Issue: Thursday, September 25, 2003
Featured Article: Kerry Drager on The Accessory Photographers Love to Hate
Kerry Drager, the author of the beautiful how-to book, Scenic Photography 101: A Crash Course in Shooting Better Pictures Outdoors, is quickly becoming a favorite instructor at BetterPhoto. His excellent courses include:
Read more...
Where in the World?
Can you guess where this picture was taken? If you think you have a clue, try offering a response.
To learn the correct answer to the last quiz - and see who came the closest, visit the previous Where in the World quiz.
Time Is Running Out: Back to School with a Photo Course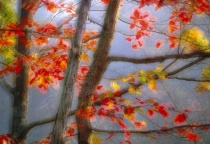 Make this fall a fun one by enrolling in a BetterPhoto photography course! Improve your picture-taking skills while having fun enjoying the fall season - a wonderful time to be a photographer. Each class is focused on teaching you how to improve your understanding of photography through exciting weekly assignments and helpful critiques direct from the instructor. But here is the bad news... enrollment is limited and space is running out in many of the classes. Act today to ensure you get into your first course choice: Learn more...
New Photo Discussions

New Photo Discussion 1: One Bad Apple

Cool image, Mary-Ella!!
- Colette M. Metcalf

See Colette's Premium BetterPholio™

Response 1:There's a show-off in every bunch! A very creative shot. Great job Mary-Ella!
- Patricia A. Kuniega

See Patricia's Premium BetterPholio™

Response 2:How fun! I love your lighting and composition..and that gold filigree apple is a nice touch!
- Roseann E. Dreasher

See Roseann's Premium BetterPholio™

Response 3:Thanks all! I had fun with this one. The gold apple is one of my many "finds" at the local thrift stores. I'm always on the lookout for props for my photography, or stuff I can use in my mixed media art. Those stores can be dangerous!

Here's a question if anyone is reading this - at another site I just had someone comment that the apples looked soft focus - not crisp enough. I used a tripod and everything, and thought they were fine (maybe time to get my eyes checked? Opinions?
- Mary-Ella Keith

See Mary-Ella's Premium BetterPholio™

Response 4:I really like this Mary-Ella, the lighting and compositions are great.

I think that the apples are rounded that the parts that curve away just don't have as crisp an edge as something flat. Maybe the lighting also makes the edges look a bit softer, from the shadowing on the bottom part. Sometimes on other sites it seems that some are a bit overcritical!
- Claudia Kuhn

See Claudia's Premium BetterPholio™

Response 5:Great imagination and execution,Mary-Ella. At 750x500 it's impossible to tell if anything is sharp or soft IMO. Did you lock the mirror-up and use a cable release (or self timer). Sometimes even on a tripod at certain shutter speeds you can get a bit of movement when the mirror slaps up--just a thought. Still an excellent image!!
- Murry Grigsby

See Murry's Premium BetterPholio™

Visit mcgphotocards.com - Murry's Deluxe BetterPholio™

Read this discussion online
Respond to this discussion
New Photo Discussion 2: Busy Bee

Busy Bee
f 2.8, 1/1600, in our garden, tripod would have been helpful with focus!

© Tom Iverson
Nikon D100 Digital...

Tom,
Just a note as I also sent Jean one. I think you both should have tied for first place. All the winners were great but both of you were extra special.
Your Busy Bee is still the Best of Show.
- Dorothy E. Dyer

Response 1:Dot,

Thank you for your kind comments. I think third place is more than I would have expected among such wonderful photographers. I look forward to improving and learning in the next class. Clearly, I am a beginner amongst some really talented people and learning from each of you was an invaluable component to the class.
- Tom Iverson

Response 2:Tom,
You are absolutely right. I too am a beginner and I learned so much from all the critiques but felt I was with some real professional people and at time it could be intimidating but also pretty special.

My next class will be on the Digital Camera which is something I want to learn in and out.

Have fun with your next class. I know you will do great.
- Dorothy E. Dyer

Response 3:I just wanted to add my two cents, Tom... sure a tripod or a slightly extended depth of field might have helped but your focus is almost dead on. More importantly, your composition here is absolutely perfect. Keep up the great work!
- Jim at BetterPhoto.com

See Jim Miotke's Premium BetterPholio™
Visit Jim Miotke's Deluxe BetterPholio™ - Miotke.com

Take an Online PhotoCourse™ with Jim Miotke:
Jim Miotke's Online Photography Classes

Read this discussion online
Respond to this discussion
New Photo Discussion 3: After the Rains

Great rendition of a classic subject, Mark.
- Trevor Roberts

Response 1:Thanks for the kind comment, Trevor. The streambed in this shot is usually on the dryside, but in April/May, this part of Smokey Mountain National Park near Gatlinburg was hit by prolonged heavy rains, flooding many streams and tributaries. The flooding was scary actually, but it added a wet look to this trail (Grotto Falls). I enjoyed the cool mist and breezes actually. The tree canopy protected me from much of the early rains. In the summer, this trail looks more "used", but on this April day it seemed like a small paradise. I took the shot because I could smell the fresh rain water splashing over the rocks. Probably the first time you ever heard that an amateur photographer follows his nose rather than his eyes! I don't know how some people feel, but sometimes the long narrow streams are more inviting to me than an isolated waterfall.
- Mark Lopp

Visit marklopp.com - Mark's Deluxe BetterPholio™

Read this discussion online
Respond to this discussion
New Photo Discussion 4: Tiny Tiny Snail

This is a wonderful capture, Janet. The detail is amazing, given the really tiny size of the little guy. Most of us wouldn't even have seen him, let alone been able to capture him so perfectly!
- Gerda Grice

See Gerda's Premium BetterPholio™

Read this discussion online
Respond to this discussion
New Photo Discussion 5: Sunset in Paradise

Hi Jess...
I have alwayzs had difficulty taking photos of sunsets, I have a few questions if it won't be any trouble to ask.
- what speed film did you use?
- what was your shutter speed?
- the apeture?
- did you use any filter?
- how did you get the colors like that or were they just waht you saw?

Thanks Jess.
- Aravinda Subasinghe

Response 1:I used 400 speed film and I don't quite remember what my shutter speed and aperture settings were. I use a UV filter on all my shots. I didn't manipulate the colors in any way... that's just how the sunset looked. I wanted the foreground to be dark, so I didn't use a flash and if I remember correctly, I used the settings that my light meter recommended. If you want your foreground to be lighter you could use a flash or set your shutter speed slower or open up your aperture more than what your light meter tells you to do.
- Jessica R. Edwards

Response 2:
Hey Jess, thanks for that...

I got this picture - ain't all that good... please let us know how I can improve it. It a photo taken outside my bedroom window.
- Aravinda Subasinghe

Response 3:Hi Aravinda,

You are certainly going in the right direction. I would just do two main things:

1) Watch your corners. You don't want things like that black shape cutting out the upper left corner.

2) And maybe go out scouting for a different location, one that allowed you a bit more compositional flexibility.

Have fun photographing sunsets!
- Jim at BetterPhoto.com

See Jim Miotke's Premium BetterPholio™
Visit Jim Miotke's Deluxe BetterPholio™ - Miotke.com

Take an Online PhotoCourse™ with Jim Miotke:
Jim Miotke's Online Photography Classes

Read this discussion online
Respond to this discussion
New Photo Discussion 6: West, from Windy Ridge

West, from Windy Ridge
Tamron 75-300 @ 300 mm , ISO 1600, 1/125th @ f8, polarizer. The results of scouting--so so photo of a sunset looking out over Spirit Lake into surrounding hills. I was hoping Mt. St. Helens would look good at sunset, but had no luck with that. However, my son and I had a nice evening hike!

© Robert Brown
robertobrownphotography.c...
Canon EOS 10D Digi...

Nice image, Robert! It's pretty amazing that you're able to get that kind of colorful sky with ISO 1600.
- Tony Sweet

See Tony Sweet's Premium BetterPholio™
Visit Jim Zuckerman's Deluxe BetterPholio™ - CorporateFineArt.com

Take an Online PhotoCourse™ with Tony Sweet:
Image Design
Fine Art Flower Photography

Response 1:Yes, I agree with Tony on this one, Robert. Like many of your images, this is composed excellently. I am impressed with what you got out of a "so-so" sunset. And I am also glad to hear it was a good bonding experience with your son ;-)
- Jim at BetterPhoto.com

See Jim Miotke's Premium BetterPholio™
Visit Jim Miotke's Deluxe BetterPholio™ - Miotke.com

Take an Online PhotoCourse™ with Jim Miotke:
Jim Miotke's Online Photography Classes

Read this discussion online
Respond to this discussion
New Photo Discussion 7: Shadows and Curves

Great find, Leanne!!!
- Colette M. Metcalf

See Colette's Premium BetterPholio™

Response 1:Hey Leanne I like your composition, along with the shadows and textures you have captured. Just a suggestion here and I hope you do not mind. I might would take this into PS and darken it just a tad and maybe some more contrast.
- Darren K. Fisher

See Darren's Premium BetterPholio™

Response 2:Very creative composition Leanne! Cool image.
- Jim Damare

See Jim's Premium BetterPholio™

Response 3:Darren: Don't mind a bit - thanks for the suggestion.

Dottie, Jim, Charlene, and Murry - Thanks for stopping by.
- Leanne M.E. Boyd

See Leanne's Premium BetterPholio™

Read this discussion online
Respond to this discussion

New Photo Discussion 8: Long Shadow of a Surfer

Great perspective and composition with much eye appeal...wonderful work Patricia!
- Warren Ishii

Visit HawaiianIslandImages.com - Warren's Deluxe BetterPholio™

Response 1:Coming from the Hawaiian Island Image master, this means a lot. Thank you very much, Warren!
- Patricia Marroquin

See Patricia's Premium BetterPholio™

Response 2:I love this one, Patricia! Wonderful use of dynamic lines and colors! But, you're surely wrong with the date - november 2002 - where is the snow?
- Jean-François Schmutz

See Jean-François's Premium BetterPholio™

Visit jfsphotos.com - Jean-François's Deluxe BetterPholio™

Response 3:Nice job, Patricia, you had a quick eye and an even quicker finger on the shutter! Great image!
- Carol Brill

Response 4:Wonderful angle, colors, composition and detail, Patricia. What a spot!
- Ronald Balthazor

Visit balthazorphotography.com - Ronald's Deluxe BetterPholio™

Response 5:Excellent image. I love the lighting along with the layers you have captured not to mention the human elemant so very well placed.
- Darren K. Fisher

See Darren's Premium BetterPholio™

Response 6:Patricia, I think this image has it all. Great lines, subject, natural colors and beauty. Really nice!
- J W. Robinson

Read this discussion online
Respond to this discussion
New Photo Discussion 9: Red Dawn

Beautiful colors.
- Theresa McCloskey

See Theresa's Premium BetterPholio™

Response 1:I knew this was yours even before I scrolled down to your name. I love the way it has 2 colors at first glance, then has a multitude of them. I like the way it appears to have a mirror image both on a horizontal axis and a vertical one, makes your eye just flip all over the image.
- Brian T. Martin

See Brian's Premium BetterPholio™

Response 2:Just the place and time I'd like to be. Makes me dream. Thank for sharing such a beautiful image.
- Nicole S. McGrade

See Nicole's Premium BetterPholio™

Response 3:I love the tone of this beautiful image...fantastic job Gary!
- Warren Ishii

Visit HawaiianIslandImages.com - Warren's Deluxe BetterPholio™

Read this discussion online
Respond to this discussion





The Next Step: Where to Go From Here



If you would like to be featured in PhotoFlash, we look for photo discussions that educate, inspire, and encourage BetterPhoto members. In the spirit of helping others become better photographers, we encourage you to share details, tips, and techniques in your discussions... after all, that is what BetterPhoto is all about - honest answers for budding photographers.

Until next time, thanks for reading and keep having fun with photography!
Jim Miotke
BetterPhoto.com, Inc.

~~~~~~~~~~~~~~~~~~~~~~~~~~~~~~~~~~~~~~~~~~~~~~~~~~

If you would rather not receive PhotoFlash, you may unsubscribe at:
http://www.betterphoto.com/subscribeun.asp?e=

To change your email address, visit:
http://www.betterphoto.com/subscribeCOA.asp?e=