Welcome to the 7th issue of PhotoFlash
Hi

We have four new exciting courses added to the Fall line-up - classes on everything from large format photography to photographing wildlife. Our newest instructors include George Schaub, Lewis Kemper, and Tom & Pat Leeson.
Tom and Pat Leeson and internationally recognized masters of wildlife photography. Their course will teach you how to capture those "once in a lifetime" wildlife moments. The course includes how to find photographable wildlife, stepping beyond ID photos, being prepared for action, and much more.
http://www.betterphoto.com/photocourses/LSN01.asp
Do you want to get the most out of your large format camera? Or have you been considering taking up this kind of photography? Then join Lewis Kemper to learn how to use a view camera to make great lareg format photographs. Topics include lens choice; rise and fall; tilt, shift, swing; and developing a workflow.
http://www.betterphoto.com/photocourses/LEW01.asp
Check out all of our classes at:
http://www.betterphoto.com/online-photography-courses.asp
Also, we have posted the July photo contest winners. Congratulations to Tony Gough and all of the truly amazing photographers who placed as winners or finalists. Incredible and inspiring work!
http://www.betterphoto.com/contest/winners/0307.asp
Lastly, let me ask for your feedback on something: we are considering changing the format of this newsletter to allow digital camera photographers. Since most of the principles of photography are the same, whether you shoot with a digital camera or not, we might change the Digital Picture to just be all about Digital Art - manipulating images in programs like Photoshop. This would mean PhotoFlash would be all about shooting technique - regardless of what kind of camera you use. What do you think? Drop me a line at the link below and let me know your thoughts.
Enjoy the great photo discussions this month!
To read the online version of PhotoFlash at our Web site, visit http://www.betterphoto.com/photoflashes/
Have a great month!
Jim Miotke
http://www.betterphoto.com/MG.asp?ID=124
In This Issue: Tuesday, August 19, 2003
Featured Photo: blue blue feelings


Featured Article: New Search Engine at BetterPhoto.com
Okay, so it's not an article but... Yahoo, anyway! We now have a new search engine at BetterPhoto.com! Use this new tool to find the courses, discussions, camera reviews, Q&A, and photos you have been looking for. You can also use it to locate cameras and other gear to buy at Amazon.com. You will find this new search box near the upper left corner of each page. Give it a spin!
Read more...


Where in the World?
Can you guess where this picture was taken? If you think you have a clue, try offering a response.
To learn the correct answer to the last quiz - and see who came the closest, visit the previous Where in the World quiz.
Back to School with a Photo Course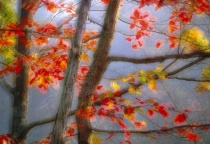 Make this fall a fun one by enrolling in a BetterPhoto photography course! Improve your picture-taking skills while having fun enjoying the fall season - a wonderful time to be a photographer. Each class is focused on teaching you how to improve your understanding of photography through exciting weekly assignments and helpful critiques direct from the instructor. Learn more...
New Photo Discussions

New Photo Discussion 1: Puppy Dog

Puppy Dog
My Brother's English Mastiff. Shot @ night. Exp. not recorded.

© Andrew L. Indelicato
Nikon N80/F80 SLR ...

Congratulations Andrew,
cheers from Portugal, Su
- Susana Matos

See Susana's Premium BetterPholio™

Response 1:Yes, congratulations on making it to the finalists. I really enjoy this photo, Andrew. The strengths are in: a) that you used the Rule of Thirds to place your subject in an interesting unique spot in the composition; b) you used the shadow lines to lead the eye to the subject; and c) the expression is humorous - you caught just the right moment.

If I had any suggestions, it might be to experiment more with you point of view. Shoot from a low vantage point instead of a typical human height.

Really, really fun photo. I know you mentioned that no exposure settings were recorded but can you share anything else about it with us - were you consciously trying to use the Rule of Thirds and line to your advantage?
- Jim at BetterPhoto.com

See Jim Miotke's Premium BetterPholio™
Visit Jim Miotke's Deluxe BetterPholio™ - Miotke.com

Take an Online PhotoCourse™ with Jim Miotke:
Jim Miotke's Online Photography Courses

Read this discussion online
Respond to this discussion
New Photo Discussion 2: Safety Harbor Church

Really nice. Like the way you framed the door with the tree and the flowers.
- Stephen Zacker

Response 1:Thank you! This church has so much character! It was built in 1905. As I walked up to it, this was what I was looking at. I set my tripod down and took the shot! Thank you for your nice comments!
- Paula M. Showen

See Paula's Premium BetterPholio™

Response 2:What a beautiful shot... I too love the tree, angle, curve of the steps, lighting... your framing is wonderful!:~)))
- Suzie Strasburg

See Suzie's Premium BetterPholio™

Read this discussion online
Respond to this discussion
New Photo Discussion 3: Joy!

Expression, lighting, composition and the choice of B&W make this a great pic, Marica.
- Tony Gough

See Tony's Premium BetterPholio™

Response 1:Yes, the expression just shines! I love the wildness of her hair and that you are "seeing though" this to her joyful character. How did you capture that natural expression? Did you have to expose a plethora of images to keep this keeper?
- Jim at BetterPhoto.com

See Jim Miotke's Premium BetterPholio™
Visit Jim Miotke's Deluxe BetterPholio™ - Miotke.com

Take an Online PhotoCourse™ with Jim Miotke:
Jim Miotke's Online Photography Courses

Read this discussion online
Respond to this discussion
New Photo Discussion 4: Mist, Flowers and Favorite Fishing Hole

Mist, Flowers and Favorite Fishing Hole
f22, 1/30", Pentax 28-80 zoom @ 50mm, Richfield Springs, NY, mid-morning

© Allan L. Plucinik
Pentax ZX-M Manual...

Pretty scene Allan. I like the color and soft look it has.
- Lori Ditlefsen

See Lori's Premium BetterPholio™

Response 1:I really like this, the colors and the mood. Very nice!
- Gail Cimino

Response 2:I love the mood-setting scene you've created, Allan! Nice job!
- Patricia Marroquin

See Patricia's Premium BetterPholio™

Read this discussion online
Respond to this discussion
New Photo Discussion 5: Knock... Knock... Knock

Excellent A.Aziz!!! I like the carving, texture, and design.
- Leanne M.E. Boyd

Response 1:Love this shot, Aziz! I also love the carving, texture and design!!
- Jean Papo

Read this discussion online
Respond to this discussion
New Photo Discussion 6: Sunset over Paris

You've certainly shown off the Seine and the city... the yellow reflection is so very nice. Lovely photo!
- Mary K. Robison

Response 1:Just beautiful, David. Incredible shot.
- Judith G. Secco

See Judith's Premium BetterPholio™

Response 2:Yes, simply gorgeous composition. How do you like the Velvia, David? Have you tried Kodak's E100VS? Lastly, what do you use to scan these slides (and how do you like it)?
- Jim at BetterPhoto.com

See Jim Miotke's Premium BetterPholio™
Visit Jim Miotke's Deluxe BetterPholio™ - Miotke.com

Take an Online PhotoCourse™ with Jim Miotke:
Jim Miotke's Online Photography Courses

Read this discussion online
Respond to this discussion
New Photo Discussion 7: Father & Daughters

Wonderful image, Michele!
- Evy Johansen

Response 1:Thank you Evy! I took this the other night when I was doing family portraits of my good friends here from England. When I got this image, I fell in love with it, and so did they. I didn't even have to beg them to post this for the contest, they encouraged me to do so and couldn't wait to see their image on the web!
- Michele A. Katcher

Read this discussion online
Respond to this discussion
New Photo Discussion 8: Checkin the Fields

Checkin the fields
taken just before sunset, by my son, sepia toned, exposure not known

© Angie Wittmer
Pentax K1000 Manua...

Really a wonderful scene and really well done in the sepia.
- Jean Crombie

See Jean's Premium BetterPholio™

Visit PhotographybyJean.com - Jean's Deluxe BetterPholio™

Response 1:Thank you Jean!!! I appreciate your wonderful comments!!
- Angie Wittmer

Response 2:Yes, I really enjoy the sepia tone here, as well as the overall sentiment. The horizon is a little askew - you could that make that level in Photoshop or a program like it.

But the overall messege is so well-captured - and so loud and clear - that the horizon hardly matters. Sweet shot.
- Jim at BetterPhoto.com

See Jim Miotke's Premium BetterPholio™
Visit Jim Miotke's Deluxe BetterPholio™ - Miotke.com

Take an Online PhotoCourse™ with Jim Miotke:
Jim Miotke's Online Photography Courses

Read this discussion online
Respond to this discussion
New Photo Discussion 9: Red Storm Clouds

Red stormclouds
I took this picture just after a storm. I fell in love with the colors of the cloud along with the sun going down.

© Tammy Howard
Minolta XD-11

Wonderful pic, Tammy. I love the colors. You have captured them beautifully. Great work!!!
- Roxanna Lehman

Response 1:I love the colors too Tammy. Nicely captured!
- Jean Crombie

See Jean's Premium BetterPholio™

Visit PhotographybyJean.com - Jean's Deluxe BetterPholio™

Response 2:Thanks, Roxanna and Jean for your comments. I enjoy taking pictures like this one. It's one of the things that I do - watch the sky and the clouds the way they take shape. Glad you enjoyed.
- Tammy Howard

Read this discussion online
Respond to this discussion
New Photo Discussion 10: Surf's Up In Flagler

NICE action shot!!
- Roseann E. Dreasher

Response 1:Yes, I am especially impressed knowing that you shot it with a medium format camera. At least the 645N has the autofocus capability.

Do you have any tips for beginning medium format photographers who want good action shots like this?
- Jim at BetterPhoto.com

See Jim Miotke's Premium BetterPholio™
Visit Jim Miotke's Deluxe BetterPholio™ - Miotke.com

Take an Online PhotoCourse™ with Jim Miotke:
Jim Miotke's Online Photography Courses

Response 2:Great Capture. It is neat seeing a surfing shot in B&W!
- Stephen Zacker

Response 3:In answer to Jim's question about shooting like this: It really helps if you have very fast reflexes. You must concentrate on the action and recognize a good shot as it is coming to you, not after it comes. My longest lens is a 400 FA 5.6. Even though I was standing in the water as deep as I dared, these surfer shots had to be cropped 30 to 50 percent to get a half-way tight framing. I have been shooting whitewater rafting and kayaking for several years. This was my first surfing shoot since 1978. Practice, practice,practice!
- Toni A. Martin

Visit tonimartinphotography.com - Toni's Deluxe BetterPholio™

Read this discussion online
Respond to this discussion





The Next Step: Where to Go From Here



If you would like to be featured in PhotoFlash, we look for photo discussions that educate, inspire, and encourage BetterPhoto members. In the spirit of helping others become better photographers, we encourage you to share details, tips, and techniques in your discussions... after all, that is what BetterPhoto is all about - honest answers for budding photographers.

Until next time, thanks for reading and keep having fun with photography!
Jim Miotke
BetterPhoto.com, Inc.

~~~~~~~~~~~~~~~~~~~~~~~~~~~~~~~~~~~~~~~~~~~~~~~~~~

If you would rather not receive PhotoFlash, you may unsubscribe at:
http://www.betterphoto.com/subscribeun.asp?e=

To change your email address, visit:
http://www.betterphoto.com/subscribeCOA.asp?e=