BetterWorkshop: Washington Tulip Festival - One-Day Tulip Tromp
with Jim Miotke
Toll-free order processing: 1-888-58-ORDER (888-586-7337)
This workshop is currently FULL

Red Tulip Trio
© Jim Miotke

Get to know Jim Miotke and help him celebrate BetterPhoto's 10-year Anniversary this April at the annual Skagit Valley Tulip Festival in Skagit County, Washington. April 14th, 2006, 7:00 a.m. to 3:00 p.m.

Join our combination on-location/online photography adventure!
Limited to only 12 participants

One full day of shooting. Lunch is included, along with a special treat of the best ice cream around!
Learn Jim's Top 10 Tips for shooting flowers and landscapes/scenics, under different lighting conditions, while using such techniques as the rule of thirds, getting up close, etc.
Post-Workshop Bonus: After the tour, upload 5 of your favorite tulip shots to a special Web page - for review by your fellow workshop participants and for critique by Jim!

Rule Of Thirds
© Jim Miotke

$189.00 USD - Sign up today! Space is limited. (Price includes ticket entry to Roozengaarde Park, lunch, and ice cream!)

Photographer, author and BetterPhoto founder Jim Miotke is excited to announce this first-time Tulip Festival workshop. Open to both digital and film photographers, this one-day workshop will allow local Washington state and surrounding area photographers - or anyone for that matter - the opportunity to join Jim and members of his BetterPhoto team to photograph one of the most beautiful attractions in Washington!

The Tulip Festival draws tourists from all over the country. This is a photographer's dreamland full of vibrant colors, scenery, special events, and more. Not only can you touch up your skills in landscape photography, but also macro and detail photography. Jim will teach you tips and tricks for working in different lighting conditions, getting those low-angled flower shots, capturing dynamic landscapes, etc. Plus, you'll learn what to look for that will set your photos apart from those of all the other tourists!


Red Open Tulip
© Jim Miotke

Tulips from Below
© Jim Miotke
Unique to this one-day workshop is that this is BetterPhoto's 10-year Anniversary Celebration! You will learn Jim's Top 10 Tips and Tricks firsthand! What better way to learn then from the source himself? Not only that, but consider that this will be a fun day with fellow photographers, enjoying the scenery, giving your creative vision a great workout, and getting to know Jim as well as some of BetterPhoto's team members.
Share your photos together as well as your own tips you might have up your sleeve. This is a great opportunity to get out there, have some fun and learn to take BETTER photos!
The Schedule ... What Schedule?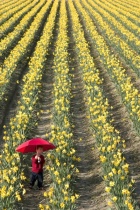 In Daffodils
© Jim Miotke

The on-location workshop will start at 7a.m. This will allow you to capture that early morning light with the beautiful fields of color, and also allow you to beat most of the foot traffic. This will be different then our other workshops: Since it is a one-day shoot, it is on a more relaxed schedule.

We will drive to different fields and locations to capture as much of the vibrant colors and scenery as we can. There is no set time to be at certain locations. Caravan is the key word here. Expect a lot of walking as well. We must follow the Tulip Festival parking rules, which means we might have to walk a bit in order to get to certain locations in the field. However, the Festival has parking all over and close to almost all of the fields.

The tour will cover a large variety of tulip and daffodil fields, including Tulip Town and Roozengaarde, the two largest and most popular sites. Do not worry, though, because we will be going to some of the smaller fields as well - very beautiful, but ones that often go undiscovered by the typical tourist.

All of these fields are so different from one another, due to color, background, solid color, mix of color, etc. This will give you the opportunity to capture as much variety as you can. That is the great thing about the Festival - there is something for everyone.




Wait! There's More ...


Festival Scene
© Jim Miotke

After the Workshop: As a special bonus, once you return home and have time to sort through your amazing collection of images, you will select your favorite 5 images and upload them to a special Web page at BetterPhoto.com.

From there, the entire workshop participants - including Jim - will be able to review and critique your photos created at the festival!

What a great way to share your colorful story of photos, interact with your workshop friends again, and then receive lots of constructive feedback for improving your photography!


What to Wear
Bring appropriate clothing, as it does tend to rain a lot and the fields could be muddy. Also, the temperatures can vary, so be sure to dress in layers. And in case you plan to get down and dirty (literally) - in order to capture some fantastic ground-level flower shots - you may wish to include a small plastic tarp.




Tulip Festival Information


Yellow & Pink
© Jim Miotke

The Tulip Festival offers a lot more than taking pictures, too! There is a huge schedule of events throughout the month of April. Visit www.TulipFestival.org

Make a Weekend of It:
Would you like to stay in the area for a few days? There are a plenty of shops in local area towns including LaConner, Anacortes and Whidbey Island. All of these locations provide a beautiful atmosphere, dining options and shops, as well as more photo opportunities.

List of Hotels in the Area:

Sign up today to take advantage of this unique opportunity!




How to Sign Up
This workshop is currently FULL

This fee includes photographic instruction, lunch, and entry to Roozengaarde, but does not include airfare, ground transportation (we will carpool), or other travel-related or photography-related expenses.




Payments, Refunds, & Cancellations


Soft Portrait
in Tulips
© Jim Miotke

To reserve a spot, the total fee of $189.00 is due at the time of registration.

There is a $25.00 per person non-refundable administration fee that will be applied for cancellations made up to 10 days prior to the event. For cancellations made less than 10 days prior or for no-shows, we will retain the entire balance paid.

BetterPhoto reserves the right to cancel any program that does not meet minimum participant requirements, in which case participants will be informed as soon as possible and all money will be refunded.

BetterPhoto is not responsible for any losses incurred as a result of a course cancellation. We encourage participants to purchase refundable airline tickets and consider purchasing trip cancellation insurance.




About the Instructor

Jim Miotke is the photographer/writer behind BetterPhoto.com and author of The BetterPhoto Guide to Digital Photography and The Absolute Beginner's Guide to Taking Great Photos.
He is also the author and photographer of the DVD, Digital Photography Unleashed: Capturing Wildly Great Photos. And Jim teaches an excellent online course right here at BetterPhoto: Digital SLR Photography
Also, Jim is the host of a weekly podcast - The BetterPhoto Digital Photography Show - in which he shares tips and techniques on photography. To learn more about Jim, visit his Premium Gallery or his Deluxe Web Site.