When did you know you finally "made it" as a professional photographer?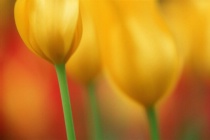 Soft Yellow Tulips
© Tony Sweet
All rights reserved
Tony Sweet:
I'm not sure what that means, but buying a new house from my photography income contributes greatly to defining "making it"!
You mentioned you had a mentor help guide you as you were getting started. How important do you think it is to work with someone like this?
Tony Sweet:
Very. You can read all the books you want and go to as many classes as you want, but having someone take a personal interest in your growth by shaping your knowledge and skills is invaluable and an incredible experience. One cannot pay for and get the quality education given freely by a trusted, caring, and knowledgeable mentor. I am aware of how fortunate I was getting started and try to pass that generosity on when teaching my own workshops.
Do you remember your first photography sale?
Tony Sweet:
Vividly! I sold a rainbow photographed in Colorado, now a successful stock image. It was to the Gibson Greeting Card Company. I was pretty stoked!
I thought I was on my way!!

But, there were many months between my first and second sale.
How did you get your first book deal?
Tony Sweet:
Interesting question. I've always felt that photography books have too much text and have always gravitated to books that were more direct, with no padding. I've had the design idea for Fine Art Nature Photography for many years before it's publication.

Once I had the imagery and a more crystallized concept, I printed a 10-page layout of the book with images and text, designating book size and the square format.

I sent it along with a brief letter to 10 publishers. Stackpole Books responded within two weeks and Fine Art Nature Photography was born. The format was such a success that it was repeated with Fine Art Flower Photography (published in April 2005), and two more books are in the works.
What is one of your favorite places to travel to take photographs?
Tony Sweet:
There are many favorites, depending on time of year. The White Mountains in the fall and winter for their incredible fall color and heavy packed snow covering the mountainsides and icy streams and rivers in the winter.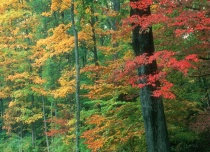 Fall
© Tony Sweet
All rights reserved

The Great Smoky Mountains in the springtime are breath taking. The dogwoods and early spring green are wonderful and the early spring green reflections in the rivers look like liquid mercury!

Maine and Nova Scotia in June are tremendous because there are acres and acres of lupine interspersed on the coast and in the fishing villages.

Coyote Buttes in December/January because of the warm light striking "The Swirl", is warmer than any other time of year because of the low angle of the sun peaking through a break in the mountains.

You get the idea. It's not where you go, it's when you go there.
You teach on-location workshops as well as on-line classes. What do you like about these two ways of interacting with students of photography? Do you prefer working with people in person?
Tony Sweet:
These are two very different situations and can't be compared head-to-head. But, let me say this. After years of conducting workshops and teaching at various venues, I was as skeptical as anyone of the efficacy of on line classes. But, I was very quickly convinced of what a powerful teaching tool the on line classes are. Location workshops offer the advantage of being in a face-to-face situation with the instructor which, as we all agree, is great. The on line class format enables anyone on earth to interact with some of the best photographers in the world, certainly some of the best ones I know are here on BetterPhoto.com, and get valuable critique information which is proven session after session to improve the students photography. It's really not a question of which format is best. Both formats offer invaluable learning experiences and both should be pursued by the serious student.



Swirl
© Tony Sweet
All rights reserved

Garden
© Tony Sweet
All rights reserved
Much of your work focuses on nature and flower photography. (Check out Tony's flower photo series in his nature photography gallery. You can also read his Nikon D2x review.) Do you think it is important to specialize in one area of photography?
Tony Sweet:

Every successful photographer I know in every discipline has begun his/her career as a generalist. A generalist photographs everything. As one moves through the process, certain subjects engender a passion. The area that makes you want to get out of bed in the morning is the area in which you should specialize. But, even as a nature specialist, I'll photograph anything that catches my interest. So, it's fine to develop into a specialist, but don't close your eyes to great imagery of any genre'.


All photos and text © Tony Sweet, all rights reserved worldwide. No form of reproduction or usage - including copying, altering, or saving of digital image and text files - is permitted without the express written permission of Tony Sweet and BetterPhoto.com.