Tony Sweet is next in our series of BetterPhoto Interviews with Professional Photographers. Tony is a true artist, and came to photography as a career in an interesting way. Over a relatively short amount of time, Tony has developed his process of nature photography and is now one of the most famous flower photographers working today.



Interview with Tony Sweet

I know you started out as a Jazz musician. How did you get your start in photography?
Tony Sweet:
I performed with some great jazz artists and wanted to get them on film, e.g. Sonny Stitt, Joe Henderson, Woody Herman, Mark Murphy, Cal Collins. So, I picked up a Nikon F2, 35mm f/2.8 and 80mm f/1.8 lens and began photographing inside of jazz clubs using TMAX ISO3200 pushed to ISO6400, shooting almost everything wide open.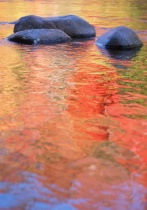 Rocks and Water Colors
© Tony Sweet
All rights reserved
Was changing to nature photography as a career a tough transition?
Tony Sweet:
The first transition was from photographing in jazz clubs to photographing in nature. My first mentor, who also would fix my cameras and sold used camera gear, showed me a nature slide. That was a seminal moment, because I immediately asked what equipment I needed to photograph nature. So, I sold all the fast lenses and got a 20mm, 35-70mm, 80-200mm, and a 105 macro and began photographing nature. Actually, began a whole new career at age 43!

The transition was pretty seamless, really. When you think about it, nature photography is the "jazz" of the photography field. We're always improvising and editing what's in the frame on the fly. We never know what to expect and need to react very quickly to ever changing, fluid situations. The only difference is in the hardware. In my head, it's the same.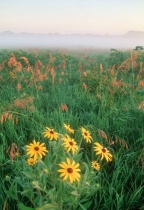 Field
© Tony Sweet
All rights reserved
Did you go to a school to learn photography or to become a fine art nature artist?
Tony Sweet:
No. I was very fortunate to have a great mentor who got me started and very closely coached me along for my first 18 months as a nature photographer, and continues to be a good friend to this day. After which, I've had the great pleasure of teaching with and learning from Pat O'Hara, John Shaw, Galen Rowell, Rod Planck, to name a few. These relationships were a direct result from my working with the Great American Photography Weekend, first as a "gopher", then as an instructor.


Did your early photographic goals include earning a living from photography, or did it start as a way to express yourself creatively?
Tony Sweet:
I've never done anything just for money. It started out and still is a primary means of self-expression. Except, now I earn my living as a photographer/teacher and the office hours are long, at home and on the road.





All photos and text © Tony Sweet and BetterPhoto.com, Inc., all rights reserved worldwide. No form of reproduction or usage - including copying, altering, or saving of digital image and text files - is permitted without the express written permission of Tony Sweet and BetterPhoto.com, Inc.