We were delighted to interview Kerry Drager, next in our series of BetterPhoto Interviews with Professional Photographers. Kerry originally came to BetterPhoto in search of a way to further promote his beautiful landscape photography by getting a BetterPhoto Basic BetterPholio™. Now he is a BetterPhoto Instructor, editor and contributor, and integral part of the BP Staff. Kerry has often joked with us that we should get him a t-shirt that says, "all I wanted was a Member Gallery..." Ah, the poor dear has no idea: we're never going to let him go!
I know you've worked for quite a while as an editor at the Sacramento Bee newspaper in California. How did you get your start in photography? Did the two careers correlate, or conflict?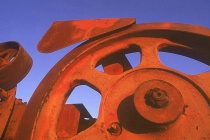 Old Ranch Equipment
© Kerry Drager
All Rights Reserved

Kerry Drager:
My photography developed out of a love of the outdoors and a desire to capture the excitement I found while hiking, camping, and backcountry skiing. At first, photography was a casual hobby, but as my appreciation for the outdoors grew, so too did my passion for recording the beauty of the mountains, coast, and desert with my camera. I became as enthusiastic about photography as I was about the outdoors.

Much of my career at the Bee paralleled my separate interests of writing, photography, and outdoors. Upon graduation in 1978 with a journalism degree, I joined the Bee as an editor and occasional writer. But my position was part time. As a result, I began freelance writing to supplement my income. As my photo skills improved, eventually my images began to accompany my writings. By the time I was offered a full-time position at the Bee, I chose instead to continue with my "divided" life of newspaper staffer and freelance writer/photographer.

Along the way, I had two photo-essay books published - California Desert and The Golden Dream: California from Gold Rush to Statehood - and one photo how-to book, Scenic Photography 101: A Crash Course in Shooting Better Pictures Outdoors. I also began teaching photo workshops, and in 2002, online courses for BetterPhoto. My interests in photography, teaching, writing, and editing came together when I joined BP full time in 2004 as both staff member and instructor.
Did you go to a school to learn photography?
Kerry Drager:
No, although I consider myself "self-motivated" - rather than "self-taught". Photography remained a casual hobby until one day in 1980, when the last straw occurred: Yet another roll of film failed to meet my great photographic expectations. That's the day my "visual quest" began - by reading how-to books and camera magazines, taking workshops and seminars (alas, no online instruction back then!), analyzing the work of professional photographers, and doing a lot of shooting, experimenting, and reviewing my images.
Did your early photographic goals include earning a living from photography, or did it start as a way to express yourself creatively?
Kerry Drager:
My early goals were simple ones: To improve my photography and develop my creative eye.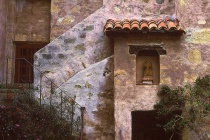 Carmel Mission
© Kerry Drager
All Rights Reserved
As time went on and my work started becoming published, I became more interested about turning this personal hobby into a serious professional pursuit.
One thing that spurred this newfound fervor was seeing other writer-photographers getting their work published in outdoor specialty magazines. I wanted to do that, too!

All photos and text © Kerry Drager and BetterPhoto.com, Inc., all rights reserved worldwide. No form of reproduction or usage - including copying, altering, or saving of digital image and text files - is permitted without the express written permission of Kerry Drager and BetterPhoto.com, Inc.