In a previous article, we examined how to digitally photograph artwork. This article takes our exploration further by showing how to represent your work with slides. There are only a few subtle differences but these tips will help you put your best foot forward when it comes to submitting transparencies of your work.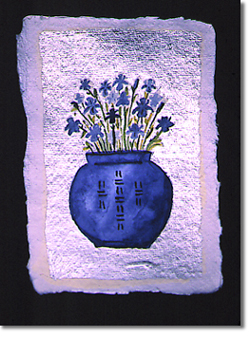 Oriental Flower Pot
Watercolor with Silver Leafing

Five Tips
The main things to keep in mind when shooting with slides are:
Use a Black Background
Use Fuji Velvia
Use Bright Overcast Light
Remove the Frame
Beware of Parallax and Skewed Lines
Let's take a look at each tip.

Use a Black Background
Seamless paper usually works the best for this but you can use many different things - from a black sheet to a piece of construction paper. As long as you have enough to completely obscure the background behind your painting, you can make it work. The image above was shot using a four and a half foot wide roll of seamless black paper.

Use Fuji Velvia
The first thing you need to decide is what film would work best. Although this is often an issue wrought with personal preference, there is one film that comes highly recommended.

Stock up on a few rolls of Fuji Velvia if you want to keep this decision easy. Since it was introduced by Fuji a number of years back, it has consistently gained popularity among photographers and editors alike. Viewers lean toward slides shot with Velvia because the colors pop out.
Bright Overcast Light is Best
If the weather cooperates, shoot outdoors on a bright overcast day. If that is not possible, direct light is second best. The only problem with direct light is that it can create glare and cause weird fluctuations in the amount of light reflection from your work. Open shade is the worst because it often casts a blue tone over your work. If nothing else is working, see if you can borrow time in a rental (or friend's) studio and make the most of the professional lighting equipment.
Remove the Frame
If possible, take the painting out of the frame to keep all attention on your work of art. The last thing you want to do is give an editor or judge an excuse to eliminate your painting from the competition simply because he or she doesn't like the frame. As this is often a matter of personal preference, your own interior decorating needs, and fashion, leave framework out of the picture.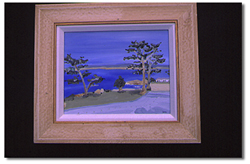 Beware of Parallax and Skewed Lines
With slides, what you shoot is what you submit. There is a digital process where you can scan in a slide, correct any problems, and then have a lab make another slide out of the new file. But who has time for that. Just strive to shoot straight into your painting. You may find it especially helpful to place your painting flat on the ground and shoot from above. If you have a tripod that lets you shoot directly from above, use it. Make many exposures to select from; do not worry about wasting film. As they often say in the movies - at least during expensive, destructive scenes - you only get one take.
If you keep these five simple points in mind, you will be much more likely to get great slides of your artwork - slides that will win you placement in a gallery, show, or magazine.


Check out BetterPhoto's FREE Resources...