David Byrne of the Talking Heads once wrote that "passport pictures are what people really look like." This would be enough to freak most people out about their appearance.

Fortunately, this is not really true. All the same, most people feel that they are not photogenic. If you feel that photos of yourself do not do justice, consider the following thoughts:

Feelings
The most important factor in portraits is how you feel at the time the picture is being taken. If you can make yourself feel comfortable or at least find a photographer that makes you feel comfortable, you are way ahead of the game.
Believe it or not, you do have control over the way you feel. Think about anything but the fact that you are having your picture taken. Try not to care about how you look or what other people think. And try to ignore the wrongful use of that number one portrait-killing command - "smile." Do not smile if you don't feel like smiling or if you are going for that serious, pensive look. However, if you can think of something you are grateful for, something you find funny, or even something you find the least bit amusing, go ahead and use it to smile:-)

Memories
The second most important factor is how you remember the picture-taking experience. If, at your wedding, for example, you just couldn't stand the way the photographer was bossing everybody around and pushing you into different contortions, you will likely hate the photos. When you look at them, they will remind you on one level or another of the bad experience; this memory could override any technically merit the photos exhibit. This may be why many people dislike perfectly good portraits.

Out of the Studio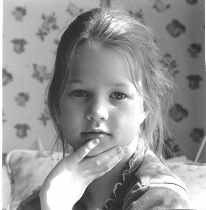 Innocence
© Jill Garl

Try a different environment than a studio, especially one run by underpaid and overworked employees. Most people feel like a deer caught in headlights when placed in the studio environment. Automatically, we put on that old, familiar "photo-face." Simply staying away from the studio does much to reduce this effect; take a talented photographer into an outdoor or in-home setting and you are more likely to get photos you like.


The Friendly Photographer
With these two things in mind, choose your photographer carefully:
Does he or she make you feel comfortable?
Do they take your mind off the fact that you are having your picture taken?
Do they boss you around and act like they have something better to do?
You have every right to insist on a friendly, people-skilled portrait artist, especially when you are paying for it. If you are not paying for the portrait, your photographer is probably your best friend or your little sister. Fortunately, such people - as long as they are technically competent with a camera - are often able to get great portraits because they can make you feel the most natural and comfortable.

Posing Tips
If the photographer is flexible, experiment with some or all of the following posing tricks:

Karen & Heather
© Jim Miotke

Keep your chin slightly down; while you don't want it so far down that a double chin appears, you also do not want to be looking down your nose at the camera.
Tilt your head a bit to one side.
Stretch your neck just a bit so your head goes forward (this will help eliminate the double chin look).
If your torso or body is being included in the shot, turn a bit to one side, keeping your face looking toward the camera. This can be more flattering.
If you can, position yourself so that you are looking slightly up into the camera.
Now go out there, look at the birdie and... just laugh out loud if the photographer tells you to "smile" :-)