Welcome to the 22nd issue of the Digital Darkroom
Hi

Great news at BetterPhoto! The December contest results have just been posted, and once again, we are blown away by high quality of the entries. If you have not yet seen them, the winners are truly stunning! Congratulations go to Jordi Delgado for the awesome Grand Prize winning image, "Pool waves." Kudos also go to Ursula Abresch, Francis Cailles, Donna Eaton, Paul Stokes, Janet Skinner, Wendy Stevenson, David Savoie, Jan Stadelmyer, Danilo Piccioni, and Janet Skinner for their First Place photos. View all the contest shots at:
http://www.betterphoto.com/contest/winners/0412.asp
Be sure to check out this month's Featured Article. We have collected some excellent tips from four of our master photographer/instructors: Jim Zuckerman, Brenda Tharp, and Susan and Neil Silverman.
And, once again, our photo discussions involve a wonderful range of imagery: "straight" shots with a Photoshop "accent", fine pictures that are pure digital art, and just about everything in between.
To read the online version of the Digital Darkroom at our Web site, visit http://www.betterphoto.com/digitalpics/
Have a great month!
Jim Miotke
http://www.betterphoto.com/MG.asp?ID=124
In This Issue: Thursday, January 20, 2005

Air Guitar
I cut out this picture (and edge of shadow) of my brother jumping with his guitar and placed it on a background I created in PE. Also, one of his eyes was closed in the original image, so I pasted in an eye from another picture!

© Brooke Peterschmidt
Canon EOS 20D Digi...
Featured Article: Three Top Tips from BetterPhoto Instructors
We have collected some excellent tips and tricks from some of our expert online instructors: "Avoid Contrasty Situations" by Jim Zuckerman; "Reducing Your Flash Output" by Brenda Tharp; and "Remember Your Camera Settings" from Susan and Neil Silverman.
Read more...



I think I left it in here...............
Studio floods, ISO 400, 3 light set up. Tinted in PSE2

I think I left it in here........color version
same set up as the tinted version

© Amy M. Parish
Read about how this was done...
Each month, the best Before and After will be featured in the Digital Darkroom.

To participate, upload a Before (original) picture then start a discussion on it (using the Discuss This Photo link under the picture). After telling us how you did created the effect, select "1" or "2" from the Upload Image pull-down menu, and submit an optional intermediate image and a final (After) photo. Aim to educate and inspire by sharing a concise, detailed explanation of your technique. Enjoy!
BetterPhoto's Short Courses: Next Session Starts February 2nd!

The winter session of BetterPhoto's online courses is well under way, but some classes haven't even begun yet! These are the second sessions of our 4-week Short Courses: Tony Sweet's "The Four Essential Filters for Film and Digital Cameras"; Jay Forman's "Photography for Kids 101"; Jim Zuckerman's "Non-Digital Special Effects"; Brenda Tharp's "Mastering Macro Photography"; and Kerry Drager's "Details and Close-ups."

These second sessions are not "extensions" of the first-round classes - rather, they are repeats, and they begin February 2nd with Lesson #1. Read about them at the following courses page (look for "2nd Session" in the class titles): Learn more...
New Photo Discussions

New Photo Discussion 1: Pink Guitar

Pink Guitar
I cropped this shot of my friend Steven. I also added filmgrain and cartoon effect, and then changed the color hue. I thought the final image looked pretty cool. Any comments appreciated! Thanks for looking! :)

© Amanda Olson
Nikon N55/F55 SLR ...

I have to agree, Amanda, this is way cool! Your use of filters really animates this image! I bet he could get a job as lead guitarist for "Josey and the Pussycats" :-)
- Joannie M. Bertucci

See Joannie's Premium BetterPholio™

Response 1:
Thanks Joannie!!! His guitar is actually red, but I changed the color hue to make it pink. I'll attach the original pic, so you can compare. Again, thanks for checking out my pic!!! :)
- Amanda Olson

Read this discussion online
Respond to this discussion
New Photo Discussion 2: Amaryllis

Love your composition and lighting here, Paul. Beautiful image.
Judy
- Judith G. Secco

See Judith's Premium BetterPholio™

Response 1:Stunning image Paul and the color is outstanding!!!
- Charlene Bayerle

See Charlene's Premium BetterPholio™

Visit PictureThisbyChar.com - Charlene's Deluxe BetterPholio™

Response 2:Thanks, Judy and Charlene! Coming from two great flower photographers, the comments are very encouraging to me. I didn't mention that I increased the saturation of this shot using Irfanview in an effort to match the rich color of the live blossoms.
- Paul Smith

See Paul's Premium BetterPholio™

Read this discussion online
Respond to this discussion
New Photo Discussion 3: Reflection of Patriotism 4

Reflection of Patriotism 4
The 4th in my series, I hope to have more, but I'm not sure. I used splatter on this before I added the Weave to it. I know the Weave is sort of a lame filter, but I just loved it on this. Reminds me of a 4th of July picnic for some reason. Oh well, hope you all like it as much as I do. Have a great day to all of my BP friends!!

© Kara L. Hendricks
Kodak EasyShare DX...

This is so awesome, Kara. This whole series has been very creative but I think this one is my favorite. Love the weave effect on this. Very well done!!
- Marcie Fowler

See Marcie's Premium BetterPholio™

Response 1:Nice idea and effect Kara! Is that the weave from Corel plugin?
- Kip T. Berger

See Kip's Premium BetterPholio™

Response 2:Terrific image Kara! It looks very much like a Fourth of July picnic basket. Well done!!
- Murry Grigsby

See Murry's Premium BetterPholio™

Visit photomurrage.com - Murry's Deluxe BetterPholio™

Response 3:Thank you Marcie, Shirley, Carol, Cathy, Kip, Murry and Jessica!!
Kip, I think I used this weave off of my Print Shop Pro 8. Thanks again everyone!!
- Kara L. Hendricks

See Kara's Premium BetterPholio™

Read this discussion online
Respond to this discussion
New Photo Discussion 4: * Callistemon *

* Callistemon *
A beautiful red Callistemon - or Bottle Brush - flower head... Callistemons are Australian native flowering shrubs or trees, of the Myrtaceae (Myrtles) family of plants - of which there are over 1000 varieties! They come in colours of green, yellow, white and various shades of red and violet...and vary in size from 5 feet shrubs to small trees...

PS CS - 'Image', then 'Adjustments': B&C, S&L, Curves, Sh-Hl, USM, cropped & rotated... Taken 1/160 sec @ F5.6, ISO 64, focal length 16.1mm...



© Carolyn J. Connolly
Olympus Camedia C-...

I love what you did with this, Carolyn. Very unique. We have lots of bottle brush here in California, too. I have only seen them in red though. Hope you are having a great weekend!!!
- Donna Pagakis

See Donna's Premium BetterPholio™

Response 1:Thanks very kindly for your comments, Donna!! I'm glad to hear that you have this beautiful Aussie flowering shrub growing in abundance in California, too!! ;)
Many varieties of Callistemon, or Bottlebrush, were originally discovered in Australia by Lincolnshire-born botanist, Sir Joseph Banks. Banks introduced the Crimson Bottlebrush to Britain as a garden plant in 1789 ...
http://www.anbg.gov.au/callistemon/ (scroll down for photo's)
http://farrer.riv.csu.edu.au/ASGAP/callistn.html (scroll down for photo's)

This site about Sir Joseph Banks:
http://www.anbg.gov.au/biography/banks.biography.html

In the above two sites you will see the many colours of the Callistemon/Bottlebrush pictured, Donna!! Enjoy!! ;)
- Carolyn J. Connolly

See Carolyn's Premium BetterPholio™

Read this discussion online
Respond to this discussion
New Photo Discussion 5: Holy Snowstorm!

Very nicely done, Carol...
- Ed Heaton

See Ed's Premium BetterPholio™

Visit edheaton.com - Ed's Deluxe BetterPholio™

Response 1:I love how the colorful church is nestled in at the bottom of these lofty pines and the impending storm! The steeple nicely lifts the eye upwards in this vertical composition.
- Patricia A. Kuniega

See Patricia's Premium BetterPholio™

Response 2:Wow! I absolutely love this, Carol! Love how the motion of the snow leads the eye directly to the chapel in your unusual composition, your capture and the sense of scale! ... I'd bet we'll see this one again!
- Dan J. Holm

See Dan's Premium BetterPholio™

Response 3:Ed, Colleen, Charlene, Carolyn, Kathleen, Janet, Claudia, Pat, Darren, Sanjay, Paul, Robin, Murry, Cathy, and Dan: Thank you all for such thoughtful comments! I was struck by the sense of scale, too, when I composed this, as well as the tall pointed spire of the church being mirrored in the surrounding evergreens. So nice to have such an appreciative and observant audience to share this with!
- Carol Brill

See Carol's Premium BetterPholio™

Visit brilliantproductionz.com - Carol's Deluxe BetterPholio™

Read this discussion online
Respond to this discussion
New Photo Discussion 6: Plastic Net on a Frozen Pond - III

Plastic net on a frozen pond - III
max contrast on scanner controls :)

© Piotr M. Organa
Nikon FE2 SLR Came...

Interesting image, Piotr!!!!
- Donna J. Taff

See Donna's Premium BetterPholio™

Response 1:TERRIFIC graphic abstract, Piotr!! GREAT image!! Love it!
- Dan J. Holm

See Dan's Premium BetterPholio™

Response 2:Thank you, both! This is the last image of the series. My gear is in the shop, so I had some fun with "digital darkroom".
- Piotr M. Organa

Read this discussion online
Respond to this discussion
New Photo Discussion 7: Dahlias

Beautiful image, Doug!! What special finish did you give it? :)
- Carolyn J. Connolly

See Carolyn's Premium BetterPholio™

Response 1:Carolyn:
Thanks for your positive comments on my photos. You might also enjoy seeing my Web site - www.bascomphoto.com - and watching the slide show movie of my images (complete with music!). The link is located at the bottom of my Nature Gallery page.

"Poster Edges" is the name of the Photoshop filter that I use occasionally with some of my images, as it provides a graphic, textural enhancement to some photos. Another example of this effect is found on my Better photo.com Gallery Page at this link: http://www.betterphoto.com/gallery/dynoGallDetail.asp?photoID=670921&catID=&style=&rowNumber=2&memberID=95615.
Doug
- Doug Bascom

See Doug's Premium BetterPholio™

Read this discussion online
Respond to this discussion
New Photo Discussion 8: Utah Range Pano

Awesome Image, Robert! This inspires me to give panoramas another try. I'm afraid my attempts have been pretty bad!
- Robert Andersen

Response 1:Thank you, Robert, for all of your nice comments. I have the best luck with Panorama and stitching them when I use the same setting for each picture. Don't use an Auto setting, as they may differ and the exposure may mess up the stitching ... or you will actually see the stitching. Thanks again.
- Robert A. Simpson

See Robert's Premium BetterPholio™

Visit rasimages.com - Robert's Deluxe BetterPholio™

Read this discussion online
Respond to this discussion
New Photo Discussion 9: Bridal Heels

This is really lovely, Donna, and I love the way you've used B&W to add to the dramatic feel of this special event. BTW - I hope the groom knows his bride isn't as tall without those heels LOL
:-)
Donna (from "downunder")
- Donna Roberts

See Donna's Premium BetterPholio™

Response 1:Wow, I am overwhelmed by the great response to this image. I am so appreciative to each and every one of you!! Donna, Dan, Sanjay, Danilo, Linnea, Stan, Donald, Donna, Colleen, Colette, Janet, Shirley and Kristi: Your support has been very inspirational!!

This image was captured with existing light, in a low-lit restaurant. There was an overhead table light, and the backlighting came through a window. I used a tripod and captured it in color. The image was cropped and adjusted to b&w with the use of Photoshop. Another big "thank you" to all of you!!!!!
- Donna Pagakis

See Donna's Premium BetterPholio™

Response 2:Great capture and gorgeous presentation, Donna!! I giggled a little after I read your response. I do the same odd things sometimes ... when you see the perfect lighting and a perfect subject, don't let the moment go if you have your camera on hand! This is great!
- Jane Summa

See Jane's Premium BetterPholio™

Response 3:Thanks, Jane!! This was captured at my first wedding shoot. I was very nervous but was glad that the bride was a friend. It turned out to be a lot of fun!!! Thanks for commenting!!!!
- Donna Pagakis

See Donna's Premium BetterPholio™

Read this discussion online
Respond to this discussion
New Photo Discussion 10: Power of the Courthouse

Well done Kip. Makes me think of the movie, "Back to the Future." Excellent use of effects here!
- Marcie Fowler

See Marcie's Premium BetterPholio™

Response 1:Thank you very much for the feedback, Marcie! I've been playing with previous images I've taken - due to the weather here that is still rainy and dreary. Hope you are having better weather; have a great day! Gotta get to work!
- Kip T. Berger

See Kip's Premium BetterPholio™

Response 2:Terrific image and effects, Kip! I agree, it does make one think of "Back to the Future". :)
- Judy S. Fung

Read this discussion online
Respond to this discussion
New Photo Discussion 11: Behind the Wheel

-Behind the Wheel
--MALIBU, California 12:00 noon.

Photograph taken through the drivers side window while Suzanne was touching up her lipstick. Additional artistic enhancements were added with PS Business Edition.



© Ronda Chatelle
Canon EOS Rebel 20...

I just have to know how you created this awesome piece of work! it's great! And what is Photoshop Business Edition? never heard of it. Very creative, congratulations Ronda.
- Tommy Luca

Response 1:Hi Tommy!
Wow! Thank you ... I was excited to read your comments. First of all ... no wonder you haven't heard of the PS program mentioned ... there isn't one. I apologize: The program I used was Adobe Photodeluxe Business Edition. This was actually very simple. The original color photograph was taken standing outside of the car shooting through the driver's window while my model was looking in the rear view mirror putting on lipstick. Then I framed it with the Adobe program selecting the brick wall. I then added a directional spotlight. That's it. Thanks again for your compliments and curiosity, Tommy.
- Ronda Chatelle

See Ronda's Premium BetterPholio™

Read this discussion online
Respond to this discussion
New Photo Discussion 12: Morning Light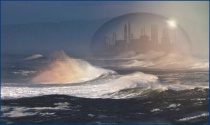 Morning Light
The rainbow spindrift is the original unretouched photo. The dome and city were added to make another in my sci-fi series. All work done in Microsoft Picture It.

© Shirley Cross
Nikon N90/N90s (F9...

Hello, Shirley. I love this. Can you tell me how you did the dome and the pic inside, please? This is great!
- Katrina M. Scheidler

See Katrina's Premium BetterPholio™

Response 1: Yes, please share how you created this magnificent image ... I like it. It stirs the imagination!
- Tommy Luca

Response 2:Thank you both so very much! The dome was created from one of my photos of a marble. I removed the lower half and used selective transparency for the inside. The city is a combination of several variations on a single cityscape that I have. I warped some of it and cropped and cut and pasted and blended until it looked the way I wanted. I reduced the contrast of the city quite a bit. I added a large rainbow colored flare to the dome, which I spread over half of the picture, then I added the smaller, brighter flare.
- Shirley Cross

See Shirley's Premium BetterPholio™

Read this discussion online
Respond to this discussion





The Next Step: Where to Go From Here



If you would like to be featured in the Digital Darkroom, we look for photo discussions that educate, inspire, and encourage BetterPhoto members. In the spirit of helping others become better photographers, we encourage you to share details, tips, and techniques in your discussions... after all, that is what BetterPhoto is all about - honest answers for budding photographers.

Until next time, thanks for reading and keep having fun with photography!
Jim Miotke
BetterPhoto.com, Inc.

~~~~~~~~~~~~~~~~~~~~~~~~~~~~~~~~~~~~~~~~~~~~~~~~~~

If you would rather not receive the Digital Darkroom, you may unsubscribe at:
http://www.betterphoto.com/subscribeun.asp?e=

To change your email address, visit:
http://www.betterphoto.com/subscribeCOA.asp?e=