Welcome to the 10th issue of the Digital Darkroom
Hi

The year 2004 is off to an exciting start for us here at BetterPhoto. And this issue of the Digital Picture is equally exciting.
The Featured Photo this month is a very cool prize winner from the Graphics, Details, & Flowers category of our November photo contest. The December contest is being judged as we speak... the finalists should be posted within the week.
The Featured Article introduces a new device that promises to open up the art of Polaroid transfer to digital photographers. Check it out at the link below.
I also wanted to let you know that I will be once again joining Shutterbug Magazine's Jack and Howard - the Foto Guys - on Web radio. Visit www.fotoguys.com this Friday morning to listen live as we discuss BetterPhoto's Top Ten Photography Tips for the Year 2004 - aka How to Make the Most of Your New Digital Camera.
In our photo courses (starting this Wednesday), we have several awesome classes for digital photographers.
If you like to creatively enhance and manipulate your photos, there is still room in George Schaub's digital printing class. If you are more interested in learning field techniques or shooting particular subjects, you can choose from great classes like "Digital Workout" with the Silvermans, Brenda Tharp's travel photography course, and "Wildlife Photography" with Jim Zuckerman, just to name a few. Pick your favorite course at:
http://www.betterphoto.com/online-photography-courses.asp
To read the online version of the Digital Darkroom at our Web site, visit http://www.betterphoto.com/digitalpics/
Have a great month!
Jim Miotke
http://www.betterphoto.com/MG.asp?ID=124
In This Issue: Monday, January 05, 2004
Featured Photo: Where the Elves Are Singing



Where the Elves Are Singing
Not much photoshop here, other than regular adjustments to contrast, curves and such. Moved the camera slowly up and down on slow shutterspeed. Canon EOS 300D EF-S 18-55mm Exposure time: 2/1 Shutter speed: 2.00 F-stop: 9.0 ISO speed: 100 Focal length: 25.0000 Aperture: 6.3398

© Trine Sirnes
Canon EOS Digital ...
Featured Article: Digital Prints + Daylab Copy System = Polaroid Transfers
In the past, if you wanted to do Polaroid transfers, you were pretty much required to shoot slides. With the advent of the Daylab Copy System, you can now make these beautiful images from your digital prints. Transform ordinary inkjet prints into fun, creative and unique images. Learn more about this technique at the article below or in Kathleen Carr's Polaroid Transfer course:
http://www.betterphoto.com/photocourses/KAT01.asp
Read more...



road to town
coverted to b&w . taken some time ago in Joesph, OR by where we use to live.

road to town

© Shirley Carpenter
Read about how this was done...
Each month, the best Before and After will be featured in the Digital Darkroom.

To participate, upload a Before (original) picture then start a discussion on it (using the Discuss This Photo link under the picture). After telling us how you did created the effect, select "1" or "2" from the Upload Image pull-down menu, and submit an optional intermediate image and a final (After) photo. Aim to educate and inspire by sharing a concise, detailed explanation of your technique. Enjoy!
Join an Exciting Online PhotoCourse™ at BetterPhoto.com

Improve your photographic skills while having a great time making stunningly pretty pictures.

Each of our online photography classes are designed to teach you how to make great photos - whether you shoot with a digital camera, shoot with a conventional camera, use a Polaroid transfer system, or tinker with Photoshop.

With eye-opening lessons, inspiring weekly assignments, and helpful critiques direct from the instructor, you just can't miss with an online photo course. Learn more...
New Photo Discussions

New Photo Discussion 1: La Mer de Glace

La Mer de Glace
aperture 6.3, shutter 1/250, 28-105 mm lens, La Mer de Glace (glacier), Montenvers station, Chamonix (FRANCE), 24/12/2003

© Frederic David
Canon EOS Digital ...

Terrific work! Was this manipulated at all? Would love to know the details. Love the colored reflection on the window... very clever perspective... I love it --- either way!
- Francis Cailles

See Francis's Premium BetterPholio™

Response 1:First of all, I cropped the original picture. I have modified the colours (one picture without colors and one with too many blue) of the original picture and then I use the clone tool in Photoshop to add the reflect of the colored picture in the windows of the station... that's all.
- Frederic David

Read this discussion online
Respond to this discussion
New Photo Discussion 2: Need Help with Editing Please

NEED HELP WITH EDITING PLEASE
Took this in speed mode, no flash, while riding in car, Can't seem to find a way to edit the light flare above the building. Any help is appreciated. Thanks and God Bless.

© Joann Tompkins-Winborn
Kodak EasyShare DX...

What editing software do you have? Does it have a clone tool? Just clone from the sky and clouds around it. Also, use "rotate" to rotate your image a slight bit to the right and crop the edges to get rid of the access left after the rotate. Start with 2 degrees and keep rotating until it's straight.

I also see some kind of grid in the sky. What is that? It may effect your clone process over the white spot. It would help to know what editing software you have. Email me and I'll be glad to give you some help.
- Paula M. Showen

See Paula's Premium BetterPholio™

Response 1:I have Photoshop 6 and know the basics. The "grid" lines in the background are sunrays and do indeed interfere with the use of the cloning tool. Any other suggestions? Feel free to save the image and make adjustments.
Thanks and God Bless.
- Joann Tompkins-Winborn

Read this discussion online
Respond to this discussion
New Photo Discussion 3: Space Rach

Very cool, Bob. Made me do a double-take!
- Eric Highfield

Visit StoneHorseStudios.com - Eric's Deluxe BetterPholio™

Response 1:Great image, Bob!!
- Colette M. Metcalf

See Colette's Premium BetterPholio™

Response 2:Thanks Eric and Colette! I was just shooting pic's of my daughter at the beach and she started doing hand stands. When I saw this one I couldn't resist flipping it over and adding some stars. There were some rocks that looked like stars already and I just added a few more.
- Bob Cornelison

Read this discussion online
Respond to this discussion
New Photo Discussion 4: Daddy's Girls

Kate, what an exquisite portrait--so tender and dreamy. I think black and white was the right choice for this image. How did you get the background? It's very effective.
- Kathleen T. Carr

See Kathleen Carr's Premium BetterPholio™
Visit Kathleen Carr's Web Site - KathleenCarr.com

Take an Online PhotoCourse™ with Kathleen Carr:
Polaroid Transfers

Response 1:Thanks Kathleen! It was taken at my mom's house on an old blue recliner that has an orange, green and brown afghan on it. I changed it to b&w, used gaussian blur on the background until it was REALLY blurry and then I used the smudging tool on my software to get it streaky.
- Kate L. McCrea

Read this discussion online
Respond to this discussion
New Photo Discussion 5: The Old Place

Very creative!
- Stephen Zacker

See Stephen's Premium BetterPholio™

Response 1:Hi Sherrie, I agree with Stephen, great use of Photoshop.
- Patrick J. Whalen

Response 2:I really like this image, Sherrie! Wonderful effect!
- Evy Johansen

See Evy's Premium BetterPholio™

Response 3:Thanks to you all for your comments and time. I have been photographing this barn for 6 months and just they recently repainted it... and now it's lost it's old beauty... The original image is very pretty and colorful with reflections of the evening sunset.
- Sherrie Penny

Visit SherriePennyEastwoodImages.com - Sherrie 's Deluxe BetterPholio™

Response 4:I really like this image, very unique and creative!
- Ann Texter

See Ann's Premium BetterPholio™

Read this discussion online
Respond to this discussion
New Photo Discussion 6: Together

Wow! What an exceptional image Stephen. I missed this the first time around. You really captured the "spirit" of this old place. It's a fine b&w. Congrats on your finalist entry!
- Patricia A. Kuniega

See Patricia's Premium BetterPholio™

Response 1:Many thanks Patricia. I took quite a few shots in this, the Jewish Cemetery in Prague, but found it difficult to portray the feelings of the place. It was only when I converted this one to b&w that it started coming to life! It looks good printed to A3 size!
- Stephen Lee

Read this discussion online
Respond to this discussion
New Photo Discussion 7: Power Tipi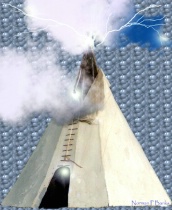 Power Tipi
Original shot of Tipi taken at annual Pow Wow in Brooklyn. Edited in PS 7.0 with addditional filters

© Norman P. Banks

Cool image Norman! Very creative!
- Leanne M.E. Boyd

See Leanne's Premium BetterPholio™

Response 1:Hey Leanne!

Thanks again for taking the time to comment on my efforts. As you can see I'm really attempting to utilize PS 7.0

This pic took some several different filters w/two layers + other enhancements.

I have some ideas that I would like to express thru pictures but the only way to get what I want is to learn PS techniques.(Smile)

I stopped by your gallery and I see that you like to play too! You have some really nice pics, so keep the creative juices flowing!

Thanks again, Norm
- Norman P. Banks

See Norman 's Premium BetterPholio™

Read this discussion online
Respond to this discussion

New Photo Discussion 8: Color Burst

Lovely shot Norman - good colour and detail.
- Leanne M.E. Boyd

See Leanne's Premium BetterPholio™

Response 1:Hi Leanne,

This lovely floral arrangement was on a table at a Winery in Jamesport NY.

I had to crop some and make use of the clone tool in PS to remove the edges of a chair directly behind the flowers.

I work with PS 7.0, Genuine Fractals, Color Mechanic Pro and Nik Sharpner Pro plus anything else I can find, so I have a lot of help! (Smile)

Thanks again Leanne, for your kind comments!
- Norman P. Banks

See Norman 's Premium BetterPholio™

Read this discussion online
Respond to this discussion





The Next Step: Where to Go From Here



If you would like to be featured in the Digital Darkroom, we look for photo discussions that educate, inspire, and encourage BetterPhoto members. In the spirit of helping others become better photographers, we encourage you to share details, tips, and techniques in your discussions... after all, that is what BetterPhoto is all about - honest answers for budding photographers.

Until next time, thanks for reading and keep having fun with photography!
Jim Miotke
BetterPhoto.com, Inc.

~~~~~~~~~~~~~~~~~~~~~~~~~~~~~~~~~~~~~~~~~~~~~~~~~~

If you would rather not receive the Digital Darkroom, you may unsubscribe at:
http://www.betterphoto.com/subscribeun.asp?e=

To change your email address, visit:
http://www.betterphoto.com/subscribeCOA.asp?e=