Welcome to the 4th issue of the Digital Darkroom
Hi

We are very happy to announce the long-awaited return of this monthly newsletter. We finally have the staff and the resources to relaunch both the Digital Darkroom and Photoflash. Yahoo! So without further adieu, enjoy the show...
To read the online version of the Digital Darkroom at our Web site, visit http://www.betterphoto.com/digitalpics/
Have a great month!
Jim Miotke
http://www.betterphoto.com/MG.asp?ID=124
In This Issue: Tuesday, June 03, 2003

No Rain Delay
This die hard tourist in Babcock State Park was actually shooting 3-D photos of the Glade Creek Mill in the rain. Original shot on Kodacolor with a Minolta 7000 and 100-300mm lens then amended in Photoshop.

© Murry Grigsby
See Murry's Deluxe BetterPholio™:
mcgphotocards.com
Featured Article: New Digital Camera Comparison Charts
If you are in the market for a new or used digital camera, check out our greatly improved digital camera comparison charts. This chart lets you see the specs of various digital cameras side-by-side. There are now 7 different charts, organized for easy review and easy printing. With over 460 cameras listed, you can find everything from the latest and the greatest to discontinued cameras.
Read more...



Life in the Slow Lane
© Joy E. Brown
enJOYphotography.com

Read about how this was done...
Each month, the best Before and After will be featured in the Digital Darkroom.

To participate, upload a Before (original) picture then start a discussion on it (using the Discuss This Photo link under the picture). After telling us how you did created the effect, select "1" or "2" from the Upload Image pull-down menu, and submit an optional intermediate image and a final (After) photo. Aim to educate and inspire by sharing a concise, detailed explanation of your technique. Enjoy!
Summer School - Online PhotoCourses™ at BetterPhoto.com

Make this summer an adventure by enrolling in a BetterPhoto photography course! Improve your picture-taking skills while having a great time enjoying the summer months. Each class is focused on teaching you how to improve your understanding of photography through exciting weekly assignments and helpful critiques direct from the instructor. Learn more...
New Photo Discussions

New Photo Discussion 1: Magnificent Magnolia

Magnificent Magnolia
Shot in Huntsville, Texas with a 70-200mm lens. This bloom was larger than a head of lettuce.

Same bloom from a different angle.
- Murry Grigsby

See Murry's Premium BetterPholio™

Visit mcgphotocards.com - Murry's Deluxe BetterPholio™

Response 1:Very pretty! I love magnolia and have just myself a tree!
- Mette Vendelboe Jensen

Response 2:Beautiful! Love the soft lighting. :-)
- Jill Battaglia

See Jill's Premium BetterPholio™

Response 3:Beautiful, Murry! I also like "hidden" magnolia too!
- Joy E. Brown

Visit enJOYphotography.com - Joy's Deluxe BetterPholio™

Response 4:Very nice! Love the lighting, and color contrast.
- Claudia Kuhn

Response 5:Beautiful photos, Murry! I love them both!

Cathy :)
- Cathy M. Gromball

See Cathy's Premium BetterPholio™

Response 6:Thanks Mette, Jill, Joy, Claudia and Cathy. This was shot on an overcast morning in open shade and the bloom was so large that I didn't have to the macro. I'm glad you approve :0)
- Murry Grigsby

See Murry's Premium BetterPholio™

Visit mcgphotocards.com - Murry's Deluxe BetterPholio™

Response 7:Lovely, Murry!! They are beautiful trees.
- Carolyn Fletcher

See Carolyn's Premium BetterPholio™

Response 8:Very pretty, Murry. I like both images. Can you tell me what aperture and shutter speed were used? THanks, America.
- America A. Block

Response 9:Very nice, Murry!
- Kathleen Clemons

See Kathleen's Premium BetterPholio™

Response 10:Thanks, Carolyn, America, Kathleen. The shots were done with a handheld Canon D30 with ISO set at 400, 1/250 and f/8 and f/6.7 respectively. I converted the RAW files to TIFF with a +.2 exposure adjustment using Bibble.
- Murry Grigsby

See Murry's Premium BetterPholio™

Visit mcgphotocards.com - Murry's Deluxe BetterPholio™

Response 11:Thanks Murry... just trying to get a little insight on how you create such gorgeous images. These really are stunning. I wish I could do that! Cheers, America.
- America A. Block

Response 12:America, it's this darn camera. It just makes beauitful photos :0) Seriously, I avoid shooting flower shots in direct sun light because the light is usually harsh and the digital camera doesn't handle extreme contrast very well. I try to shoot in the morning while the flowers are the freshest. They tend to dry out and wither with the heat of the day. I usually use my 100mm macro but these blooms were so large that I shot with the 70-200mm zoom. I usually hand hold the camera because the slightest breeze will change the focus point when working so close. I know you're supposed to use a tripod, but I usually don't unless I'm inside. I almost always turn the autofocus off and trust my eyes. I shoot multiple frames to increase my odds of everything being okay (with digital it doesn't cost anything). I hope this helps?
- Murry Grigsby

See Murry's Premium BetterPholio™

Visit mcgphotocards.com - Murry's Deluxe BetterPholio™

Response 13:Wow Murry - another beautiful shot!
- Gary W. Lake

Response 14:Thanks, Gary.
- Murry Grigsby

See Murry's Premium BetterPholio™

Visit mcgphotocards.com - Murry's Deluxe BetterPholio™

Response 15:Much thanks for all the info Murry. BUT I must say that it's not all in the camera! Bcuz if it were could I not get similar superbness out of my D60? You're just a PRO! Thanks again for sharing, all the info really does help!
- America A. Block

Response 16:An absolutely outstanding blossom photograph, Murry!! Really great stuff!
birdie
- Wolfgang Dolak

See Wolfgang's Premium BetterPholio™

Response 17:Thanks, Birdie. Glad you found some time to enjoy the photos.
- Murry Grigsby

See Murry's Premium BetterPholio™

Visit mcgphotocards.com - Murry's Deluxe BetterPholio™

Read this discussion online
Respond to this discussion
New Photo Discussion 2: Military Man

Military Man
Photo taken at a low angle to fill the background with sky. Image levels then slightly adjusted in PhotoShop.

© Thomasa Paul

Thomasa, this is a beautiful photo. Clarity and color are great.
- Charlene Bayerle

See Charlene's Premium BetterPholio™

Response 1:Thank you so much. I was experimenting with different angles as part of the Beginning Photography class offered on this site. The low angle helped eliminate the ground clutter, but also strengthened the photo...what better background for a pilot than the sky.
- Thomasa Paul

Response 2:Hi Thomasa,

I just wanted to reiterate... this is a wonderful illustration of what an unusual point of view can do for a portrait. Shooting down on someone often makes them look small, unimportant, and even humorous at times. Looking up at your model causes them to appear more impressive and strong. Again, great job with this assignment!
- Jim at BetterPhoto.com

See Jim Miotke's Premium BetterPholio™
Visit Jim Miotke's Deluxe BetterPholio™ - Miotke.com

Take an Online PhotoCourse™ with Jim Miotke:
Jim Miotke's Online Photography Courses

Read this discussion online
Respond to this discussion
New Photo Discussion 3: The Four Season's At Mabry Mill

The Four Seasons At Mabry Mill
First attempt at something like this, I hope it looks ok.

Darren-

I love this place too. (I was there for my first time this past weekend...I cannot wait for fall and winter...okay..I CAN wait!)
- Kelly Barker

Response 1:Beautiful work, Darren!! :-)
- Jill Battaglia

See Jill's Premium BetterPholio™

Response 2:Really nice...also looked at your gallery, and really like your work!
- Terry Gee

See Terry's Premium BetterPholio™

Response 3:Good job, Darren! I saw the idea yesterday! You take a hint very well. LOL
- Carolyn Fletcher

See Carolyn's Premium BetterPholio™

Response 4:This looks excellent, Darren. I really like four season panels and the Mabry is a perfect subject. Well done!!
- Murry Grigsby

See Murry's Premium BetterPholio™

Visit mcgphotocards.com - Murry's Deluxe BetterPholio™

Response 5:Superb!! Viveca.
- Viveca Venegas

See Viveca's Premium BetterPholio™

Response 6:Wow, Darren, great job on this!
- Ellen Peach

See Ellen's Premium BetterPholio™

Response 7:Darren. It does look really good. I just think it would look better if there were the same distance between all the pictures.! The rest - text, effects on your photos= thumbs up!
- Mette Vendelboe Jensen

Response 8:The feeling of each season has brought me into the world of your photo~
- Ken Pan

Response 9:Excellent compilation of your photos of this site. It looks better than OK, Darren. Looks Great!
- William Raco

See William's Premium BetterPholio™

Response 10:I've commented on this compilation on WA already. I love the Mill but have only had one chance to visit there. I plan to make it back someday. Checked out your gallery here, Darren, and I like what I see. Very nice work. Thanks for sharing and I'll keep looking for your work. And... thanks for your positive comments on my pics.
- Brenda W. LaFleur

Response 11:This is outstanding, Darren! It is perfect just the way it is!
- Joy E. Brown

Visit enJOYphotography.com - Joy's Deluxe BetterPholio™

Response 12:I think this is terrific Darren. Did you find the instructions somewhere or do it on your own? Very good work.
- Sharon L. Gordon

See Sharon's Premium BetterPholio™

Read this discussion online
Respond to this discussion
New Photo Discussion 4: At Peace with the World

At Peace with the World
A Collared Dove taken near my home. Canon D60 / 100-400 LIS + 1.4 extender mounted on a monopod. ISO 100 / 200th @ f8

The great animal shots have long been waited for!!!
birdie
- Wolfgang Dolak

See Wolfgang's Premium BetterPholio™

Response 1:Nicely done, Mark.
- Murry Grigsby

See Murry's Premium BetterPholio™

Visit mcgphotocards.com - Murry's Deluxe BetterPholio™

Response 2:Gorgeous! Fantastic shot... a beauty!
- Jean Papo

Response 3:Yes, well done, Mark!!
- Dolores Neilson

See Dolores's Premium BetterPholio™

Response 4:Birdie, Murry, Jean & Dolores, Thank you very much for your wonderful words of encouragement, it means so much!
- Mark Oxley

See Mark's Premium BetterPholio™

Read this discussion online
Respond to this discussion
New Photo Discussion 5: Orange Crush

Orange Crush
Canon PowerShot S30, wide-angle macro

© Michael McMurrough

Very nice, Michael. Love the lines and curves.
- Judith G. Secco

See Judith's Premium BetterPholio™

Response 1:What cool work. I really dig it!
- Mette Vendelboe Jensen

Response 2:I love the curves and the color. It is just great!
- Dawn M. Balaban

Visit dawnbalabanphotography.com - Dawn's Deluxe BetterPholio™

Response 3:Great image!
- Joy E. Brown

Visit enJOYphotography.com - Joy's Deluxe BetterPholio™

Response 4:Mike... I love this! The excellent color, lines and very creative! I expect to see this in the winners circle!!
- Dolores Neilson

See Dolores's Premium BetterPholio™

Read this discussion online
Respond to this discussion
New Photo Discussion 6: Lake Wakatipu

Lake Wakatipu
Evening light, Lake Wakatipu, New Zealand. Nikon D100. F22, 1/4 sec.

I hope you know how lucky you are to have scenery like this! Wow!! Just so beautiful!!
- Carolyn Fletcher

See Carolyn's Premium BetterPholio™

Response 1:Thanks for the comments Carolyn. Your right, I'm very lucky to live in such a beautiful country.
- Mike Hollman

See Mike's Premium BetterPholio™

Response 2:Gorgeous! Excellent work!! :-)
- Jill Battaglia

See Jill's Premium BetterPholio™

Response 3:Very nice, Mike!!
- Murry Grigsby

See Murry's Premium BetterPholio™

Visit mcgphotocards.com - Murry's Deluxe BetterPholio™

Response 4:Great capture and beautiful color. The detail is excellent!
- Gary W. Lake

Response 5:Excellent photo of an exquisitely beautiful place! You have a marvelous gallery here.
- Patrick Campbell

See Patrick's Premium BetterPholio™

Read this discussion online
Respond to this discussion
New Photo Discussion 7: Tundra Coyote

Tundra Coyote
A hunting coyote on Trail Ridge Road in Rocky Mountain National Park.

Very nice... love the composition... makes me want to be there and see such a beautiful animal in the snow!
- Jean Papo

Response 1:Excellent work Jan. I too think that the composition is perfect, as is the timing and tricky exposure!
- Mark Oxley

See Mark's Premium BetterPholio™

Response 2:Wonderful photo, Jan. The animals hunting pose is caught perfectly.
- Murry Grigsby

See Murry's Premium BetterPholio™

Visit mcgphotocards.com - Murry's Deluxe BetterPholio™

Response 3:Very nice! I really like the composition and the simplicity of colours.
- Mette Vendelboe Jensen

Read this discussion online
Respond to this discussion
New Photo Discussion 8: Electric Glass

Electric Glass

© Guy Gagnon

Very cool shot Guy! The colors and shapes are so graphic and very appealing. Would you share how you did it?
- Debbie S.

Response 1:I put my glass on a chair with the light of a stormy day (I am in Belgium.

I modified the background a little bit. The color tints of the glass are just accentuated by a lever corection with Photoshop.

And a little bit of chance.
- Guy Gagnon

Read this discussion online
Respond to this discussion
New Photo Discussion 9: Bahai Temple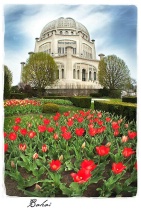 Bahai Temple
Olympus E-10

Great perspective. Also love the lines, beautiful composition.
- Caley Bovee

See Caley's Premium BetterPholio™

Response 1:Beautiful work, Jill!!
- Murry Grigsby

See Murry's Premium BetterPholio™

Visit mcgphotocards.com - Murry's Deluxe BetterPholio™

Response 2:Very nice Jill!
- Gary W. Lake

Response 3:Boy does those red flowers make this shot with your beautifully done border!
- Suzie Strasburg

See Suzie's Premium BetterPholio™

Response 4:Gorgeous, Jill!
- Joy E. Brown

Visit enJOYphotography.com - Joy's Deluxe BetterPholio™

Response 5:Jill, your shots are always so unique and beautiful. I could look at them all day.
- Ruth Denton

See Ruth's Premium BetterPholio™

Response 6:Excellent Jill! Love the foreground.
- Carl D. Miller

Visit millerzphotoz.com - Carl's Deluxe BetterPholio™

Response 7:Great detail and colors, beautifully done Jill!!
- Darren K. Fisher

See Darren's Premium BetterPholio™

Response 8:Thank you all!! :-)
- Jill Battaglia

See Jill's Premium BetterPholio™

Response 9:Yes, your work is always interesting and this is one of your best. I love the sense of balance, the low point of view, and the perspective. How do you go about creating this effect, Jill?
- Jim at BetterPhoto.com

See Jim Miotke's Premium BetterPholio™
Visit Jim Miotke's Deluxe BetterPholio™ - Miotke.com

Take an Online PhotoCourse™ with Jim Miotke:
Jim Miotke's Online Photography Courses

Read this discussion online
Respond to this discussion
New Photo Discussion 10: Fruit Tree in Bloom

Fruit Tree in Bloom.
Manipulated in PS. Notice the little flower in the bottom right corner!

© Mette Vendelboe Jensen

Very beautiful detail and color, I love the way you cropped.
- Suzie Strasburg

See Suzie's Premium BetterPholio™

Response 1:Very unusual effects but I think I really like it.
- Cathy I. Barrows

See Cathy's Premium BetterPholio™

Response 2:Thank you, Suzie and Cathy!

Cathy - I'm glad you like my work eventhough it's not natural looking. The original of this picture had a special light, which making it darker with "curves" really enhanced. I tried with the whole colour spectre and ended up with this pink look, turned up the saturation and contrast and added extra sharpener and achieved this. The cropping and a bit of clone stamp especially did wonders.
- Mette Vendelboe Jensen

Read this discussion online
Respond to this discussion





The Next Step: Where to Go From Here



If you would like to be featured in the Digital Darkroom, we look for photo discussions that educate, inspire, and encourage BetterPhoto members. In the spirit of helping others become better photographers, we encourage you to share details, tips, and techniques in your discussions... after all, that is what BetterPhoto is all about - honest answers for budding photographers.

Until next time, thanks for reading and keep having fun with photography!
Jim Miotke
BetterPhoto.com, Inc.

~~~~~~~~~~~~~~~~~~~~~~~~~~~~~~~~~~~~~~~~~~~~~~~~~~

If you would rather not receive the Digital Darkroom, you may unsubscribe at:
http://www.betterphoto.com/subscribeun.asp?e=

To change your email address, visit:
http://www.betterphoto.com/subscribeCOA.asp?e=