Welcome to the 9th issue of the Digital Darkroom
Hi

We have a great Digital Darkroom newsletter for you today. BetterPhoto member Carl Miller's Featured Photo is just one sample of the many excellent images he has produced.
We also have some fun holiday photography tips for you, as well as several exciting and illuminating photo discussions - including a stunning panoramic by BetterPhoto member Viveca Venegas and a very cute story-telling composite by Susana Matos.
Many of our exciting online courses are already full - sign up soon if you would like to join the fun. The next session starts January 7th. We have several great classes to choose from.
Also, for you last-minute shoppers out there, we have a convenient gift certificate option. This goes great with a digital camera present. If you are interested in this, act quick... in order to mail the certificates to you in time, we need the gift certificate order by late Friday, December 19th. Call our Order Department toll-free at 1-888-927-9992 or visit:
http://www.betterphoto.com/gifts.asp
Or learn about the various courses at:
http://www.betterphoto.com/online-photography-courses.asp
Enjoy a wonderful and photo-filled holiday season!
To read the online version of the Digital Darkroom at our Web site, visit http://www.betterphoto.com/digitalpics/
Have a great month!
Jim Miotke
http://www.betterphoto.com/MG.asp?ID=124
In This Issue: Thursday, December 18, 2003
Featured Photo: Clouding Your Vision


Featured Article: Top Tips for Holiday Photographs - Tip #9
Where's David Letterman when you need him? Just in time for the holidays, BetterPhoto is giving you a Top Ten List - the top ten tips for better holiday photographs. Each day, we will post a new tip - today we are on #9 and counting down. This season, keep these tips in mind to make the absolute best photographs possible. Visit the Top Tips for Holiday Photographs page to see your first two tips. Come back to the site each day for the next tip.
Read more...



Before and After
Palm tree leaf taken on a sunny day on macro and then i used Photoshop to make the original shape and then multiplied it to get this effect

© Suzy Baines
Read about how this was done...
Each month, the best Before and After will be featured in the Digital Darkroom.

To participate, upload a Before (original) picture then start a discussion on it (using the Discuss This Photo link under the picture). After telling us how you did created the effect, select "1" or "2" from the Upload Image pull-down menu, and submit an optional intermediate image and a final (After) photo. Aim to educate and inspire by sharing a concise, detailed explanation of your technique. Enjoy!
Online PhotoCourse™: A Great Gift To Yourself Or To A Friend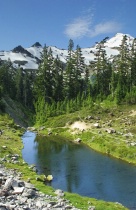 Improve your photographic skills while having a great time making beautiful images. Each class is designed to teach you how to improve your understanding of photography. With exciting lessons, inspiring weekly assignments, and helpful critiques direct from the instructor, you just can miss with an online photo course.

The image to the right - made by BetterPhoto's founder, Jim Miotke - is a digital composite of three photos, illustrating how you can simulate a graduated neutral density filter using Photoshop.

Jim Miotke's class, as well as Lewis Kemper's "Photographer's Toolbox for Photoshop: Toolbox #1" are already full. However, if you are interested in mastering Photoshop, you can still enroll in Jim Zuckerman's "Creative Techniques in Photoshop" or George Schaub's "Digital Black and White Printing". Learn more...
New Photo Discussions

New Photo Discussion 1: A Horse Walked By in My Dreams

Wow! May I ask what p.s. effects are? Amazing...it looks like a painting!!!
- Mary L. Martin

See Mary's Premium BetterPholio™

Response 1:Hi Mary, thanks for leaving your comments on this image!:) I usually like applying effects that leave the feeling of a painting!:) There are two major effects/filters used: Open "Filter" from the menu bar at the top and go down to the "Sketch" option. There I chose "Recticulation" and under "Image" on the main menu bar I chose to adjust this image by applying a copper "gradient". I continued applying other tonal differences till I got what I liked.( i.e. color variations, color contrasts, hues - all under "adjust" under "view"). As you can see, there is hardly any copper left in the picture from the gradient. I changed the hues by adjusting the "hue and saturation" option till I got a bluish tone, went off to do some color variations till I got some more colors in there.

The second major filter used is: Cut Out, this you may find in the "Artistic" section in the "filter".

The lovely thing about apply effects in Photoshop is that you can continue experimenting, saving your images as you go along, reverting back to an old stage and carrying on from there. For example the above stages mentioned aren't the complete list of effects applied. I used burn tools as well, even a lighting effect on the horse's face. I encourage you to experiment as much as you can. Soon the buttons aren't speaking in alien lingo any more and then you can really start applying your creative sense. I am still finding out lots of new stuff about photoshop. I have lots of aliens still left to master. I hope to complete an online course on betterphoto some time soon, but before then I am having a lot of fun experimenting. Thank you for your very kind comments again!!!
:)
- Murtaza H. Saeed

See Murtaza's Premium BetterPholio™

Read this discussion online
Respond to this discussion
New Photo Discussion 2: Maria's Story

Nice collage!
- Katarzyna Elser

Response 1:Nice panel, Su!! Your shots are so cute as is the little girl. I imagine she had the time of her life posing and being the STAR of the show :0)
- Murry Grigsby

See Murry's Premium BetterPholio™

Visit mcgphotocards.com - Murry's Deluxe BetterPholio™

Response 2:This is delightful! Well photographed, appealing, and well crafted. Nicely done, Susana.
- Mary-Ella Keith

See Mary-Ella's Premium BetterPholio™

Visit MEBKphotoart.com - Mary-Ella's Deluxe BetterPholio™

Response 3:This is just great, Su!!! Now you need to teach all of us how to do it!
- Carolyn Fletcher

See Carolyn's Premium BetterPholio™

Visit PickYourShots.com - Carolyn's Deluxe BetterPholio™

Response 4:Well, THANK YOU, you are very nice.
Maria is my sister's little girl, she is cute, isnīt she? Big character!!!
About Photoshop composition I am going to try with my not so good english:
- Open the photos you want
- Then Image>Image size> and with Constrain Proportions ON you reduce each photo (example here: with 72 pixels/inch I reduced each photo to 14cmx10.4cm so my computerīs memory could handle with all the photos)
- Then File>new and open with the same 72 pixels/inch with the size you want (here 66cmx15cm)
-Use the Move tool to put the New Guides and prepare the structure of the new file (the place for each image)
-Go to each photo, make the adjustments needed and finally use the Filter>unsharp mask (I use Amount 50%, Radius 1.4, Threshold 0 as Jim Miotke explains)because you'll lose detail with the compression when you'll post the photo.
- Then Rectangular Marquee to select each photo and Edit>Copy and GO to new file Edit>paste.
- Then Move tool to place the photo
- Remember that each photo will be in ONE individual layer, so each time you want to do anything to one photo you have to go to its layers and click over it.
- Finally go to background layer and use the Paint Bucket to color it, also write the text and place it with the Move Tool, and finnaly I added here a gradient over the background.

Uffffff, hope you'll understand!!
Cheers from Portugal and thank you so much for your nice comments!
Su
- Susana Matos

See Susana's Premium BetterPholio™

Read this discussion online
Respond to this discussion
New Photo Discussion 3: Autumn Splendor At Oxbow Bend

Wow! Splendid, Viveca!
- Kathleen Clemons

See Kathleen's Premium BetterPholio™

Visit kathleenclemonsphotography.com - Kathleen's Deluxe BetterPholio™

Response 1:Gorgeous, Viveca! I was there in August a couple years ago -- looks like I picked the wrong time of year to go.
- Liz Brunson

Response 2:Brilliant stuff, Viveca!! Please let me know what lens this is. I have a similar camera and I wanted to know what wide lens I can use with it. I have a f717. Really tremendous work!:) Looking at this Liz, I think you should definitely go again and capture the sight first hand. It's really breathtaking.
- Murtaza H. Saeed

See Murtaza's Premium BetterPholio™

Response 3:An absolutely stunning picture. Did you take this in panoramic mode or stitch shots?
- Ian Jones

Response 4:Thank you to all of my friends. I am proud of this one,it is my first panoramic. No lenses used, just the Sony C707 by itself. I shot 9 from left to right. This pano is the stitching of seven photos. And I gave it a small enhanced saturation with PS and unsharp mask. And yes, the autumn sunrises here are super gorgeous; all the places I visited in Wyoming are. I love nature!
- Viveca Venegas

See Viveca's Premium BetterPholio™

Read this discussion online
Respond to this discussion
New Photo Discussion 4: The Red Barn

Absolutely stunning! I love the colors, and the softness. Did you use a diffuser or was the effect applied afterwards in PS? I would love to see this one hanging on my wall! Wonderful!
- Jen Hernandez

See Jen's Premium BetterPholio™

Response 1:I like the softness and colors. Good job!
- Gary L. Rohrbaugh

Visit upperbayphoto.com - Gary's Deluxe BetterPholio™

Response 2:Very nice, I really like the single tree in front of the barn.
- Stephen Zacker

See Stephen's Premium BetterPholio™

Response 3:Wonderful autumn image, Lori!! Nice design, scrumptious colors and great softness. Well done!!
- Murry Grigsby

See Murry's Premium BetterPholio™

Visit mcgphotocards.com - Murry's Deluxe BetterPholio™

Response 4:Man this made me weak in the knees, I would give anything for a shot like this. The Barn is very well placed in the image, and the colors are just beautiful. I also like the dreamy look you have here. One outstanding image.
- Darren K. Fisher

See Darren's Premium BetterPholio™

Response 5:Thank you everyone for the positive comments! The soft focus effect is from Dream Suites "Dreamy" filter. I have to confess that this photo was actually taken by me while sitting in the passenger side of my car, shot through the open drivers side window. We were stuck in traffic and if we wouldn't have been, I never would have noticed the barn way back in a field. I'm obsessed with barns and old building so anytime I see one, I have to photograph it. I wish I could say it was planned but life just works in a funny way I guess and it pays to have your camera close by at all times!
- Lori McCoy

See Lori's Premium BetterPholio™

Read this discussion online
Respond to this discussion
New Photo Discussion 5: Liquid Blanket

This is very striking and pretty, Bob. The thumbnail pulled me in, and the larger version of the image held me. The colours and the design are both very pleasing.
- Gerda Grice

See Gerda's Premium BetterPholio™

Response 1:Quite interesting and striking. How did you do it? Love the colors.
- Sue Cooksey- Harris

Response 2:Thank you, Sue and Paul. I started with a photo I took of an Indian Paintbrush and used AutoFx's PGE.
- Bob Hall

Visit bobbydsphotography.com - Bob's Deluxe BetterPholio™

Read this discussion online
Respond to this discussion
New Photo Discussion 6: Home Sweet Home

Home Sweet Home
My first Photo illustration, 2 photos, a graphic, text overlay, and lighting filter.

© Bruce Youb
Fuji FinePix S2 Pr...

Nice job, Bruce!
- Murry Grigsby

See Murry's Premium BetterPholio™

Visit mcgphotocards.com - Murry's Deluxe BetterPholio™

Response 1:Hi Bruce, Very cute shot. What program did you use to add the graphics?
- Renee Laflesh

Response 2:I use Photoshop for everything. I have some others but Photoshop is the only one that give you total freedom and control. I find the other programs try to do to much for you and just mess it up.

I had just seen some other work people are doing and thought it looked like fun... and it is.
- Bruce Youb

Read this discussion online
Respond to this discussion

New Photo Discussion 7: Just Like Dad!

I LOVE THIS!!!!! What a fantastic creation!!! Nice work, Lewis!
- Paula M. Showen

See Paula's Premium BetterPholio™

Response 1:Thanks, it was fun to do!
- Lewis Kemper

See Lewis Kemper's Premium BetterPholio™
Visit Lewis Kemper's Web Site - LewisKemper.com

Take an Online PhotoCourse™ with Lewis Kemper:
Large Format Photography
Photographer's Toolbox for Photoshop®: Toolbox #1

Response 2:I agree with Paula, Lewis - fun composite. Can you tell us how you did this? Was the boy actually there and then cloned out? Or did you bring him in from another picture?
- Jim at BetterPhoto.com

See Jim Miotke's Premium BetterPholio™
Visit Jim Miotke's Deluxe BetterPholio™ - Miotke.com

Take an Online PhotoCourse™ with Jim Miotke:
Jim Miotke's Online Photography Classes

Read this discussion online
Respond to this discussion
New Photo Discussion 8: Psychedelic Bottles

This is wild, Debbie! I like it!
- Kathleen Clemons

See Kathleen's Premium BetterPholio™

Visit kathleenclemonsphotography.com - Kathleen's Deluxe BetterPholio™

Response 1:Awesome idea!Beautiful image!
- Sharon D. Waters

See Sharon's Premium BetterPholio™

Response 2:
Wow...I'm so thrilled you two like this wild one! My 11 year old, budding artist, will be even more thrilled! She often sits with me when I work on images and dictates what to do in PS until we get the result 'she" wants...this was one of those images. I was happy with "my" soft, less manipulated one...she thought it was beyond boring! This one had all the life a vitality and uniqueness that enbody her personality and artistic vision!! Thank you from both of us... ;>)))
- Debbie S.

See Debbie's Premium BetterPholio™

Read this discussion online
Respond to this discussion
New Photo Discussion 9: Watching the Neighbours ;-)
Very nice shot - with impact. How does it go with your camera? I will see the reviews with much interest.

Cheers from Portugal, Su
- Susana Matos

See Susana's Premium BetterPholio™

Response 1:Hi Susana.

Thank you for your comment. It's a bit too soon to give a review of the camera, as I just had it for a few days, and havn't had time to try it much. But, on the more passionate side, I can tell you I love it! ;-) It's a huge improvement from my Nikon Coolpix 880. The physical feel and size of it is great, it's a "grown up" camera.

I havn't had time to learn all the manuel stuff yet, but it does really great in the more pre-defined modes, and I could use it right away without having to spend hours to read the manual.

I took some test shots of the boys in the sofa last night, in front of the TV; just point and shoot with the flash. They came out really good, without too harsh evidence of the flash. And I could see sharp details all the way down their throats (they were laughing).

Another thing I have seen is the lack of grain. It handles shadow areas a lot better, and low light photos comes out smooth (I took some photos from the car in tunnels at night, on the move. They had a lot more details and colors than I'm used to. And no grain, just smooth transitions between the different color layers.)

I will tell you more when I know.
- Trine Sirnes

See Trine's Premium BetterPholio™

Read this discussion online
Respond to this discussion

New Photo Discussion 10: Faith

Simply wonderful, Mauro!! ! :)
- Kathleen Clemons

See Kathleen's Premium BetterPholio™

Visit kathleenclemonsphotography.com - Kathleen's Deluxe BetterPholio™

Response 1:This is a great captured moment. It makes me wonder, where is this person? Are they upset or peaceful? Good job.
- Alisha May Furbish

See Alisha May's Premium BetterPholio™

Response 2:Well, I'll tell you the truth. This image has been taken at a museum in a outside garden. The woman had her museum ticket like that and I took the shot. But when I opened the file at home I found that a museum ticket did not create a story, so I changed the ticket in a holy image on PS. The holy image is the only thing which was not in the original. So I "created" the story. The composition itself was originally as you see it. Thanks for your comment.
- Mauro Bighin

See Mauro's Premium BetterPholio™

Read this discussion online
Respond to this discussion





The Next Step: Where to Go From Here



If you would like to be featured in the Digital Darkroom, we look for photo discussions that educate, inspire, and encourage BetterPhoto members. In the spirit of helping others become better photographers, we encourage you to share details, tips, and techniques in your discussions... after all, that is what BetterPhoto is all about - honest answers for budding photographers.

Until next time, thanks for reading and keep having fun with photography!
Jim Miotke
BetterPhoto.com, Inc.

~~~~~~~~~~~~~~~~~~~~~~~~~~~~~~~~~~~~~~~~~~~~~~~~~~

If you would rather not receive the Digital Darkroom, you may unsubscribe at:
http://www.betterphoto.com/subscribeun.asp?e=

To change your email address, visit:
http://www.betterphoto.com/subscribeCOA.asp?e=