Welcome to the 7th issue of the Digital Darkroom
Hi

We have a great selection of fun photos and discussions for you this month. In addition, those of you interested in saving time in Photoshop will enjoy our sample course lesson on Photoshop Actions.
As mentioned in the last PhotoFlash, we have been considering changing the format of the Digital Darkroom to focus primarily on Digital Art - images created or highly manipulated in programs like Photoshop.
This change will also open up the PhotoFlash newsletter to digital camera photographers, making PhotoFlash all about shooting technique - regardless of what kind of camera you use. As the major principles of photography apply to both digital camera and film camera photographers, these changes will enhance the newsletters for everyone.
And one last note in case you did not see it in the recent Snapshot: Beginning with the January 2004 session, our $195 courses will be increasing in price to $237. Now's your chance to get in on the old price. Sign up for the upcoming fall session to take advantage of the old pricing.
To read the online version of the Digital Darkroom at our Web site, visit http://www.betterphoto.com/digitalpics/
Have a great month!
Jim Miotke
http://www.betterphoto.com/MG.asp?ID=124
In This Issue: Monday, September 08, 2003
Featured Photo: Tree swallow landing


Featured Article: Try A Free Sample of Jim Miotke's Photoshop Course
Automation in Photoshop is all about streamlining your experience in the software so you can get in, make your changes, and get out in the least amount of time. The full version of Photoshop lets you do this with what Adobe calls "Actions". Photoshop Elements is more limited but can still help you save time with the Batch command. But even before you learn how to automate, you might be asking, "What's the point?" So we first discuss the Whys before getting into the Hows - the specific automation techniques.
Read more...



The Boy

© Nicole S. McGrade
Read about how this was done...
Each month, the best Before and After will be featured in the Digital Darkroom.

To participate, upload a Before (original) picture then start a discussion on it (using the Discuss This Photo link under the picture). After telling us how you did created the effect, select "1" or "2" from the Upload Image pull-down menu, and submit an optional intermediate image and a final (After) photo. Aim to educate and inspire by sharing a concise, detailed explanation of your technique. Enjoy!
Back to School With A BetterPhoto Online PhotoCourse™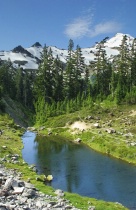 Fall Online PhotoCourses™ at BetterPhoto.com
Make this fall an adventure by enrolling in an online photography course! Improve your image-making skills while having a great time enjoying the fall season. Each class is focused on teaching you how to improve your understanding of photography through exciting weekly assignments and helpful critiques direct from the instructor.

This image to the right - made by BetterPhoto's founder, Jim Miotke - is a digital composite of three photos, illustrating how you can simulate a graduated neutral density filter using Photoshop. Jim will post a brief article about this in the coming weeks. Of, if you are interested in this kind of Photoshop work, enroll in Jim Miotke's "Photoshop for Photographers" online photography course. Learn more...
New Photo Discussions

New Photo Discussion 1: Above The Clouds

great job with PS
- Cathy I. Barrows

See Cathy's Premium BetterPholio™

Response 1:Mystical work, Donna!!
- Murry Grigsby

See Murry's Premium BetterPholio™

Visit mcgphotocards.com - Murry's Deluxe BetterPholio™

Response 2:Very beautiful work, Donna!
- Evy Johansen

Read this discussion online
Respond to this discussion
New Photo Discussion 2: Sailing Into The Sunset...

Nice work, Damian! What color!
- Paula M. Showen

See Paula's Premium BetterPholio™

Response 1:I think I was a bit too hasty with this... I'll try again tomorrow! When I have more than a couple of minutes to but something together.
- Damian Gadal

Visit gadal-imagery.com - Damian's Deluxe BetterPholio™

Response 2:The first thing I can say after looking at it is: it has an enormous depth, Damian. I love experiments like this!
- Wolfgang Dolak

See Wolfgang's Premium BetterPholio™

Response 3:
Thanks all!

This was a little tougher than I thought, I gave it a 2nd shot, but I looks like I still need practice.
- Damian Gadal

Visit gadal-imagery.com - Damian's Deluxe BetterPholio™

Read this discussion online
Respond to this discussion
New Photo Discussion 3: Tranquility

Converted to black & white - I wasn't sure which one to enter.
- Theresa McCloskey

See Theresa's Premium BetterPholio™

Response 1:Nice image, Theresa. I prefer the color with the effects you used. Good job!
- Murry Grigsby

See Murry's Premium BetterPholio™

Visit mcgphotocards.com - Murry's Deluxe BetterPholio™

Response 2:I love the b/w but with your effects the color is my choice!
- Suzie Strasburg

See Suzie's Premium BetterPholio™

Response 3:I agree, it definitely loses something in the b&w. Nice shot.
- Judith G. Secco

See Judith's Premium BetterPholio™

Response 4:I also like the color one Theresa. The reflection on the water, I think, shows up better.
- Charlene Bayerle

See Charlene's Premium BetterPholio™

Response 5:Beautifully composed, Theresa, and I vote for the color, too, love that purpley-brown hue especially against the soft greens.
- Carol Brill

Read this discussion online
Respond to this discussion
New Photo Discussion 4: ~Stripes~

Great shot, Debbie!!!
- Leanne M.E. Boyd

Response 1:Thanks so much Leanne!
- Debbie S.

See Debbie's Premium BetterPholio™

Response 2:Yes, I like this photograph too. If you can think of any tips about shooting like this - that we can offer to the readers - and include them here, I will consider putting this into the next Digital Darkroom... sound good? Can you think of things that you had in mind when composing this scene and others like it that would help beginning photographers?
- Jim at BetterPhoto.com

See Jim Miotke's Premium BetterPholio™
Visit Jim Miotke's Deluxe BetterPholio™ - Miotke.com

Take an Online PhotoCourse™ with Jim Miotke:
Jim Miotke's Online Photography Courses

Response 3:Hi Jim!! WOW... I'm SO flattered that you've taken a peak at my photo...

Let's see...I was so struck by the horizontal striping that the water made on the sand as the tide receded, and the fact that it was overcast, made for some really nice rich tones in the sand and pleasing colors in the reflections of the water. I used my 135mm lens in order to narrow my field of view, since I was really going for a graphic image, rather than a sweeping landscape. I shot about 20-30 images, mostly horizontals, then just before leaving, snapped a few verticals just for good measure! While the horizontals are nice, I found that the vertical format really accentuated the horizontal "stripes" much more dramatically...it was a nice surprise! There were a bunch of the horiszontals that had the figure of a man walking his dogs, which at first, I liked in terms of the story-telling theme...but in the end they were more of a distraction to the graphic, more abstract quality that I was going for.

I hope this helps... I'm actually surprised while I sit and write what was going through my mind when shooting this image, just how much I was thinking and looking while doing something that I always thought I did somewhat mindlessly! ;>) -Debbie
- Debbie S.

See Debbie's Premium BetterPholio™

Read this discussion online
Respond to this discussion
New Photo Discussion 5: Take the Purple Stairs

Very nice Sharon. Great use of color and lines! Jeff
- J W. Robinson

Response 1:Sharon, this is fantastic ... love the lines and color :)
- Gail Stelick

See Gail's Premium BetterPholio™

Response 2:Great shot, Sharon!!! I like the colour, graphics and composition.
- Leanne M.E. Boyd

Response 3:JW, Gail, and Leanne - thanks so much for your nice comments.
- Sharon E. Lowe

See Sharon's Premium BetterPholio™

Visit photosbysharon.com - Sharon's Deluxe BetterPholio™

Response 4:Sharon, to me this shot is an absolute WINNER! You did a terrific job on this! Really coool shot!
- Jean Papo

See Jean's Premium BetterPholio™

Response 5:Jean - thank you so much!! I'm always on the lookout for graphic, colorful images and I was very happy to come across this one!
- Sharon E. Lowe

See Sharon's Premium BetterPholio™

Visit photosbysharon.com - Sharon's Deluxe BetterPholio™

Response 6:Gosh, Sharon! This is sooo cool! I agree with Jean, this shot is an absolute WINNER!!! Wonderful job! Love it!
- Evy Johansen

Response 7:I too love this image... But just to get a meaty dialog going, let me ask everyone: does the step down in the bottom left corner distract or pull away attention? Try blocking it out and see what happens. Does the image then become too abstract? I am not saying one way is right or wrong - just trying to get some thoughtful analysis going... was this something you had in mind, Sharon?
- Jim at BetterPhoto.com

See Jim Miotke's Premium BetterPholio™
Visit Jim Miotke's Deluxe BetterPholio™ - Miotke.com

Take an Online PhotoCourse™ with Jim Miotke:
Jim Miotke's Online Photography Courses

Read this discussion online
Respond to this discussion
New Photo Discussion 6: Where Obsession Began

Where Obsession Began
A tribute to my very first camera. Gradient work done in PSE.

© Laurie Vinciguerra
Sony Mavica FD-87 ...

Nicely done Laurie!! All of one camera and digitally altered or different cameras???
- Gordon J. Evans

See Gordon's Premium BetterPholio™

Response 1:Mine started with a Kodak Brownie :-) This is a great image.

I was also wondering if it was the same camera
- Stephen Zacker

Response 2:Yes, it's all the same camera. Cut out and pasted 4 times into a new image. Thanks for the nice comments everyone!
- Laurie Vinciguerra

Response 3:Very creative and well done, Laurie!
- Patricia Marroquin

See Patricia's Premium BetterPholio™

Read this discussion online
Respond to this discussion
New Photo Discussion 7: Composition

Composition
this picture is a composite with the tree and my car, I painted the background and the mountain, colored the car to fit with the orange color from the sky, enlarged the front plate of the car to write a text on it, then unsharp with 50% and save on TIFF. the feather tool do a great difference, I learn much on this lesson about photoshop.

© Jean-François Schmutz
jfsphotos.com

Was browsing through the pages of student photos and this one really caught my eye. Love the composition and the tones and hues that are displayed. Hoping to benefit from the Photoshop class my self one day soon.
God bless you and yours!
- Joann Tompkins-Winborn

Response 1:Hi Jean-François,

Just browsing through the student images and came across this one. Wow, you sure came a long way in a very short time. You are an excellent photographer and it is very fun to see how quickly you learned the technique.

I have created a new fun gallery for such images like this - photos that celebrate BetterPhoto.com. Check it out when you get a moment.

Enjoy!
- Jim at BetterPhoto.com

See Jim Miotke's Premium BetterPholio™
Visit Jim Miotke's Deluxe BetterPholio™ - Miotke.com

Take an Online PhotoCourse™ with Jim Miotke:
Jim Miotke's Online Photography Courses

Read this discussion online
Respond to this discussion





The Next Step: Where to Go From Here



If you would like to be featured in the Digital Darkroom, we look for photo discussions that educate, inspire, and encourage BetterPhoto members. In the spirit of helping others become better photographers, we encourage you to share details, tips, and techniques in your discussions... after all, that is what BetterPhoto is all about - honest answers for budding photographers.

Until next time, thanks for reading and keep having fun with photography!
Jim Miotke
BetterPhoto.com, Inc.

~~~~~~~~~~~~~~~~~~~~~~~~~~~~~~~~~~~~~~~~~~~~~~~~~~

If you would rather not receive the Digital Darkroom, you may unsubscribe at:
http://www.betterphoto.com/subscribeun.asp?e=

To change your email address, visit:
http://www.betterphoto.com/subscribeCOA.asp?e=