Welcome to the 8th issue of the Digital Darkroom
Hi

Covering every topic from the using the cool BuZZ filter to creating Cubist collages to throwing your kids in the pool, this month's Digital Darkroom has something for everyone! Once again, we have selected a truly inspiring and helpful array of fun photos and discussions for you this month.
We also have a sample lesson from our online photography courses on the wonderful Unsharp Mask filter. Classes start this Wednesday and space is limited (three classes are already filled up). Sign up today to join the fun this fall - learning any topic from Photoshop to travel photography to digital black and white printing with the great George Schaub.
Enjoy the photos and fun discussions in this issue of the Digital Darkroom.
To read the online version of the Digital Darkroom at our Web site, visit http://www.betterphoto.com/digitalpics/
Have a great month!
Jim Miotke
http://www.betterphoto.com/MG.asp?ID=124
In This Issue: Friday, October 03, 2003
Featured Photo: Available in various sizes



Available in various sizes
Four different shots of one and the same doggy were used for this montage. Shot was taken on August 19 with the 80-400 VR attached. F/5.6 at 1/500 Focal length 211mm

© Mariette Geest
Fuji FinePix S2 Pr...
Featured Article: Scanning and Sharpening: Sample Photography Course Lesson
This sample lesson is from a previous version of Jim Miotke's "Beginning Photography" online photography course. It introduces you to scanners and digital sharpening functions such as Photoshop's awesome Unsharp Mask filter. You will see for yourself with step-by-step photo illustrations how to create perfect sharpness in your scanned or digital camera images.
Read more...



Cock-A-Doodle-Do
Shot at Navasota, Texas, ISO 400, 70-200mm @ 200mm, 1/250, f/13.

Intermediate version

Original version

© Murry Grigsby
mcgphotocards.com
Read about how this was done...
Each month, the best Before and After will be featured in the Digital Darkroom.

To participate, upload a Before (original) picture then start a discussion on it (using the Discuss This Photo link under the picture). After telling us how you did created the effect, select "1" or "2" from the Upload Image pull-down menu, and submit an optional intermediate image and a final (After) photo. Aim to educate and inspire by sharing a concise, detailed explanation of your technique. Enjoy!
Fall Online PhotoCourses™ at BetterPhoto.com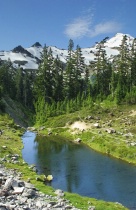 There's less than a week until our fall online photography courses begin! Improve your photographic skills while having a great time making beautiful images. Each class is designed to teach you how to improve your understanding of photography. With exciting lessons, inspiring weekly assignments, and helpful critiques direct from the instructor, you just can miss with an online photo course.

The image to the right - made by BetterPhoto's founder, Jim Miotke - is a digital composite of three photos, illustrating how you can simulate a graduated neutral density filter using Photoshop.

Jim Miotke's class is already full but if you are interested in this kind of Photoshop work, you can still enroll in Jim Zuckerman's "Creative Techniques in Photoshop" or Lewis Kemper's "Photographer's Toolbox for Photoshop: Toolbox #1". Learn more...
New Photo Discussions

New Photo Discussion 1: Coneflowers and Petunias

Very avante guard, Rob :0) Nice image and PS work!!
- Murry Grigsby

See Murry's Premium BetterPholio™

Visit mcgphotocards.com - Murry's Deluxe BetterPholio™

Response 1:Beautiful, RoB!!
- Colette M. Metcalf

See Colette's Premium BetterPholio™

Response 2:Terrific composition and color saturation, Rob, which effect in PSE did you use for this?
- Carol Brill

Response 3:Beautiful color, composition and your frame is very flattering!:~)))
- Suzie Strasburg

See Suzie's Premium BetterPholio™

Response 4:Thanks Colette, Carol and Suzie! I appreciate it. Let's see if I can remember what I did, Carol...

I did normal processing of the shot and did a crop. I made three layers from the background. The first layer was Smart Blur, Edge only, invert. I wanted the lines more distinct so I bumped them up a bit with Poster Edges. I made the second at 75% opacity. I increased the hue and saturation there and used the underpainting filter. I played around with the settings for the filter till I got something I liked and used the sandstone texture. I saw what I wanted with the two layers that were done so I lost third layer. I merged the layers on normal setting and used the texturizer again for sandstone texture. I increased the size of the canvas by one inch around. I made a layer of the increase and used the Silver filter (Flaming Pear) to make the frame choosing two colors in the image. That's about it.

Thanks again!
- Robert Mann

See Robert's Premium BetterPholio™

Read this discussion online
Respond to this discussion
New Photo Discussion 2: The Drink Vendor

Wonderful capture, Ron! Love all the color and the buzzing!
- Joy E. Brown

Visit enJOYphotography.com - Joy's Deluxe BetterPholio™

Response 1:Thank you, Joy, Colette, and Paul. This is one shot I might not consider submitting without the buzz. The filter really livens up the scene for me.
- Ronald Balthazor

Visit balthazorphotography.com - Ronald's Deluxe BetterPholio™

Response 2:What a bright happy image, Ron. Good job!!
- Murry Grigsby

See Murry's Premium BetterPholio™

Visit mcgphotocards.com - Murry's Deluxe BetterPholio™

Response 3:Excellent shot with all the bright colors, details, and action in this scene, Ron, and the buzz adds just the right touch.
- Carol Brill

Response 4:Beautiful image,color and effects!:~)))
- Suzie Strasburg

See Suzie's Premium BetterPholio™

Read this discussion online
Respond to this discussion
New Photo Discussion 3: It's A Big World Out There

What a great Image. Was this done with a filter, or was this done some other way? I'd love to know how it was done.
- Donna Dunbar

See Donna 's Premium BetterPholio™

Response 1:Thank you Donna! This picture was a color photo that was manipulated in Photoshop. I selected the area around the father and son, and used a "motion blur" effect to put more emphasis on the subjects. I also wanted make it seem like the people in the background were moving past very quickly. Thank you again for the compliment! Hope this was helpful!
- Kelly Daniels

Response 2:Fantastic photo, Kelly! Congrats!
- António Carlos Matos

See António Carlos's Premium BetterPholio™

Response 3:Very powerful, Kelly!! Great capture of the expressions on their faces. Good photoshop work too.
- Inna Strauss

Response 4:Nice work and wonderful expression of youth in a big world.
- Lori Ditlefsen

See Lori's Premium BetterPholio™

Read this discussion online
Respond to this discussion
New Photo Discussion 4: Smiley.

A most interesting collage, Andrew.
- Caley Bovee

See Caley's Premium BetterPholio™

Response 1:I love collage and this one is wonderful! Did you take all the images yourself or compile them from other sources?
- Roseann E. Dreasher

See Roseann's Premium BetterPholio™

Response 2:Yes, I took all of the pictures used in the image myself. I used things around the house that were recognizable yet would fit well in the collage. Thanks for your comments.
- Andrew L. McClintock

See Andrew 's Premium BetterPholio™

Response 3:Great collage...it has a very Cubist look to it...I find myself staring at it as I would a Picasso or Bracque painting, trying, to find recognizable objects and logos...I love the greenish-yellow coupled with the b/w...really stunning, a real piece of art worthy of hanging in a very special place! I'm curious, how large is it and have you printed it yet? And why is it called "Smiley"? This is a very sellable work.
- Debbie S.

See Debbie's Premium BetterPholio™

Response 4:It's interesting that you should mention Picasso and Bracque. I just learned a great deal about the two in my art class and a video I watched about them gave me the idea for this piece. I have not printed it yet, but I'm not sure how large it would print and still look sharp. It's called smiley because if you view it from a distance, or squint your eyes at it, it is supposed to look like a smiley face. Thanks for you interest, I appreciate the comments.
- Andrew L. McClintock

See Andrew 's Premium BetterPholio™

Response 5:I see it too now!!!! Again, beautifully done and SO interesting that you've just been studying Braque and Picasso! You are obviousely a very astute student.
- Debbie S.

See Debbie's Premium BetterPholio™

Read this discussion online
Respond to this discussion
New Photo Discussion 5: Travel And Events Theme

Travel And Events Theme
A Collage Done With Photoshop Layers. Symbolisms are used throughout. Arched portal - for entry into another place. The dome is like the eye - to see all these. Dancer with frills, feathers, and ribbons - for the fanfare of a celebration or event. Surf, for fun and frolic in the water. And, most importantly, boat - to symbolize a vessel to take you to a destination.

© Dan S. Coquia
dscoquiaimages.com
Nikon F100 SLR Cam...

This is greatly done, WONDERFUL WORK!! Cheers from Portugal.
- Susana Matos

See Susana's Premium BetterPholio™

Response 1:Very creative, well put together, something that you could look at for a long time.
- Leanne M.E. Boyd

See Leanne's Premium BetterPholio™

Response 2:Wonderful and creative work putting this together.
- Paul Coco

Response 3:Hi Su! Thanks! Thanks Leanne, and Paul! This is one thing that I really like doing. I commit myself to projects like this once in a while. I appreciate your comments!
- Dan S. Coquia

See Dan's Premium BetterPholio™

Visit dscoquiaimages.com - Dan's Deluxe BetterPholio™

Read this discussion online
Respond to this discussion
New Photo Discussion 6: Olga's Roses

Maria, congratulations and what an accomplishment with all the classes you are taking... I've enjoyed seeing your work in PS and Tony's Flower Class.
- Wanda Judd

Response 1:Thanks Wanda! I've enjoyed seeing your work too and hope to meet you in some other classes :)

I think I'll take the flower photography class once again in spring -- I switched to using SLR and am currently learning how to take pictures with it. This rose was one of the first shots I've taken using SLR :)

Regards,
- Maria Mosolova

See Maria's Premium BetterPholio™

Read this discussion online
Respond to this discussion
New Photo Discussion 7: BW Bird

Gorgeous bird, great composition, but lighting is a bit dark around the beak.
- Roseann E. Dreasher

See Roseann's Premium BetterPholio™

Response 1:Thanks for the compliment. I actually made the beak darker in Photoshop. I wanted eye to follow the curves of the neck and make everyone think a little. I thought withe the beak being lighter it stood out more than the line of the bird and eye of the bird which is what caught my eye and I was interested in. Thanks for the kind words, though. :)
- Ashley Kinney

Read this discussion online
Respond to this discussion
New Photo Discussion 8: Genesis

"Genesis"
Shot down through glass treated with Rain-X(windshield treatment)to bead water. Placed flower 1' below in direct sunlight. Then a little copy/pasting and finished off with frame from Hubble deep field image.

© Douglas Gould
Fuji FinePix S602Z...

Very awesome and creative.
- Cathy I. Barrows

See Cathy's Premium BetterPholio™

Response 1:Thanks a lot, Cathy! Even though I spent a lot of time on this, I'm going to make a few changes. I didn't expect the 3-D effect, so went a little crazy with the other graphics. Had fun though! I looked at your member gallery. You have quite the eye! I especially enjoyed your N. Georgia shots, as I hiked about 500 miles of the AT this spring (check my gallery). Intended to go the distance, but back problems got the best of me (broke 8 bones last year). I'm jealous of your Nikons... he he he. Good luck!
- Douglas Gould

See Douglas's Premium BetterPholio™

Read this discussion online
Respond to this discussion
New Photo Discussion 9: Pool Throw Sequence

What a fun sequence, Dave :0)
- Murry Grigsby

See Murry's Premium BetterPholio™

Visit mcgphotocards.com - Murry's Deluxe BetterPholio™

Response 1:Dave-
this is awesome! I have some continuous shots of my niece jumping on a trampoline and would love to try this...any suggestions?
- Mary M. Yeary

Response 2:Thanks Murry!

Mary, actually I was not entirely pleased with this shot and only decided to post it because I got such a good reaction from my family. When I shot these I was panning with the boy being thrown. As a result you'll notice that the background is blurred in some areas and not in others. I plan to retake this shot with the camera fixed on a tripod so that all the shots have the same background and I can then composite in just the elements that have moved. That's what I would suggest for your shot if possible.
- Dave Vision

See Dave's Premium BetterPholio™

Read this discussion online
Respond to this discussion





The Next Step: Where to Go From Here



If you would like to be featured in the Digital Darkroom, we look for photo discussions that educate, inspire, and encourage BetterPhoto members. In the spirit of helping others become better photographers, we encourage you to share details, tips, and techniques in your discussions... after all, that is what BetterPhoto is all about - honest answers for budding photographers.

Until next time, thanks for reading and keep having fun with photography!
Jim Miotke
BetterPhoto.com, Inc.

~~~~~~~~~~~~~~~~~~~~~~~~~~~~~~~~~~~~~~~~~~~~~~~~~~

If you would rather not receive the Digital Darkroom, you may unsubscribe at:
http://www.betterphoto.com/subscribeun.asp?e=

To change your email address, visit:
http://www.betterphoto.com/subscribeCOA.asp?e=