Welcome to the 6th issue of the Digital Darkroom
Hi

Well, summer is flying by all too quickly but we here at BetterPhoto are having a fantastic time making summertime images. The quality of images on the site show that the BetterPhoto members are having an equally wonderful summer of photography.
This month, we have another great Digital Darkroom for you, full of the best photo discussions for you. View below to see stunning image, learn about digital techniques, and get suggestions on how to overcome common digital problems.
Also, we have a featured article this week that I just know you are going to love. If you're considering buying a digital camera - or if you simply want to learn more about your current digital camera - check out our new and improvement guide on buying the best digital camera.
To read the online version of the Digital Darkroom at our Web site, visit http://www.betterphoto.com/digitalpics/
Have a great month!
Jim Miotke
http://www.betterphoto.com/MG.asp?ID=124
In This Issue: Tuesday, August 12, 2003
Featured Photo: Asphalt Abstract


Featured Article: New and Improved - Digital Camera Buyer's Guide
Are you looking for the perfect digital camera? Or are you trying to decide if the time has come for you to "go digital"? If you are looking for help with learning which digital camera would be the best for you, this Digital Camera Buyer's Guide is just the ticket. By explaining the most important features to look for, it will help you find your way through the labyrinth of buying a new digital camera.
Read more...



ILLUSION
Cemetery Gate With Photoshop Effect Added

© Nicola Clark
Read about how this was done...
Each month, the best Before and After will be featured in the Digital Darkroom.

To participate, upload a Before (original) picture then start a discussion on it (using the Discuss This Photo link under the picture). After telling us how you did created the effect, select "1" or "2" from the Upload Image pull-down menu, and submit an optional intermediate image and a final (After) photo. Aim to educate and inspire by sharing a concise, detailed explanation of your technique. Enjoy!
Fall Online PhotoCourses™ at BetterPhoto.com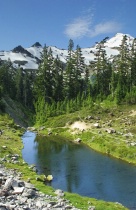 Make this fall an adventure by enrolling in an online photography course! Improve your image-making skills while having a great time enjoying the fall season. Each class is focused on teaching you how to improve your understanding of photography through exciting weekly assignments and helpful critiques direct from the instructor.

This image to the right - made by BetterPhoto's founder, Jim Miotke - is a digital composite of three photos, illustrating how you can simulate a graduated neutral density filter using Photoshop. Jim will post a brief article about this in the coming weeks. Of, if you are interested in this kind of Photoshop work, enroll in Jim Miotke's "Photoshop for Photographers" online photography course. Learn more...
New Photo Discussions

New Photo Discussion 1: CD Cover: Musical Massage I

What a beautiful and unusual flower - and what a wonderful macro! Perfect image for the CD (feel those flowery fingertips).
- Mary K. Robison

Response 1:Yes, nice work, Robert. This must be one of your images for Bryan's Photo Marketing course... Did you use Photoshop or another program for the text? Great job balancing the text with the subject.
- Jim at BetterPhoto.com

See Jim Miotke's Premium BetterPholio™
Visit Jim Miotke's Deluxe BetterPholio™ - Miotke.com

Take an Online PhotoCourse™ with Jim Miotke:
Jim Miotke's Online Photography Courses

Read this discussion online
Respond to this discussion
New Photo Discussion 2: Full Moon and Empty Arms

Nice work, Damian, and story. Is that the same moon used in your neon shot?
- Murry Grigsby

See Murry's Premium BetterPholio™

Visit mcgphotocards.com - Murry's Deluxe BetterPholio™

Response 1:Thanks Murry! Yep, same moon! This is an old song, I think Sinatra did a version...
- Damian Gadal

Visit gadal-imagery.com - Damian's Deluxe BetterPholio™

Response 2:Beautiful work, Damian!!! Great color and excellent moon shot!
- Paula M. Showen

See Paula's Premium BetterPholio™

Response 3:
Thanks Paula! I was trying to see if I could salvage something from the original, which I liked, but was a bit too dark....
- Damian Gadal

Visit gadal-imagery.com - Damian's Deluxe BetterPholio™

Response 4:Hi Damian
Very nice job - all the way from the first shot and to the final image. I like the light use of filters (Photoshop?).
Alan :-)
- Alan Hansen

Response 5:Thanks! Yep, Photoshop! :-)
- Damian Gadal

Visit gadal-imagery.com - Damian's Deluxe BetterPholio™

Read this discussion online
Respond to this discussion
New Photo Discussion 3: Bougainvillea Beauty!

I hope you don't mind if I use your shot to bring up a point/question. Even though, you mananged to capture "red" well, why is it that digital cameras do not "read" the color red. I have always dissapointed with my results.
- Brinn MacDougall

Response 1:Nicely done, Dana. Looks like your color here is spot-on for this flower.
- Murry Grigsby

See Murry's Premium BetterPholio™

Visit mcgphotocards.com - Murry's Deluxe BetterPholio™

Response 2:Thanks Murry and Brinn! Brinn, do you manually adjust your light meter? I do not leave mine on automatic because I find that the saturation becomes too much! I can never capture red or hot pink with the white balance on auto... I have to set it manually according to the light conditions.
- Dana W. Chamma

See Dana's Premium BetterPholio™

Response 3:Good point! I find myself over-looking the light meter! It's set on auto... and now I know why I get those results!! Thanks so much for the reminder - check, check and double check before shooting...
- Brinn MacDougall

Response 4:Well Brinn, it took me a while to get used to setting mine too... But once I learned how, it made all the difference in the world!
- Dana W. Chamma

See Dana's Premium BetterPholio™

Read this discussion online
Respond to this discussion
New Photo Discussion 4: Summer Maple

SUGAR MAPLE
I spotted this scene while walking out of the woods and into an old railroad yard. It was very late in the afternoon on an overcast day. Theere was a slight breeze in the air and the mosquitos were bad that night.I firmly pressed the camera in a vertical format against a tree and composed the image. Canon 70-200 lens 159 mm. av 8.0 tv 1/6.

© Donna Rae
DonnaraePhotography.com
Canon EOS D60 Digi...

Intense colors!
- David G. Ziegert

Response 1:YES David, as I was walking out of the woods, that red really popped against all of the greens and browns that I had seen for a couple of hours.The only way I could show off what I had seen was to spotlight this red with the contrast that that my eyes had become accustomed to for the time of my walk. These leaves from a neaby maple tree were the best way to do it because the forest was filled with them.
- Donna Rae

See Donna's Premium BetterPholio™

Visit DonnaraePhotography.com - Donna's Deluxe BetterPholio™

Response 2:Almost looks like an inverted autumn scene, Donna. What a great contrast between the GREEN leaves and the RED background! Very creative seeing and strong graphics. Well done!
- Murry Grigsby

See Murry's Premium BetterPholio™

Visit mcgphotocards.com - Murry's Deluxe BetterPholio™

Response 3:The red and green make me think of Christmas. Love the look of the leaves. Very nice, Donna! :-)
- Patricia Marroquin

See Patricia's Premium BetterPholio™

Response 4:Wow, great graphic photo, it gives me the feel of of an Oriental screen print. Good eye Donna. Ma
- Marcy

Response 5:Hi Ma, Thanks! Good eye too. It does look lke an oriental screen print now that you mention it! Do you remember the screen prints that I made many years ago. That was an interesting process.
- Donna Rae

See Donna's Premium BetterPholio™

Visit DonnaraePhotography.com - Donna's Deluxe BetterPholio™

Response 6:Donna, I'm new to this site but really enjoy it. I really like your composition on this shot. How did you get the Red background? Was it part of the original picture or did you put it in digitally?
- David Aven

Read this discussion online
Respond to this discussion
New Photo Discussion 5: Dandelion Blues

Whoa! Heather, this is FANTASTIC!
- Sherri Conley

Response 1:Gorgeous, gorgeous, gorgeous! Love the blue, the texture and the subject and composition...exceptional image! Did you apply any PS...just curious about the blue tint and the texture?
- Debbie S.

See Debbie's Premium BetterPholio™

Response 2:Thanks Sherri and Debbie! No PS work except tone curve and sharpening. I took that in the deep shade outside and that is what my auto WB came up with. I changed it to shade after the first couple of shots and got a more nature green color, but I actually liked the blue tint better of the two!
- Heather K. McFarland

See Heather's Premium BetterPholio™

Response 3:Super Shot! I really like the non-traditional perspective you have chosen for this subject. Color good, texture and lighting, ditto!
- Bill Morgenstern

Response 4:Thanks Heather...hmmm...I'll have to keep in mind the auto white balance...I agree, the blue has an etherial quality to it.
- Debbie S.

See Debbie's Premium BetterPholio™

Read this discussion online
Respond to this discussion
New Photo Discussion 6: Donnelly House Window & Geraniums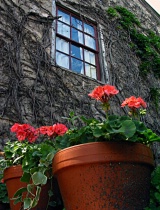 Donnelly House Window & Geraniums
Aperature Priority at f/8; 1/60 shutter, spot metered on the window to underexpose scene. I had to use a tight composition to eliminate the bright sky. Before you think I was on the ground shooting up, I wasn't. This house was built into a hill and the flowers were on a rock wall next to the house at eye-level.

© Pat Borowicz
p-bphotography.com
Canon PowerShot G2...

I like the sense of height, the textures and the colour.
- Leanne M.E. Boyd

Response 1:Hi Leanne, thanks for taking time to comment on my photo. Your comments give a different insight to my shots that I may not have seen.
- Pat Borowicz

See Pat's Premium BetterPholio™

Visit p-bphotography.com - Pat's Deluxe BetterPholio™

Response 2:What I liked the most is the contrast of the colors. The background gray with a small red and green foreground. The blue window finishes the balance. Good job.
- Rafael Sarres

Response 3:Rafael, thank you so much. I liked your analysis of my photo. You saw the same things I did.
- Pat Borowicz

See Pat's Premium BetterPholio™

Visit p-bphotography.com - Pat's Deluxe BetterPholio™

Response 4:Pat, I like how you caught the light on the edge of the flowerpot, and the old-world look of the twining vines against the textury walls of the house. And the angle adds fresh perspective.
- Carol Brill

Read this discussion online
Respond to this discussion
New Photo Discussion 7: Lady in Volterra

Oh, I am so jealous...This is just wonderful! I can't stand it!
- Carolyn Fletcher

See Carolyn's Premium BetterPholio™

Response 1:The detail is just great, Joy!!! I like the light fixtures in this!!
- Colette M. Metcalf

Response 2:It is funny, all that great structure and the human element is what really made this an outstanding image.
- Darren K. Fisher

See Darren's Premium BetterPholio™

Response 3:This is great Joy......Love all the detail in this shot and your composition.
- Shirley Carpenter

See Shirley's Premium BetterPholio™

Response 4:I agree with Carolyn. ... Love the contrast of the towering, old architecture with the woman in pristine white. A dramatic photo, Joy.
- Patricia Marroquin

See Patricia's Premium BetterPholio™

Response 5:Great photo, Joy! Makes me want to go to Italy....romantic, mysterious, this photo whets my curiosity for more, more, more!
- Jean Papo

Read this discussion online
Respond to this discussion
New Photo Discussion 8: Macho Man

Nice catch! I also like the texture of the paint surrounding the window. Was this candid or posed?
- Dave Vision

See Dave's Premium BetterPholio™

Response 1:Thanks Dave. The man in the picture was not posing, a second later he was gone from the window.
- Ilana Peled

See Ilana's Premium BetterPholio™

Visit IlanaPeled.com - Ilana's Deluxe BetterPholio™

Response 2:Great pic, I love the way you have composed this shot. The colour, the mood and the light. It's just a great pic.
- Tony Gough

See Tony's Premium BetterPholio™

Response 3:This is great, Ilana! The window is spectacular and the subject capture is excellent! Good luck with this!
- Robert Mann

See Robert's Premium BetterPholio™

Response 4:Just had to come back and see it again and it's even better! Great mood.
- Robert Mann

See Robert's Premium BetterPholio™

Response 5:You can`t see it in the picture, but this gentlman had tatooes all over his hands and shoulders. I had just a few seconds to take this picture because as the man spotted me he disappeared from the window. Thanks to Dave, Tony, Rob, Evy and Jill.
- Ilana Peled

See Ilana's Premium BetterPholio™

Visit IlanaPeled.com - Ilana's Deluxe BetterPholio™

Response 6:Where was this photo taken? What character on the window/wall/man's expression. Great shot!
- Lori Moravcik

Response 7:Thanks Gaby and Lori. This picture was taken in a remote village in Romania. I have no idea who is this man, but I think everyone can tell his own story with a little bit of imagination.
- Ilana Peled

See Ilana's Premium BetterPholio™

Visit IlanaPeled.com - Ilana's Deluxe BetterPholio™

Read this discussion online
Respond to this discussion





The Next Step: Where to Go From Here



If you would like to be featured in the Digital Darkroom, we look for photo discussions that educate, inspire, and encourage BetterPhoto members. In the spirit of helping others become better photographers, we encourage you to share details, tips, and techniques in your discussions... after all, that is what BetterPhoto is all about - honest answers for budding photographers.

Until next time, thanks for reading and keep having fun with photography!
Jim Miotke
BetterPhoto.com, Inc.

~~~~~~~~~~~~~~~~~~~~~~~~~~~~~~~~~~~~~~~~~~~~~~~~~~

If you would rather not receive the Digital Darkroom, you may unsubscribe at:
http://www.betterphoto.com/subscribeun.asp?e=

To change your email address, visit:
http://www.betterphoto.com/subscribeCOA.asp?e=