Software
Most digital cameras offer one or more of the three following software options:
A stand-alone digital image-editing program
A Photoshop plug-in
A TWAIN acquire module
Stand-Alone Digital Image-Editing Software
The stand-alone program is just that - it works by itself and allows the user to get the images from the camera and into the hard drive. Most of these programs also offer basic image editing features such as cropping, resizing, adjusting brightness and hue, etc. Most offer the ability to add type to the image. Some have not been thought out too well.
For example, the Olympus D300L came with Adobe's PhotoDeluxe. Unlike its big brother, the full version of Photoshop, PhotoDeluxe only allowed one image to be open at any given moment. This becomes a big problem when you are trying to acquire images from the camera; since you could only have one image open at a time, you had to go through the whole acquire process for every single image you want.
Such a problem can be avoided by using Adobe's newer Photoshop Elements, Ulead's PhotoImpact, ArcSoft's PhotoStudio, or a host of other programs which allow many images to be open at any given moment.
Photoshop Plug-In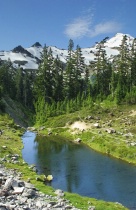 Digital Simulation of Graduated Neutral Density Filter
©Jim Miotke

This module allows direct acquisition into a program like Photoshop. This saves you the steps of having to acquire the images using the camera's stand-alone software, save them onto your hard drive, and then reopen them in the bigger, better, stronger Photoshop or _______ (fill in the blank with a Photoshop-like program).

TWAIN Module
This is the same thing as a plug-in, allowing direct acquisition into a program like Photoshop. The main difference involves whether you are on a Mac or a Windows PC (and the preferences of the programmers who created the software).

CompactFlash and Other Cards
Note that you might not need to be concerned about TWAIN modules and plug-ins if:
Your camera uses a CompactFlash, SmartMedia, or other memory card that you can simply stick into a card reader.
You already own Photoshop or a similar program.
Your camera shoots in JPEG, TIFF, or another standard format (most cameras do).
If this is the case, you can simply remove your card when you're done, place it into a card reader (or the PCMCIA slot of your laptop, with an adapter), and - voila! - your images are as accessible as any other file on your computer.





Digital Camera Comparison
After you read these pages, remember to try our digital camera calculators or our digital camera comparison charts - which make finding the best digital cameras easy.