Lens Features
When you are on the edge of a ravine, trying to take a picture of a bald eagle perched on top of a Douglas fir on the next hill over, a telephoto zoom lens is a great blessing.

When you are backed up against a wall, trying to recompose the picture to get a different look or a wider angle, a zoom wide angle lens is a great blessing. Here are a couple of examples that made good use out of a wide angle lens:


Wide Angle Lens
Handy for Wide Angle Scenics
and Landscapes
©Jim Miotke

Wide Angle Lens
Handy for Architecture
and Interiors
©Jim Miotke
If you have never used a zoom lens, just imagine being able to recompose a potential shot into a thousand different possible ideas without moving a foot!

The only practical reason to not get a digital camera with a zoom lens might be cost. But any money saved in this area is relative... do you really save enough money, for example, to warrant having to trudge across that muddy construction site to get the photo of the house being built?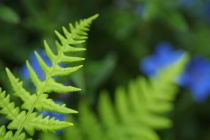 Fern Echo
©Jim Miotke

Bleeding Hearts Trio
©Jim Miotke

Macro Lenses and Modes
Another thing you may want to look for is macro / close-up capabilities. In the point-and-shoot range, this is usually determined by having a macro mode that allows you to bring the camera closer to your subject.

Without such a macro feature, you must usually stay about 1.5 to 2 feet (or more) from your subject. The ability of some cameras to get within one centimeter can make for some extremely fun imaging... you can make huge close up images of everything from postage stamps, beetles and other bugs, kitchen utensils, flowers (and weeds for that matter), coins, and much more.

The digital cameras with the best macro capabilites either feature a macro mode or the use of a separate macro lens (e.g. when using a digital SLR camera). Shy away from using close-up filters - they do not do as good of a job.





Digital Camera Comparison
After you read these pages, remember to try our digital camera calculators or our digital camera comparison charts - which make finding the best digital cameras easy.