Here are a few quick tips to help you make better pictures and have more fun using your digital camera. Move in Closer, Optically and Digitally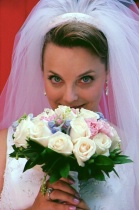 Bride
© Jim Miotke

It is always a great idea to move or zoom in closer to your subject. Almost any scene will benefit from you taking two steps forward.

However, with digital cameras, there is a catch. As much as you may be tempted to use the powerful digital zoom on your camera, avoid it. The image quality is much better when you move in closer using either the "sneaker" technique (walking up to your subject) or using the optical zoom on your camera. Avoid the digital zoom.

Moving In Very Close? Make Sure You Hit The Mark
Most digital and point and shoot cameras use a separate viewfinder from the lens. This means that the hole you look through is not the same hole the lens looks though. It sees a slightly different scene.


Parallax - Before and After
© Jim Miotke

When you are far from your subject, this effect is negligible but as you get closer to a subject, it becomes more noticeable. This problem, called parallax, can trip up many macro digital photographers. Adjust for it when shooting close-ups. Streamline That Puppy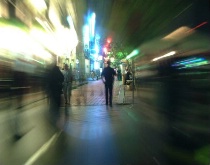 Time Flies
© Pocholo Ignacio

Turn off the Date Function and any other fluffy features that the manufacturer gives you. If you really want to remember when the photo was shot, use another method such as naming your digital file with the date in the name or, if worse comes to worse, writing the date down in a notebook as you are out shooting. The idea is to eliminate distracting elements whenever you can.

Use A Tripod
Without the control of shutter speed, many cameras shoot too slow and end up capturing a blurry image. If you can adjust your ISO setting and you are consistently getting soft pictures, push up a stop or two. If you are stuck with whatever ISO equivalent your camera features, use a tripod. Combine a tripod with a remote or a self-timer for optimal results. (And don't be afraid, when you are back in your digital darkroom, to slightly increase clarity by using an Unsharp Mask or Sharpen filter in your digital image-editing software.)

Anticipate The Moment
Since many digital cameras suffer from a delay when you press the shutter button, practice getting faster and faster to the draw.

If you are shooting anything active, make sure you press the shutter button down long before your subject is at its optimal position. You may need to take many pictures to make up for the error factor.

Rely on Available Light
Get away from that on-camera flash whenever possible. Only turn to it when:
You are shooting in bright conditions and simply need a wee bit of fill flash; or
You have no alternative but to rely on your on-camera flash.
Turning to reflectors and using available light as much as possible will yield great results.
Use The LCD Monitor

LCD Monitor
© Jim Miotke

Practice, take a shot, look at it. Given you cannot see a full size version of the image, you can still often see enough to know about major problems. For example, you will see right away if the flash did not fire or if you were a little off center.

Get yourself as much memory in removable storage as you can afford. Go for a huge media card, if you can. There is nothing worse than having to stop shooting so you can shuffle and erase pictures to make room on a small memory card. Having as close to unlimited storage as you can get will free you up and help you feel inspired rather than worried.

Tip: If you do happen to collect a bunch of CompactFlash cards over the years, here is a simply way to make a cheap carrying case for them. Take a plastic, bi-fold business card holder, open it and put a staple in the middle of each side, running perpendicular to the fold. This will give you neat little pockets that perfectly fit four CompactFlash cards.


Shoot First, Erase Later
If you are on assignment, in the heat of the moment, or otherwise pressed for time, fire away without going into the edit mode. Leave that for later unless you absolutely need the disk space. The ability to erase is indeed one of the great features of shooting digitally but do it later, in your hotel room or back at home.


Cassis Boats
© Jim Miotke


Have Laptop, Will PCMCIA
Do you have a laptop with a PCMCIA slot in it? If so, use it; get an adapter so you can stick your removable media card in the PCMCIA slot to transfer files.

If you do not have such a laptop, you may want to get an external card reader.

Either way, transferring files is much quicker than using a cable method. Furthermore, when you download files from the camera in this way, you will no longer have to wrestle with that mess of wires tangled behind your computer.

There you have it. Now grab that digicam, head out and take a card full of great pictures!

Questions? Check the BetterPhoto Q&A forum - and perhaps ask your own question - to see if other members have answers for you.