Get pro feedback on your photos in...
Creative Close-ups
Become a better photographer today!
Find out how close-at-hand subjects can result in larger-than-life images. Detail photos provide the accent that can set a mood, reveal pattern, line, and shape, and add visual variety to your collection of photographs. As instructor and author Kerry Drager will show you, the more intimate view can often reveal more about a subject than the broader scene! This class will show you how to use either everyday camera gear or specialized macro equipment to capture great close-up (and sometimes abstract) images of just about anything - nature subjects, still life scenes, architectural details, close-up portraits, etc.
Key Features
Developing an Eye for Details
Compositional Choices
Working with Natural Light
Going to the Extremes - Close-ups and Macro

Perfect for serious hobbyists through intermediates.
Covers creative and technical aspects that apply to the following: 1) tight close-ups with regular lenses, and 2) extreme close-ups with a macro lens or macro accessory.
Expand your vision to include details of just about any subject: nature, architecture, still life, close-up portraits, etc.
Covers a key issue in photographing close-ups: critical focusing.
Learn to handle the inherently narrow Depth of Field in close-up and macro photography.

$198.00 USD
What You Get
Benefits:
You get direct feedback on your photos from world-acclaimed, professional photographers. You can learn photography in this way from anywhere in the world.

Learn at your pace, with structure.

Be guided by a real pro instructor.

Get your photos critiqued every week.

Join students from around the world.

Go far beyond any book or DVD.

Make great pictures, again and again!
Instructor
Kerry Drager
The content manager and course advisor for BetterPhoto.com, Kerry Drager is also the co-author of two books:
The BetterPhoto Guide to Creative Digital Photography
(2011) and
The BetterPhoto Guide to Photographing Light
(2012). In addition, he teaches photography online at BetterPhoto's digital photography school.
Be sure to check out Kerry's Pro BetterPholio website - www.kerrydrager.com.
Also, he is the author of Scenic Photography 101, the photographer of the photo-essay books The Golden Dream: California from Gold Rush to Statehood and California Desert , a contributor to the books BetterPhoto Basics and Daybreak 2000, and a co-photographer of Portrait of California. In addition, Kerry was profiled in the April 1994 issue of Outdoor Photographer magazine and in Vik Orenstein's 2010 book The Photographer's Market Guide to Building Your Photography Business, and his website was showcased in the January 2003 issue of Shutterbug magazine. Plus, his work has appeared in magazines, Hallmark cards and Sierra Club calendars, and in advertising campaigns for American Express and Sinar Bron Imaging.
Also see his Visual Creativity photography blog, and follow Kerry on Facebook.
Kerry lives with his wife, Mary, on California's Central Coast, with their three Newfoundland dogs, four cats, and a mixed terrier.
Sample Photos by the Instructor
| | |
| --- | --- |
| © Kerry Drager | © Kerry Drager |
Course Outline
Week 1: Developing an Eye for Details
Introduction: Why a photogenic part sometimes is stronger than the whole. How to find eye-catching subjects. The art and technique of exploring and experimenting. Bonus Lesson: Macro equipment options (from lenses to accessories, although again, macro gear is optional in this course). Sidebar: Tripods and other camera supports.
Assignment: Isolate the small view within the big scene - close-up or macro.

Week 2: Compositional Choices
Lens focal length options - moving physically closer vs. zooming in tighter. Zeroing in as tight as possible with standard lenses or with macro equipment. Positioning the subject. Simplifying a scene (by eliminating distracting elements). Sidebar: Depth of Field.
Assignment: Shoot the same subject with different compositions (close-up or macro).

Week 3: Working with Natural Light
How light can impact a photo: late/early day for warm light and striking shadows for small scenes; soft overcast light for close-ups and macro shots; sidelight vs. backlight; etc. Working in challenging conditions (light-vs.-dark contrast): "fixing" things with fill flash, a reflector, or diffusion disc, or by shifting the camera to eliminate a distracting bright "hot" spot, etc. Also: Using a polarizing filter.
Assignment: Shoot the same subject in different light - close-up or macro.
Week 4: Going to the Extremes - Close-ups and Macro
An introduction to extreme close-up and macro photography: Shooting survival strategies: i.e., dealing with a razor-thin depth of field, paying attention to backgrounds, etc. More tips, tricks, and techniques for successful macro photography.
Assignment: Experiment with viewpoint and sharpness – via close-focusing with a standard lens or moving in tight with macro gear.
| | |
| --- | --- |
| © Kerry Drager | © Kerry Drager |
Requirements
Digital camera.
Knowledge of - and the ability to control - aperture and shutter speed.
A tripod - and the willingness to use it!
Polarizing filter recommended, but not required
Macro equipment optional
FAQ
Is this course intended only for beginning/intermediate photographers or can advanced photographers take part too?
This course is open to any photographer who wants to explore the realm of detail and macro photography.
What kind of equipment will I need to complete the photo assignments?
Any digital camera that allows for creative adjustments - i.e., the ability to control shutter speed and aperture - will do. This course doesn't require an arsenal of lenses, but you will need either a zoom lens or a few fixed-focal-length lenses. Also, you'll need a tripod.
Optional: Macro gear (i.e., a macro function on camera, a macro lens, close-up filters, or extension tubes). While not providing the extreme close-up ability of a macro lens, regular lenses can work great for close-up photography. And the course techniques apply to any macro or non-macro close-ups.


What about flash photography?
This course focuses mostly on natural, non-flash outdoor light - plus window light and available light indoors. The subject of fill flash will come up briefly from time to time, but it won't be required for any assignments.
For those of us who have it, can we use photo imaging software on our weekly submissions?
Yes, but only if the software is used as a corrective tool and for routine post-processing (in particular, Raw images need work). Don't lean on it too much for creativity. For example, please avoid using the digital darkroom for things such as adding motion effects, creating soft backgrounds, or cleaning up or eliminating large distractions, such as trees or telephone poles. And, please, no major cropping! This course is making great images with your camera. It is not about what you can do with digital imaging programs after the fact (BetterPhoto has some terrific courses designed specifically for working in the digital darkroom).
| | |
| --- | --- |
| © Kerry Drager | © Kerry Drager |
Do I have to be online at any specific time?
No, you do not need to be online at any specific time. The lessons are sent to your email and you are also provided the Campus Square - where you interact with your classmates and instructor. This is also where you upload your photos to be critiqued by your instructor. The instructors are very punctual and respond quickly.
Will I have access to the instructor to ask questions during the photo course?
Absolutely! Students can ask questions in the special Q&A forum set up in the course's Campus Square, or can ask the instructor via email.
Do you offer a money back guarantee?
Yes. We are confident that you will fully enjoy our courses. All the same, for our 8-week classes, we offer a 100% money-back guarantee before the Wednesday that Lesson #3 is sent out. If for any reason, you are not satisfied and let us know that you would like to withdraw before the Wednesday that Lesson #3 is sent, you will be promptly refunded.
For our 4-week courses, we offer a 100% money back guarantee before the Wednesday that Lesson #2 is sent out from BetterPhoto. If for any reason you are not satisfied and you let the ordering department know that you would like to withdraw before the Wednesday that Lesson #2 is sent, you will be refunded within 7 days. After the second lesson has been sent out, no refunds will be given.
Still have questions about this course?
Ask Us
Take the Next Step..
You can Get Started Today! The price is
$198.00
USD. Do this to start the class right away.
Add to Cart
today to get going in the class.
Add to Wishlist
---
Satisfaction Guaranteed!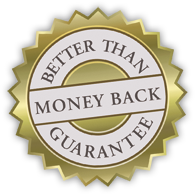 Better Than Money Back Guarantee
We Guarantee our courses.
100%, No Risk, No Hassle.
See you in class!