Get pro feedback on your photos in...
Looking Good in Print and On the Web: Color Management
Become a better photographer today!
Learn to take control of image color in this exciting online course. Taught by digital imaging pro Richard Lynch, this interactive class explores the sources of color problems, why these problems happen, and tells how to resolve the issues. The goal is to establish a working knowledge of color management - often a subject full of mystery to photographers from amateur to pro. We look at calibration, how to make and use color profiles, how to adjust images for better results, and put together an individualized working plan for consistent success with your images.
Key Features
Calibrate your monitor.
Choose color settings that best fit what you do.
Learn handy corrections to optimize prints.
Test the plan, evaluate the results, and be confident in color.
Take a bold step and put all your color woes behind.
Don't just pick color settings and guess at color management, understand why you make choices and take control!
Photographic novices and pros benefit from a considered color management plan – and so do their images.
NOTE: This course can help both Photoshop and Elements users (any version).
Learn from a digital pro who has more than 20 years of digital imaging experience.


$198.00 USD
What You Get
Benefits:
You get direct feedback on your photos from world-acclaimed, professional photographers. You can learn photography in this way from anywhere in the world.

Learn at your pace, with structure.

Be guided by a real pro instructor.

Get your photos critiqued every week.

Join students from around the world.

Go far beyond any book or DVD.

Make great pictures, again and again!
Instructor
Richard Lynch
Richard Lynch has written 9 books on Photoshop and image editing. His expertise was born following interests in photography and design, honed as the editor and designer of a photography book publishing house and perfected by working with his own images. His photographic techniques and Photoshop work are steeped in darkroom tradition and photographic theory. He has spent more than 20 years adapting the darkroom to solid digital techniques, and is confident that he can make any image more than it was when it was shot using the digital darkroom.
American born and a US resident, Richard currently lives in Romania where he runs photo tours. He teaches courses for digital photographers and hobbyists in photography and Photoshop online and in the classroom. His articles have been in a variety of publications online and in print, including Popular Photography, PCPhoto, Advanced Photoshop, Digital Photography Techniques, and Photo Techniques. His books tend to fall outside of the series typical series algorithm. His latest book, The Adobe Photoshop Layers Book (http://aps8.com/taplbcs4.html), was the first and only book devoted specifically to Photoshop layers when it first came out in 2007. A completely new edition of the layers book was released for 2012.
In his 'spare' time, Richard experiments with both modern and vintage equipment (like manual-focus lenses, extension tubes, modifications), and devises new and better schemes for image editing (often in the shower). His creative prose has been published in a variety of literary magazines and online. A culinary background and interest in malt beverages led him to competitive beer brewing, and has won awards for his brews in national competitions in the US. Richard enjoys target shooting, a skill not unlike photography, and has a strong knowledge of pellet guns and rifle optics born of his interest in camera lenses and plinking little plastic army guys. He lives to follow his interest, sneak in a little fun, and is in possession of more camera and computer equipment than anyone realistically needs – but he can justify all of it.
See his website: photoshopcs.com
Sample Photos by the Instructor

© Richard Lynch
Course Outline
Lesson 1: Seeing the Color Correctly
Most people believe that what their monitor shows them is the best representation of their image. That just isn't true. This lesson focuses on the essential step of being sure you see the color right on your own computer. Without this first step, there is no chance you can have confidence in your color anywhere else. Learn how to properly calibrate your monitor, why you need to do it, and how to be sure it is accurate. Learn about what a profile is and what it does, and define one for yourself – it is easier than you think!
Lesson 2: Setting Up Color Management
With images looking right on your own computer, it is time to consider how to translate that to success in showing them to other people. Translation is the key! In order for your images to work best on other computers and in print, they have to be understood by other computers. This understanding comes through choices you make in color management. It can take years of trial and error to come up with a solution that makes sense and works. In this lesson we distill those years of learning into a process that helps you understand what you need to know about color management to apply it. Make color choices based on understanding; learn to peek around the corner at the reality of managing color to know what you can control, and what you can't. Use your understanding to define a color management strategy that is best for you.
Lesson 3: Correcting Images for Print
Eventually everyone will want to see their images in print: whether for their own enjoyment, to give to friends and relatives, to sell, or in newspapers, magazines and books! This lesson takes a look at print-specifc corrections that you may want to make to ensure you get the best quality results. We look at some of the problems of converting digital images to print, and consider when you might want to tone down, ramp up, or even ignore print-specific corrections. Techniques in this lesson are derived from corrections you might make to images every day, so even if you don't plan to do much printing, you need to know these methods, as they are the cornerstone of correcting and enhancing your images.
Lesson 4: Selecting a Service and Making Test Prints
Color management is not very valuable unless you see that it is working. In this lesson we set up a test where you exercise the color management muscles we have been working to build. You will get to see in practice how your chosen color management scheme performs, and have the opportunity to adjust for any inconsistencies or issues based on the test results. With the tests performed, the results evaluated, and the adjustments made, you can be confident in your color processing. You will also have an outline for re-evaluating color issues in the future. With this, you should be color confident!

| | |
| --- | --- |
| © Richard Lynch | © Richard Lynch |
Requirements
Any version of Photoshop or Photoshop Elements.
Images to work on (from your digital camera or scanner).
A desire to take control of color management.
A small budget for test printing (likely under $10).
Note: The course will make a strong case and suggestion for using a monitor calibration device. If you don't already own one, don't buy one until after reading lesson 1. If you have one already, it will be fine for the course. Alternatives are discussed in lesson 1.

FAQ
How will this course help me?
This course will help you achieve consistent color results for your images in print or on the web. You will learn how to handle color management from the ground up, you'll devise a foolproof color management workflow, and test the results.
I don't own a printer. Can I benefit from this course?
Absolutely. There is a print test requirement, but that does not require you to own a printer. The course may pose some interesting options for print output that you may not have considered. Those who own a printer can use it for testing, but it is actually better to test using a service.
I am totally confused by "color management". I don't even know what the term means! Will I benefit from this course?
The course will be perfect for you, and it applies to all levels of photographer (novice to pro). You will not only find out what "color management" means, but learn why color management is important and learn all the details about making selections that help you get the most from your images every day.
Do I need to have a lot of Photoshop experience to benefit from this course?
Not at all! One of the most confounding things about getting color right is that you need to understand all about color management and color concerns before you start using Photoshop at all… yet it may take years before a Photoshop user decides to learn about color management or realize that it is important. No matter what level you are at as a photographer or Photoshop user, you need to have color under control, and this course is the place to start.
Do I need any special equipment for this course?
The course will make a strong case for getting a hardware-based monitor calibration device. These have several advantages for helping you along in the process. If you don't already own one, you should not run out and buy one before the course starts, and you may not need one at all – depending on your equipment and system.  Freeware alternatives are available, but as you'll see in the course, they may not be your best choice.
| | |
| --- | --- |
| © Richard Lynch | © Richard Lynch |
Do I have to be online at any specific time?
No, you do not need to be online at any specific time. The lessons are sent to your email and you are also provided the Campus Square - where you interact with your classmates and instructor. This is also where you upload your photos to be critiqued by your instructor. The instructors are very punctual and respond quickly.
Will I have access to the instructor to ask questions during the photo course?
Absolutely! Students can ask questions in the special Q&A forum set up in the course's Campus Square, or can ask the instructor via email.
Do you offer a money back guarantee?
Yes. We are confident that you will fully enjoy our courses. All the same, for our 8-week classes, we offer a 100% money-back guarantee before the Wednesday that Lesson #3 is sent out. If for any reason, you are not satisfied and let us know that you would like to withdraw before the Wednesday that Lesson #3 is sent, you will be promptly refunded.
For our 4-week courses, we offer a 100% money back guarantee before the Wednesday that Lesson #2 is sent out from BetterPhoto. If for any reason you are not satisfied and you let the ordering department know that you would like to withdraw before the Wednesday that Lesson #2 is sent, you will be refunded within 7 days. After the second lesson has been sent out, no refunds will be given.
Still have questions about this course?
Ask Us
Take the Next Step..
You can Get Started Today! The price is
$198.00
USD. Do this to start the class right away.
Add to Cart
today to get going in the class.
Add to Wishlist
---
Satisfaction Guaranteed!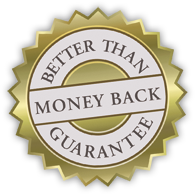 Better Than Money Back Guarantee
We Guarantee our courses.
100%, No Risk, No Hassle.
See you in class!