Get pro feedback on your photos in...
Mastering Exposure
Become a better photographer today!
Learn how to make better photographs, ones that express what you see and what prompted you to snap the shutter in the first place. This four-week online course concentrates on evaluating scenes and making the best possible exposures. The better you expose and set up the image when you take it, the less work you have to do later when you process it in the digital darkroom. The aim of this course, says instructor and
Shutterbug
magazine Editorial Director George Schaub, is not to do fancy tricks or composites in the digital darkroom, but to capture the best pictures you can in terms of light and dark tones, color, contrast and point of interest within the images.
Key Features
Controlling light: Aperture and shutter speed
Lenses and exposure
Shutter speed, ISO and EV
Exposure modes and patterns
Learn to start seeing and thinking like a photographer and not just count on the camera to do the job.
Gain a deeper appreciation of light.
Learn about image effects (depth of field, motion depiction) and how using that knowledge will add a creative spark to your images.
Start honing your exposure skills to produce excellent image quality and images that express your vision.
The tips and techniques will get you improved images using simple tools and ways of seeing.
Note: This is a 4-week revised version of George's former 8-week Exposure and Processing course - covering camera and shooting techniques.
$198.00 USD
What You Get
Benefits:
You get direct feedback on your photos from world-acclaimed, professional photographers. You can learn photography in this way from anywhere in the world.

Learn at your pace, with structure.

Be guided by a real pro instructor.

Get your photos critiqued every week.

Join students from around the world.

Go far beyond any book or DVD.

Make great pictures, again and again!
Instructor
George Schaub
George Schaub is the Editorial Director of
Shutterbug
and
Petersen's Photographic
magazines.
He has authored many books, including Focus on Digital Landscape Photography (Lark Books, 2010), The Digital Photolab: Advanced Black and White Techniques, and Using Your Digital Camera.
George has taught black and white printing in the US and abroad, and is a member of the faculty at the New School University in New York. His work has appeared in numerous gallery shows and museums.
For more of his work, visit his Web site: gschaub.zenfolio.com
Note: Don't miss the BetterPhoto interview with George Schaub.
Sample Photos by the Instructor
| | |
| --- | --- |
| © George Schaub | © George Schaub |
Course Outline
Week 1: Controlling Light: Aperture and Shutter Speed
Photography as a combination of art and science. Exposure and the camera exposure system. Density/brightness values. Tonality. Color balance. Contrast.
Assignment: Start getting a good handle on exposure.
Week 2: Lenses and Exposure
Prioritizing image effects. Depth-of-Field (DOF). The aperture scale.
"Fast" lenses. Maximum aperture. DOF options. Influencing light with selective focus. DOF nuances. DOF Preview. Focus Lock and DOF.
Assignment: Work with wide-angle, telephoto, and exposure.
Week 3: Shutter Speed, ISO and EV
Shutter speed and image quality. ISO and shutter speed. Exposure Value (EV). Vibration Reduction (VR, IS, "Anti-Shake" Systems).
Assignment: Explore shutter speed - fast, slow, etc.
Week 4: Exposure Modes and Patterns
Aperture and Shutter priority. Manual exposure mode. Program exposure mode. Equivalent exposures. Metering patterns. Using spot metering.
Assignment: Experiment with your camera's exposure modes and patterns.
| | |
| --- | --- |
| © George Schaub | © George Schaub |
Requirements
Digital camera with ability to control settings and shoot in Raw mode.
You should have some experience with your digital camera, along with a basic knowledge of aperture and shutter speed (although these aspects will be reviewed).
You should have the desire to work hard to achieve your goals and be willing to experiment and try a new way of seeing and doing things.
Most of all, you should have the desire to get the best images you ever produced from your digital photography work.
FAQ
What is the skill level required for this course?
You should have a working knowledge of your camera and familiarity with creating image effects by manipulating aperture and shutter speed. However, these effects will be reviewed as we work. You should be comfortable downloading images into a computer.
What kind of experience level should I have?
Having worked with a film or digital SLR is helpful, as this is not a course in camera use per se; it is about getting great exposures using camera controls and functions. It is also about "seeing the light" and developing your eye for brightness values and how to manipulate them. This course is about maximizing all the tools in a digital SLR and for great exposures and enhancement through processing.
Will we cover composition?
This course is more about getting great exposures regardless of the subject matter or personal compositions.
Will I need a digital SLR camera to take this course?
Yes. This course will help you thoroughly understand how to work with your DSLR camera to make the best exposures you can with it.
Is this course for pros only, or can I use any DSLR model?
This course is for all digital SLRs, and each tool and application discussed will be common to 99 percent of the cameras. Some cameras, such as pro digital SLRs, may have more functions than we might cover. This material will apply to a wide range of Digital SLR cameras from all makers.
| | |
| --- | --- |
| © George Schaub | © George Schaub |
Do I have to be online at any specific time?
No, you do not need to be online at any specific time. The lessons are sent to your email and you are also provided the Campus Square - where you interact with your classmates and instructor. This is also where you upload your photos to be critiqued by your instructor. The instructors are very punctual and respond quickly.
Will I have access to the instructor to ask questions during the photo course?
Absolutely! Students can ask questions in the special Q&A forum set up in the course's Campus Square, or can ask the instructor via email.
Do you offer a money back guarantee?
Yes. We are confident that you will fully enjoy our courses. All the same, for our 8-week classes, we offer a 100% money-back guarantee before the Wednesday that Lesson #3 is sent out. If for any reason, you are not satisfied and let us know that you would like to withdraw before the Wednesday that Lesson #3 is sent, you will be promptly refunded.
For our 4-week courses, we offer a 100% money back guarantee before the Wednesday that Lesson #2 is sent out from BetterPhoto. If for any reason you are not satisfied and you let the ordering department know that you would like to withdraw before the Wednesday that Lesson #2 is sent, you will be refunded within 7 days. After the second lesson has been sent out, no refunds will be given.
Still have questions about this course?
Ask Us
Take the Next Step..
You can Get Started Today! The price is
$198.00
USD. Do this to start the class right away.
Add to Cart
today to get going in the class.
Add to Wishlist
---
Satisfaction Guaranteed!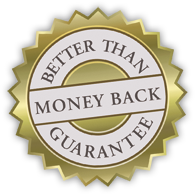 Better Than Money Back Guarantee
We Guarantee our courses.
100%, No Risk, No Hassle.
See you in class!