Learning the Canon EOS 7D
Sample Photos by the Instructor
| | |
| --- | --- |
| © Charlotte Lowrie | © Charlotte Lowrie |
Course Outline
Lesson 1: Setting Up the 60D and Mastering Focus and Color
Learn setup options that make shooting faster and easier, choosing the file quality and format that's best for your workflow, master tack-sharp focus, and get stunning image color using both the White Balance options and choosing and modifying Picture Styles. This lesson also details Ambience options and Creative filters.
Sidebars: Should You Use the S2 and S3 JPEG Options?, Improving Autofocus Accuracy and Performance, Getting Accurate Color with RAW Images
Assignment: Shoot a portrait and nature/landscape image getting tack-sharp focus, accurate color, and using an appropriate Picture Style.
Lesson 2: Controlling and Modifying Exposure
Learn what makes an exposure great and how to use the 60D shooting and metering modes to get the best possible exposure for the scene or subject. For challenging scenes, learn how to use in-camera exposure modification techniques. And finally, learn to evaluate exposure while you're in the field.
Sidebars: Equivalent Exposures, Using the Quick Control Screen, Shutter Speed Tips, Using the Electronic Level, Differences in JPEG and RAW Exposure
Assignment: Use Av mode to show changes in Depth of Field, and use exposure modification to get true white and black in color images.
Lesson 3: Advanced Exposure, Drive Modes, and Customizing the 60D
Learn basic and advanced exposure techniques, learn about the most useful Custom Functions on the 60D, setup C shooting mode, and customize My Menu.
Sidebars: Dealing with High-Dynamic Range Scenes, Optional Filters, Maximizing Depth of Field
Assignment: Shoot a low-light image using Tv shooting mode and setting the appropriate Custom Functions, and make an action shot using Servo drive mode, or make an image using a slow shutter speed using mirror lock-up and the Self-timer mode.
Lesson 4: Using Live, Tethered Shooting, and Movie mode
Learn when and how to use Live View shooting and the focusing options, learn to use Live View with the camera connected to the computer (tethered shooting), and then explore the basics of shooting video with the 60D.
Assignment: Submit one image shot in Live View mode, and submit one image with the 60D tethered to the computer.
| | |
| --- | --- |
| © Charlotte Lowrie | © Charlotte Lowrie |
Requirements
A Canon EOS 60D camera, and at least one lens.
A tripod.
A working knowledge of photographic exposure and composition.
A burning desire to get the best images from the 60D.
FAQ
Do I have to have a Canon EOS 60D to take this course?

This course is geared for the 60D, so you'll get more from the course if you have the camera. But given the similarity among Canon EOS Digital SLRs, you could take the course and benefit.



Do I need any special gear to take this course?

All that you need is an EOS 60D, one or more lenses, and a tripod.



What photography skill level is required?

Having previous experience using a film or digital SLR will give you a head start in this course, but it's not required for signing up. It's also good to have a working knowledge of the fundamentals of photographic exposure.


| | |
| --- | --- |
| © Charlotte Lowrie | © Charlotte Lowrie |



Do I have to be online at any specific time?

No, you do not need to be online at any specific time. The lessons are sent to your email and you are also provided the Campus Square - where you interact with your classmates and instructor. This is also where you upload your photos to be critiqued by your instructor. The instructors are very punctual and respond quickly.



Will I have access to the instructor to ask questions during the photo course?

Absolutely! Students can ask questions in the special Q&A forum set up in the course's Campus Square, or can ask the instructor via email.



Do you offer a money back guarantee?

Yes. We are confident that you will fully enjoy our courses. All the same, for our 8-week classes, we offer a 100% money-back guarantee before the Wednesday that Lesson #3 is sent out. If for any reason, you are not satisfied and let us know that you would like to withdraw before the Wednesday that Lesson #3 is sent, you will be promptly refunded.

For our 4-week courses, we offer a 100% money back guarantee before the Wednesday that Lesson #2 is sent out from BetterPhoto. If for any reason you are not satisfied and you let the ordering department know that you would like to withdraw before the Wednesday that Lesson #2 is sent, you will be refunded within 7 days. After the second lesson has been sent out, no refunds will be given.

Still have questions about this course? Ask Us
Take the Next Step..
You can Get Started Today! The price is $198.00 USD. Do this to start the class right away. Add to Cart today to get going in the class.
Add to Wishlist
---
Satisfaction Guaranteed!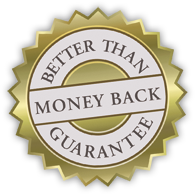 Better Than Money Back Guarantee

We Guarantee our courses.
100%, No Risk, No Hassle.
See you in class!