Get pro feedback on your photos in...
An Introduction to Photographic Lighting
Become a better photographer today!
Learn what kind of lighting equipment you need, how strobes work, and how to make the most of your lights in this outstanding online photography course. Drawing on more than 15 years of experience, John Siskin shares the techniques of professional lighting with you - whether you're photographing people, products, or architecture. John helps you decide how to start with artificial lighting, and helps you understand how to approach lighting problems on location or in a studio setting. All of the assignments, which are designed to enable you to understand how light works, can be done with inexpensive lights you can get at a home improvement or hardware store.
Key Features
Skill Level: Serious Hobbyist and Intermediate
Understanding how to control light.
How the quality of light changes the way a subject is perceived.
Working with hard and soft light.
Controlling color.
Lighting the face.
Understand strobe and continuous light.
In studio and on location.
Choosing the right lights!
Choosing light modifiers: soft boxes, umbrellas and barn doors.
Creating the right light for your subject not fitting the subject to the light.
Instructor will help you decide which lights are right for your circumstances, including help with used equipment if applicable.
$198.00 USD
What You Get
Benefits:
You get direct feedback on your photos from world-acclaimed, professional photographers. You can learn photography in this way from anywhere in the world.

Learn at your pace, with structure.

Be guided by a real pro instructor.

Get your photos critiqued every week.

Join students from around the world.

Go far beyond any book or DVD.

Make great pictures, again and again!
Instructor
John H. Siskin
John Siskin is a commercial and fine art photographer who makes architectural, portrait and macro images. He has worked for General Motors and Disney Studios. He teaches the BetterPhoto course
An Introduction to Photographic Lighting
and is the author of the book
Understanding and Controlling Strobe Lighting: A Guide for Digital Photographers
.
In addition, he teaches studio lighting black and white photography at Los Angeles Mission College. His studio is in Reseda California and more of his work can be seen at www.siskinphoto.com
His work has been part of many exhibits. His photographs have been shown at the Brand Library, 2nd City Art Gallery, Haroldís Gallery, Farmani Gallery, and The Atelier. He has been a participant in the Valley Studio Tour several times.
John has published quite a number of technical articles about photography. His articles have appeared in Photo Techniques, View Camera, Studio Photography and others. He has written about photographic lighting, building lenses, framing, photographic lab work, building cameras, as well as some more speculative photographic subjects. Since he is so well versed in photographic subjects, he is often hired as a consultant by businesses.
Sample Photos by the Instructor
| | |
| --- | --- |
| © John Siskin | © John Siskin |
Course Outline
Lesson 1: Strobe Lights - Basics
What a strobe is, how we take pictures with a strobe. Types of strobe equipment. Strobe synchronization. How to make a light panel, for spreading and diffusing your light.
Assignment: Shoot "wig head" with clamp lights and hard light.
Lesson 2: Establishing Your Goals for Strobe Lights
Do you need a lot of light sources; do you need a lot of power?
Establishing the kind of pictures you want to take will help to make
the decision about what equipment you need. Working without a meter.
Assignment: Light the wig head with diffused light and diffused light and hard light.
Lesson 3: Understanding the Tools of Lighting
We will be working with accessories, it seems strange to examine the kinds of accessories you will use before establishing what lights you will use, but not everything fits together well. Consideration will be given to grip equipment as well as umbrellas, diffusers and soft boxes. Battery powered strobe equipment will be described.
Assignment: Make a picture of someone in a kitchen. The idea is to
light the person and the place.
Lesson 4: Lighting the Face
Lighting people is different from lighting most other things. You can light the same person in very different ways and have both be right. We will examine how the lighting tools can be used to change the appearance of a person. We will also discuss how to evaluate your shots on location. Studio pack lights will be discussed.
Assignment: Shoot a portrait.
| | |
| --- | --- |
| © John Siskin | © John Siskin |
Requirements
Camera & tripod - digital camera preferred.
Image editing software.
You will also need a wig head (beauty supply store) and a couple of clamp lights (from Home Depot, Lowes or other hardware store).
There will be a few build-it-yourself lighting tools, but, of course, you can get these at the usual photographic suppliers also.
FAQ
Do I need strobe lights to take this course?
No, this is the class that will help you to buy the right lighting
equipment for your needs.
Will the class discuss what strobe equipment is available on the used market?
Absolutely! Because of the volume of equipment necessary to do some sorts of lighting well, the used market is often the only practical way to outfit yourself. The class will discuss what is practical and what might be a bad deal.
I see shots that different photographers have done with strobes and the light looks totally different. Will learn how to manipulate the lights to create different looks?
I donít teach "cookie cutter" lighting. I want each student to understand the tools well enough to use them creatively. Basically, lighting is something that should be adapted to your creative outlook rather than the other way around. Of course, being able to really control the light will take some time and practice. This class will give you the ability to begin the process.
I am primarily interested in portrait lighting; will we spend time on
that?
Yes! Much of this class revolves around how to light the face. In fact, half the assignments are based on lighting a wig head. Wig heads are good to practice with, since they donít move or complain. :-)
Will we need to buy strobes in the first week of class?
No, you can take the class, and do all the assignments with clamp
lights from a hardware store, these only cost a couple of bucks.
Are there really digital lights?
No, but some things about a digital camera are different. For instance, you need less powerful strobes than I did when using film. Digital cameras are small capture areas, consequently they exhibit good depth-of field at fairly wide apertures, so you need less power. Digital does, however, show up relatively small differences in the color of lights, so we have to be careful to maintain the same color from each light.
Will we get help in deciding what equipment might be best for our needs?
I will work with each student be as she/he develops his/her own goals for lights, and from that list, the studentís own equipment list.
Anything else?
Yes! This class may turn out to be a fine bargain, since in addition to learning how to work with training lights, you will get the opportunity to build real lighting equipment yourself. (Of course, if you aren't the do-it-yourself type, no problem: Those items are available at any well-stocked photographic store.)
I am interested in continuous quartz light; will this class help me?
Yes, quartz lights are really good for some applications, particularly product and some artwork. I do try to keep students from getting involved with fluorescent lights; there are real color problems with these lights.
| | |
| --- | --- |
| © John Siskin | © John Siskin |
Do I have to be online at any specific time?
No, you do not need to be online at any specific time. The lessons are sent to your email and you are also provided the Campus Square - where you interact with your classmates and instructor. This is also where you upload your photos to be critiqued by your instructor. The instructors are very punctual and respond quickly.
Will I have access to the instructor to ask questions during the photo course?
Absolutely! Students can ask questions in the special Q&A forum set up in the course's Campus Square, or can ask the instructor via email.
Do you offer a money back guarantee?
Yes. We are confident that you will fully enjoy our courses. All the same, for our 8-week classes, we offer a 100% money-back guarantee before the Wednesday that Lesson #3 is sent out. If for any reason, you are not satisfied and let us know that you would like to withdraw before the Wednesday that Lesson #3 is sent, you will be promptly refunded.
For our 4-week courses, we offer a 100% money back guarantee before the Wednesday that Lesson #2 is sent out from BetterPhoto. If for any reason you are not satisfied and you let the ordering department know that you would like to withdraw before the Wednesday that Lesson #2 is sent, you will be refunded within 7 days. After the second lesson has been sent out, no refunds will be given.
Still have questions about this course?
Ask Us
Take the Next Step..
You can Get Started Today! The price is
$198.00
USD. Do this to start the class right away.
Add to Cart
today to get going in the class.
Add to Wishlist
---
Satisfaction Guaranteed!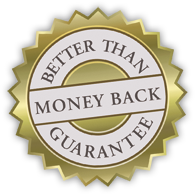 Better Than Money Back Guarantee
We Guarantee our courses.
100%, No Risk, No Hassle.
See you in class!