Get pro feedback on your photos in...
High Dynamic Range (HDR) Photography
Become a better photographer today!
Learn how to use Photomatix software to create great High Dynamic Range images using any camera. In this 4-week course, Tony Sweet - pro photographer, author, and Nikon Legend Behind the Lens - will demystify HDR and teach you how to have total control over the total dynamic range of your image. You'll gain a whole new level of creative expression!
Key Features
Photography for those who "Want it All!":
Single-image processing and the grunge look
B&W and Infrared HDR
Extreme exposures, different subject, and post-processing

Serious Hobbyist through Advanced.
Create professional-looking HDR images.
Specific technical tips and tricks.
$198.00 USD
What You Get
Benefits:
You get direct feedback on your photos from world-acclaimed, professional photographers. You can learn photography in this way from anywhere in the world.

Learn at your pace, with structure.

Be guided by a real pro instructor.

Get your photos critiqued every week.

Join students from around the world.

Go far beyond any book or DVD.

Make great pictures, again and again!
Instructor
Tony Sweet
After 20 years as a professional jazz artist, Tony changed careers and directed his creative juices towards nature photography. The improvisational, spontaneous, and abstract nature of jazz are also integral elements of nature photography.
Today, Tony's work is published worldwide and is represented by The Getty Picture Agency.

Tony conducts his "Visual Artistry" photography and digital printing workshops from March through October throughout the continental United States and Canada. Tony's articles and photography are featured in Shutterbug and Rangefinder magazines, and as contributor to Nikonnet.com. He's also a columnist for Nikon World Magazine.

He has authored three books on the art of photography: Fine Art Nature Photography, Fine Art Flower Photography, and Fine Art Photography: Water, Rain, Fog. All are published by Stackpole Books.
He maintains an active speaking schedule on the subjects of nature and flower photography and marketing, addressing professional photography organizations, universities, seminars, and workshops.
Tony is on the instructor staff of BetterPhoto.com, and is a member of the Baltimore chapter of ASMP. And he has been named a Nikon Legend Behind the Lens and is a charter member or nikSoftwares TeamNik!
To learn more about Tony, visit his Web site:
Sample Photos by the Instructor
| | |
| --- | --- |
| © Tony Sweet | © Tony Sweet |
Course Outline
Lesson 1: Photography for Those Who "Want it All!":
Getting a feel for High Dynamic Range photography and discussions of settings with examples.
Assignment: Create 2 HDR images
Lesson 2: Single-Image Processing and the Grunge Look
Creating the HDR look from a single image and learn the settings to achieve the grunge look.
Assignment: Create 3 single exposure HDR images
Lesson 3: B&W and Infrared HDR
Learn how to create non traditional HDR images, including converting to black and white.
Assignment: Create 2 B&W HDR images. Optional Infrared assignment.
Lesson 4: Extreme Exposures, Different Subject, and Post-Processing
Learn how to deal with subjects with a very wide dynamic range. Also, try HDR on a non-traditional subject, and some software tips.
Assignment: Create an HDR image from a very wide dynamic range scene. Create a non-traditional HDR, Optional: Using software intervention to further personally interpret an image.
| | |
| --- | --- |
| © Tony Sweet | © Tony Sweet |
Requirements
FAQ
Do I need to be an expert in Photoshop?
Well, the bottom line is no. However, a little Photoshop or Elements knowledge is always a good thing.
Does it matter what camera I use?
No. But the camera should have the options to shoot on manual and Aperture Priority with an exposure-compensation option.
Do I need special imaging software to take this class?
You sure do! If you do not own Photomatix, it can ordered from my blog (
http://web.me.com/tonysweetphoto/tonysweet_blog/Blog/Blog.html
) for a discounted price. Or download a trial version from:
http://hdrsoft.com
.
| | |
| --- | --- |
| © Tony Sweet | © Tony Sweet |
Do I have to be online at any specific time?
No, you do not need to be online at any specific time. The lessons are sent to your email and you are also provided the Campus Square - where you interact with your classmates and instructor. This is also where you upload your photos to be critiqued by your instructor. The instructors are very punctual and respond quickly.
Will I have access to the instructor to ask questions during the photo course?
Absolutely! Students can ask questions in the special Q&A forum set up in the course's Campus Square, or can ask the instructor via email.
Do you offer a money back guarantee?
Yes. We are confident that you will fully enjoy our courses. All the same, for our 8-week classes, we offer a 100% money-back guarantee before the Wednesday that Lesson #3 is sent out. If for any reason, you are not satisfied and let us know that you would like to withdraw before the Wednesday that Lesson #3 is sent, you will be promptly refunded.
For our 4-week courses, we offer a 100% money back guarantee before the Wednesday that Lesson #2 is sent out from BetterPhoto. If for any reason you are not satisfied and you let the ordering department know that you would like to withdraw before the Wednesday that Lesson #2 is sent, you will be refunded within 7 days. After the second lesson has been sent out, no refunds will be given.
Still have questions about this course?
Ask Us
Take the Next Step..
You can Get Started Today! The price is
$198.00
USD. Do this to start the class right away.
Add to Cart
today to get going in the class.
Add to Wishlist
---
Satisfaction Guaranteed!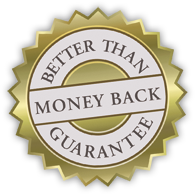 Better Than Money Back Guarantee
We Guarantee our courses.
100%, No Risk, No Hassle.
See you in class!