Get pro feedback on your photos in...
Successful Publication Photography
Become a better photographer today!
Learn what it takes to successfully have your photographs published. Instructor Rob Sheppard brings to this class the experience of being the editor of Outdoor Photographer magazine for 12 years, as well as being editor-at-large and columnist with the magazine, plus author of over 20 photography books. You will learn what you need to know about photography for publication, how you can sell images in a very competitive market, how to find the ideas that will get you the sales, and how to contact publications.
Key Features


What makes a good publication photo?
Selling photos in a challenging market
The importance of the idea
Developing the query
Important Note: This is not the usual photo class, nor is it for the faint of heart! It is about real work that gets results if you want to be published. It is taught by a pro who both sells images to publications and was editor of multiple magazines that purchased photos. But its lessons and assignments are not just another way to use photography. Publication photography is NOT like winning contests where you send in great shots and look for the best to win. It is about meeting the needs of editors, art buyers and art directors, and this class will give you an approach that works. But you have to be open to new ways of looking at photography if you are going to get the most from this course.
Note 2: So much of the photography market has changed dramatically in the past years. Stock photography has greatly declined and is not viable for most photographers. It is possible to get published and even get paid for it, but it takes a new mindset. Editors are not interested in buying anyone's pretty photography - it must meet their needs for producing publications in a very competitive market for publications as well. This course will help you learn what those needs are and how to get your photos in front of the right person for them to buy your images.

For Intermediate and Advanced photographers.
Learn how to improve your photographs to publication quality.
Discover how to get your photographs in print with these key steps.
Guidance from an experienced and published digital photographer, editor and writer who knows how to help photographers succeed.
Course designed for anyone who wants to start on the process to getting their photographs published.
$198.00 USD
What You Get
Benefits:
You get direct feedback on your photos from world-acclaimed, professional photographers. You can learn photography in this way from anywhere in the world.

Learn at your pace, with structure.

Be guided by a real pro instructor.

Get your photos critiqued every week.

Join students from around the world.

Go far beyond any book or DVD.

Make great pictures, again and again!
Instructor
Rob Sheppard
Rob Sheppard has had a long-time and nationally recognized commitment to helping photographers become better photographers, regardless of the equipment and technology. He was the editor of
Outdoor Photographer
magazine for 12 years and was the original editor of
PCPhoto
(now
Digital Photo
). Now he is editor-at-large.
He is also the author/photographer of over thirty photo books, including The Magic of Digital Landscape Photography, The National Geographic Field Guide to Photography - Digital, and Adobe® Photoshop Lightroom for Digital Photographers Only. He writes regularly for Outdoor Photographer and teaches around the country, including workshops for the Palm Beach Photographic Centre and the Light Photographic Workshops. His Web site for workshops, books and photo tips is at www.robshepppardphoto.com, and his blog on nature and photography is at www.natureandphotography.com.
As a photographer, Rob worked for many years in Minnesota (before moving to Los Angeles), including doing work for the Minnesota Department of Transportation, Norwest Banks (now Wells Fargo), Pillsbury, 3M, General Mills, Lutheran Brotherhood, Ciba-Geigy, Anderson Windows, and others. His photography has been published in many magazines, ranging from National Geographic to The Farmer to, of course, Outdoor Photographer and PCPhoto.
He and his wife, Vicky (married 30+ years), live in the Los Angeles area. They have a son working on his Ph.D. in youth sports and education, and a daughter studying communications/journalism.
Also see Rob's Nature and Photography blog.
Sample Photos by the Instructor
| | |
| --- | --- |
| © Rob Sheppard | © Rob Sheppard |
Course Outline
Lesson 1: What Makes a Good Publication Photo?
How do you create a quality image that meets the needs of a publication? Learn what standards you must meet and how you get editors to care about your stories and photos. Discover what it means to have fresh perspectives and new meanings for your images.
Assignment: Solidify your technique as you work on finding fresh ways to present your subject in your photographs. Following the tips and examples in the lesson, submit images that have the potential of gaining an editor or photo buyer's attention.
Lesson 2: Selling Photos in a Challenging Market
It is possible to sell photos today, but success favors those who go after the opportunity and bring something unique to the market. You will learn why "market" is so important and how you can best research your markets.
Assignment: After picking one possible market, you will prepare a set of images that could fit that market's needs.
Lesson 3: The Importance of the Idea
Learn to work your idea for a specific market and edit your images for story, variety, and visual impact. Discover what it means to focus your material where it's most likely to be well received. Learn some ideas on how you might combine writing with photos for more impact.
Assignment: Refine an idea into six photos that show variety and impact. Include short descriptive text on each that expands the idea.
Lesson 4: Developing the Query
To be successful, you must make the jump and actually query a publication. How you make that query is very important, and this class will include the tips and techniques you need to create a query letter and sample photos.
Assignment: Create a group of photos on a single page that support an idea. In addition, create a query letter.
| | |
| --- | --- |
| © Rob Sheppard | © Rob Sheppard |
Requirements
A digital SLR with accessory lenses.
A passion for photography and a need to communicate to others through photography.
A willingness to critically examine your work and discover how you can develop new ideas about it.
Desire to find a place for your photography in publications.
FAQ
Will this class help me learn more about photography?
Definitely. The class is designed to help you look at your photography from a new perspective, how it could be used in a publication.
Will this class help me learn more about my camera?
Absolutely. The class is not about any specific brand or model, but the lessons and assignments will get you exploring your camera and its controls.
Do I have to have a digital camera?
Not at all. This is not a digital camera course, though in today's publication world, there are advantages to shooting digitally. However, how the image is formed, digital or film is less important than what it is.
Does my camera need to be expensive - a professional model?
No. Any SLR (film or digital) from the least expensive to the most expensive from a manufacturer. You will need the creative options of using different shutter speeds, apertures and focal lengths, which all SLRs give you.
Do I need anything else in the way of equipment?
You do not need a lot of special equipment for this class. A camera and a couple of lenses are enough as long as you have a range of focal lengths to work with.
| | |
| --- | --- |
| © Rob Sheppard | © Rob Sheppard |
Do I have to be online at any specific time?
No, you do not need to be online at any specific time. The lessons are sent to your email and you are also provided the Campus Square - where you interact with your classmates and instructor. This is also where you upload your photos to be critiqued by your instructor. The instructors are very punctual and respond quickly.
Will I have access to the instructor to ask questions during the photo course?
Absolutely! Students can ask questions in the special Q&A forum set up in the course's Campus Square, or can ask the instructor via email.
Do you offer a money back guarantee?
Yes. We are confident that you will fully enjoy our courses. All the same, for our 8-week classes, we offer a 100% money-back guarantee before the Wednesday that Lesson #3 is sent out. If for any reason, you are not satisfied and let us know that you would like to withdraw before the Wednesday that Lesson #3 is sent, you will be promptly refunded.
For our 4-week courses, we offer a 100% money back guarantee before the Wednesday that Lesson #2 is sent out from BetterPhoto. If for any reason you are not satisfied and you let the ordering department know that you would like to withdraw before the Wednesday that Lesson #2 is sent, you will be refunded within 7 days. After the second lesson has been sent out, no refunds will be given.
Still have questions about this course?
Ask Us
Take the Next Step..
You can Get Started Today! The price is
$198.00
USD. Do this to start the class right away.
Add to Cart
today to get going in the class.
Add to Wishlist
---
Satisfaction Guaranteed!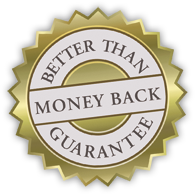 Better Than Money Back Guarantee
We Guarantee our courses.
100%, No Risk, No Hassle.
See you in class!