Get pro feedback on your photos in...
Creative Landscape Photography
Become a better photographer today!
Photographing mountains, trees, seascapes, or scenics? Learn how to use the essential elements of good landscape photography to improve your own landscape photographs. Author of
Outdoor Photographer
magazine's popular On Landscape column, William Neill shares the art of using quality of light, strong graphic design, and emotional elements in your work. His insightful lessons are based on three decades of experience in creating and publishing his work. Winter, spring, summer or fall, the challenging assignments and invaluable critiques will refine your technique and expand your creative potential. In this exciting online course, your techniques will improve and you will see in new ways!
Key Features
Skill Level: Serious Hobbyist and Intermediate

Landscape Photography: focusing on the main ingredients
Regarding Light: how to recognize good lighting conditions
Using the Frame: how to compose an effective landscape image
The Magic Element: expressing and sharing emotions in your work
For serious hobbyists, intermediates and advanced students.

Learn to use a fine quality of light.

How to apply interesting and dynamic image design.

Discover how emotional content can engage the viewer.

Give yourself this gift: Learn to master the art of fine landscape photography!
$198.00 USD
What You Get
Benefits:
You get direct feedback on your photos from world-acclaimed, professional photographers. You can learn photography in this way from anywhere in the world.

Learn at your pace, with structure.

Be guided by a real pro instructor.

Get your photos critiqued every week.

Join students from around the world.

Go far beyond any book or DVD.

Make great pictures, again and again!
Instructor
William Neill
William Neill, a resident of the Yosemite National Park area since 1977, is a landscape photographer concerned with conveying the deep, spiritual beauty he sees and feels in Nature. Neill's award-winning photography have been widely published in books, magazines, calendars, posters, and his limited-edition prints have been collected and exhibited in museums and galleries nationally, including the Museum of Fine Art Boston, Santa Barbara Museum of Art, The Vernon Collection, and The Polaroid Collection. In 1995, Neill received the Sierra Club's Ansel Adams Award for conservation photography. Neill is a member of Canon USA's elite Explorers Of Light.
Neill's assignment and published credits include National Geographic Books, Smithsonian, Natural History, National Wildlife, Conde Nast Traveler, Gentlemen's Quarterly, Travel and Leisure, Wilderness, Sunset, Sierra and Outside magazines. Also, he writes a bi-monthly column, On Landscape, for Outdoor Photographer magazine. Feature articles about his work have appeared in Life, Camera and Darkroom, Outdoor Photographer and Communications Arts, from whom he has also received five Awards of Excellence. His corporate clients have included Sony Japan, Bayer Corporation, Canon USA, Nike, Nikon, The Nature Company, and Sony Music/Classical.
His work was chosen to illustrate two special edition books published by The Nature Company, Rachel Carson's The Sense of Wonder and John Fowles's The Tree. His photographs of natural patterns were published in his book, By Nature's Design (Exploratorium/Chronicle Books, 1993), and his images were featured in The Color of Nature (Exploratorium/Chronicle Books, 1996). A major portfolio of his Yosemite photographs has been published entitled Yosemite: The Promise of Wildness (Yosemite Association, 1994) for which he received The Director's Award from the National Park Service. A retrospective monograph of his landscape photography entitled Landscapes Of The Spirit (Bulfinch Press/Little, Brown, 1997) relates his beliefs in the healing power of nature. His latest book, Traces of Time, is the third book in the series with the Exploratorium and Chronicle Books.
Note: Don't miss the fascinating BetterPhoto Interview with William Neill!
Sample Photos by the Instructor
| | |
| --- | --- |
| © William Neill | © William Neill |
Course Outline
Lesson 1 - Landscape Photography: Focusing on the Main Ingredients
We start with an overview of the main ingredients needed for a great landscape photograph.
Assignment: Edit through your archives to find and submit your best images that illustrate key ingredients for a strong landscape image.
Lesson 2 - Regarding Light
This lesson focuses on the different types of light, and how to learn to see good lighting conditions and record them.
Assignment: Create new images that emphasize excellent lighting conditions that use some of the lighting conditions discussed in the lesson.
Lesson 3 - Using the Frame
Now we discuss various key ways to compose an effective landscape photograph by making use of foreground elements, a sense of scale, filling the frame, controlling background elements and other methods.
Assignment: Create new images that make use of the compositional techniques discussed in the lesson.
Lesson 4 - The Magic Element: You!
For our final lesson, we discuss one key characteristic of any artist: the ability and willingness to express and share emotions in his or her work.
Assignment: Submit three landscape images that you feel show a strong emotional content or personal perspective for this week's assignment.
| | |
| --- | --- |
| © William Neill | © William Neill |
Requirements
Digital SLR camera, or film-based camera.
A working knowledge of aperture and shutter speed.
Wide-angle and telephoto focal lengths (zoom lenses OK).
A tripod is highly recommended.

FAQ
Is this course intended for advanced photographers or can beginning photographers participate as well?
This 4-week course is open to photographers who have an understanding of basic camera controls (including exposure and depth of field controls), have a desire to improve, and are open to new ideas.  Please consult BetterPhoto's
class rating scale
.  This course is rated for Skill Levels 2, 3, and 4.
Do the techniques covered in this course pertain to any type of photography?
No. This course focuses on photographing nature scenes and the many types of landscape photography - from intimate details to broad scenics.
How much equipment will I need to assure my completion of each week's photography assignment?
You will need a standard selection camera gear, including a camera (digital or film-based) with shutter speed and aperture controls, and lenses such a wide-angle lens or wide angle zoom, a telephoto lens or telephoto zoom. A tripod is not required but is very helpful.
Will this course also include tips, hints, or other helpful information on marketing one's work?
Not specifically. The course is designed to improve the level of your work, and in that sense this will improve one's success if submitting work for publishers, galleries, or competitions!
| | |
| --- | --- |
| © William Neill | © William Neill |
Do I have to be online at any specific time?
No, you do not need to be online at any specific time. The lessons are sent to your email and you are also provided the Campus Square - where you interact with your classmates and instructor. This is also where you upload your photos to be critiqued by your instructor. The instructors are very punctual and respond quickly.
Will I have access to the instructor to ask questions during the photo course?
Absolutely! Students can ask questions in the special Q&A forum set up in the course's Campus Square, or can ask the instructor via email.
Do you offer a money back guarantee?
Yes. We are confident that you will fully enjoy our courses. All the same, for our 8-week classes, we offer a 100% money-back guarantee before the Wednesday that Lesson #3 is sent out. If for any reason, you are not satisfied and let us know that you would like to withdraw before the Wednesday that Lesson #3 is sent, you will be promptly refunded.
For our 4-week courses, we offer a 100% money back guarantee before the Wednesday that Lesson #2 is sent out from BetterPhoto. If for any reason you are not satisfied and you let the ordering department know that you would like to withdraw before the Wednesday that Lesson #2 is sent, you will be refunded within 7 days. After the second lesson has been sent out, no refunds will be given.
Still have questions about this course?
Ask Us
Take the Next Step..
You can Get Started Today! The price is
$198.00
USD. Do this to start the class right away.
Add to Cart
today to get going in the class.
Add to Wishlist
---
Satisfaction Guaranteed!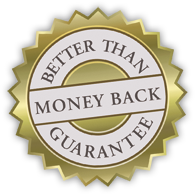 Better Than Money Back Guarantee
We Guarantee our courses.
100%, No Risk, No Hassle.
See you in class!