Get pro feedback on your photos in...
The Nikon D80 Camera
Become a better photographer today!
Learn how to use the Nikon D80's various features and functions to best effect. This unique 4-week online course - taught by photographer and author Simon Stafford - is devoted to this exciting new SLR camera - successor to the hugely successful D70-series cameras.
Key Features
File Formats, Metering, and Exposure
Custom Settings & Control of Color
Creative Control
Accessories
Beginner to Serious Hobbyist.
Discover how to derive the most from your Nikon D80 camera.
Understand the features and functions of your camera to help you use it effectively. Learn about the settings and techniques you can use for creative photography with your D80 camera.

$198.00 USD
What You Get
Benefits:
You get direct feedback on your photos from world-acclaimed, professional photographers. You can learn photography in this way from anywhere in the world.

Learn at your pace, with structure.

Be guided by a real pro instructor.

Get your photos critiqued every week.

Join students from around the world.

Go far beyond any book or DVD.

Make great pictures, again and again!
Instructor
Simon Stafford
Simon Stafford
first became interested in photography while a university student. Completely self-taught, he talked his way into a job as the photographer for the university's weekly newspaper and has been shooting pictures ever since. His photographs have been used widely in newspapers, books, calendars, and magazines, and he has also enjoyed numerous successes in many photographic competitions.
Simon has built up a wealth of experience over the past thirty years in both film and digital photography. Throughout his photographic career he has used the Nikon system extensively, adopting digital photography at an early stage with the release of the Nikon D1 camera during 1999; he has being using digital cameras exclusively since 2004. He completed his first book, The Nikon Compendium, during 2003. With nearly 400 pages and Simon's own extensive photography of Nikon cameras, Nikkor lenses, and Nikon system accessories, it represents a comprehensive history of the Nikon system for the user and collector alike. He has also written over twenty books on the Nikon camera system for the Magic Lantern Guide series, published by Sterling Publishing.
He is involved in a wide variety of photographic projects, which include leading his own photographic workshops and, tutoring workshops for Tatra Photography, contributing illustrated articles to leading U.K. photography magazines, he is also Technical Editor to Nikon Owner magazine.

Sample Photos by the Instructor
| | |
| --- | --- |
| © Simon Stafford | © Simon Stafford |
Course Outline
Lesson 1: File formats, Metering, and Exposure
Topics include:
A discussion on the principal attributes of Raw & JPEG files, and when to use them.
Learn how each metering mode (Matrix, centre-weighted, and spot metering) works, and when to apply them to ensure you achieve the best possible exposure.
Understand how adjusting the sensitivity (ISO equivalent) setting on your camera influences the metering system, and affects final image quality.
Learn how to take control of your camera, and have the confidence to ditch the 'point and shoot' program modes!
Learn how to override automatic exposure control, and appreciate how manual exposure can help you express your creative vision.
Understand how to interpret the histogram display.
Assignment: Demonstrate control of exposure by shooting a picture of a subject with very light tones, and another with very dark tones.
Lesson 2: Custom Settings & Control of Color
Topics include:
The custom setting menu allows you to configure your camera so it operates just as you want it to. Explore what these settings do and how to use them to best effect.
Understanding the concept of colour temperature, how it applies to the white balance control, and its use for technical and creative purposes.
An explanation of color mode, and how appropriate selection depends on the intended use of your pictures.
Assignment: Shoot a scene lit by daylight, and another lit by artificial light using automatic white balance, and a pre-set white balance value.
Lesson 3: Creative Command
Topics include:
Learn how to select shutter speed and lens aperture values for creative purposes (including a description of the panning technique).
A discussion on the effective supports you can use for your camera, including hand holding techniques, tripods, and others.
Understand when and how to use auto-focus (AF), including the various AF options, and identify those situations where manual focus may be preferable, or even necessary.
Assignment: Shoot a moving subject and a static subject to show creative use of shutter speed and lens aperture.
Lesson 4: Accessories
Topics include:
Lenses: choosing and using different focal lengths (fixed and 'zoom' types), vibration reduction (VR) lenses, and the advantages of wide aperture lenses.
Flash: a discussion on using an external Nikon Speedlight flash, why taking the taking the flash off camera is often a good idea, and how to apply the fill-flash technique.
General accessories: batteries, remote release, close-up lens, right-angle viewer, and memory cards.
Assignment: Shoot a picture to show either the creative use of a lens, or flash.
| | |
| --- | --- |
| © Simon Stafford | © Simon Stafford |
Requirements
Either a Nikon D80 camera, or a desire to learn about and/or own one.
A working knowledge of basic camera controls and some shooting experience.
Any image editing software that can open and process image files produced by the D80.

FAQ
Can I take this class even if I don't own a Nikon D80 SLR camera?
Yes, although the course lessons and the assignments are geared toward assisting current owners, anyone with an interest in either camera model is welcome to sign up.
Do I need any particular software program to take this course?
No, the course will concentrate on the camera, its features, functions and controls, together with accessories such as lenses, and flash units. You are free to use whatever image editing software you are familiar with to prepare pictures prior to posting them for critique.
I already own a Nikon D80 camera and I am getting good results. Why should I take this course?
If you are 100-percent satisfied with the camera and the images you are producing, you may not need to take this course. However, if you wish to become more proficient in using your D80, have specific questions about its features and functions, or are experiencing problems with some aspects of its operation, this course can help.
The D80 is a mid-range camera packed full of features; I do not want to be overwhelmed, so what skill level is required?
All you need is a basic working knowledge of camera controls and some shooting experience. If you do encounter a problem, you will have ample opportunity to discuss it with the instructor.
| | |
| --- | --- |
| © Simon Stafford | © Simon Stafford |
Do I have to be online at any specific time?
No, you do not need to be online at any specific time. The lessons are sent to your email and you are also provided the Campus Square - where you interact with your classmates and instructor. This is also where you upload your photos to be critiqued by your instructor. The instructors are very punctual and respond quickly.
Will I have access to the instructor to ask questions during the photo course?
Absolutely! Students can ask questions in the special Q&A forum set up in the course's Campus Square, or can ask the instructor via email.
Do you offer a money back guarantee?
Yes. We are confident that you will fully enjoy our courses. All the same, for our 8-week classes, we offer a 100% money-back guarantee before the Wednesday that Lesson #3 is sent out. If for any reason, you are not satisfied and let us know that you would like to withdraw before the Wednesday that Lesson #3 is sent, you will be promptly refunded.
For our 4-week courses, we offer a 100% money back guarantee before the Wednesday that Lesson #2 is sent out from BetterPhoto. If for any reason you are not satisfied and you let the ordering department know that you would like to withdraw before the Wednesday that Lesson #2 is sent, you will be refunded within 7 days. After the second lesson has been sent out, no refunds will be given.
Still have questions about this course?
Ask Us
Take the Next Step..
You can Get Started Today! The price is
$198.00
USD. Do this to start the class right away.
Add to Cart
today to get going in the class.
Add to Wishlist
---
Satisfaction Guaranteed!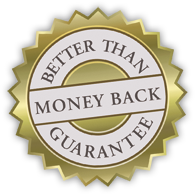 Better Than Money Back Guarantee
We Guarantee our courses.
100%, No Risk, No Hassle.
See you in class!