Get pro feedback on your photos in...
Photographing Motion
Become a better photographer today!
Learn to capture motion and present it as an image in a way that we cannot see with the naked eye. Fast exposures capture or freeze action and slower exposures allow action to become soft or blurry. In this 4-week online course - taught by pro photographer and author Doug Steakley - we will photograph a variety of subjects with an emphasis on moving water and shoot at various shutter or exposure speeds to see the differences. The class will also incorporate how aperture and ISO settings work together with shutter speeds to create different photographic effects.
Key Features
Controlling Movement or Motion with Shutter Speed
Twilight or Night Photography
Panning an Image
Experiment with Different Effects of Long Exposures
For upper serious hobbyists, intermediates and advanced photographers.
Learn the relationship between aperture, ISO setting and shutter speeds and how to control the appearance of images with movement by slowing down or speeding up the exposure time.
Receive careful instruction and guidance each step of the way along with personal feedback that will assist you in taking strong images.
Take your photography to the next level by varying the exposure times, shooting at night, changing the appearance of moving water and learn how to pan images.
$198.00 USD
What You Get
Benefits:
You get direct feedback on your photos from world-acclaimed, professional photographers. You can learn photography in this way from anywhere in the world.

Learn at your pace, with structure.

Be guided by a real pro instructor.

Get your photos critiqued every week.

Join students from around the world.

Go far beyond any book or DVD.

Make great pictures, again and again!
Instructor
Doug Steakley
Douglas Steakley is a widely published photographer from Carmel Valley, California. His distinct images range from the Monterey Peninsula to many international destinations where he enjoys traveling.
Two large-format books featuring his color photography have been published: Pacific Light, Images of The Monterey Peninsula, in 2000, and Big Sur and Beyond, The Legacy of The Big Sur Land Trust, in 2001. Pacific Light won an Honorable Mention from the National Outdoor Book Awards in 2001. A third book, A Photographer's Guide To The California Coast, was published in 2005, by Countryman Press. Doug is currently working on a fourth book, A Photographer's Guide To The Big Sur Coast, which will be released in 2010.
Photographs by Doug Steakley have received awards in many photography contests including those sponsored by National Geographic Traveler magazine, Petersen's Photographic magazine and The National Park Service. He recently won a two week safari to Africa as the Grand Prize Winner in a photography contest co-sponsored by National Geographic and Energizer batteries.
Doug supports and works closely with several land conservation groups and a variety of his images have been published in annual reports and a variety of other publications. He has worked with The Big Sur Land Trust, The Nature Conservancy, The Land Trust Alliance, The Trust For Public Land, The Wilderness Coalition, The Tuolumne River Trust and The Monterey County Regional Park District. In 2003, he received the Ansel Adams Award from The Sierra Club for his conservation photography.
His images have been widely published in many local, national and international magazines including Architectural Digest, Backpacker, Outside, Better Homes and Gardens, Art and Antiques, Private Pilot, Luxury Living, The Robb Report, and Town and Country. He regularly contributes to travel catalogs published by Wilderness Travel, Mountain Travel and others.
Recent one-person exhibitions of Doug's photography include The Pacific Grove Art Center, The Fireside Gallery at the Highlands Inn, The Monterey Conference Center, The Pacific Grove Museum of Natural History, The Maureen Doud Gallery in The Sunset Center, and The Gallery at The Blackstone Winery in Gonzales.
Doug's stock photography is represented world-wide by Lonely Planet Images.
Doug currently serves as treasurer on the board of directors of The Center For Photographic Art in Carmel, California.
Aside from photography, Doug is an avid cyclist and recently completed his third Markleeville Death Ride in the Sierras.
Sample Photos by the Instructor
| | |
| --- | --- |
| © Doug Steakley | © Doug Steakley |
Course Outline
Lesson 1 - Controlling Movement or Motion with Shutter Speed
Controlling the way motion appears in a photograph requires an understanding of the relationship between aperture (f stops), shutter speed and ISO settings. The effect that these three settings have on each other is the foundation for all types of photography and is the technical hurdle that all beginning and intermediate photographers have to clear to be able to create the types of images they are envisioning. Lesson One will review the relationship between these three elements and photograph movement with varying shutter speeds to create different effects. Faster shutter speeds "freeze" action or capture movement while slower shutter speeds blur or soften action.
Assignment: Find a location with waves, a waterfall or water moving in some manner and photograph at different shutter speeds to created the varying effects of soft or frozen motion. If water is not readily available, then any moving subject will work. The intent is to understand how varying the shutter speed creates very different images when movement is involved.
Lesson 2 - Twilight or Night Photography
Twilight and night photography are similar in that they require longer shutter speeds to allow enough light to fall on the image sensor. These longer exposures will soften or blur anything in the photograph that is moving such as water, people walking or vehicles moving. Bright lights at night are going to expose more or less the same regardless of the shutter speed, so adjustments should be make to capture the mid tones and darker areas of the image. Night photography can be very dramatic along a waterfront or in a busy city with moving traffic.
Assignment: Take slow time exposures at twilight or later in a location that will show the effects of a slower shutter speed. Photographs could be taken along a waterfront, a sidewalk cafe or busy city streets with moving traffic. The idea is not only to capture slower motion but to make the effects of the slower motion an integral part of the image.
Lesson 3 - Panning an Image
Panning is the technique of following and photographing a moving subject with a shutter speed that is slow enough to cause the background to blur but fast enough to capture the subject. Panning is a powerful technique for sports such as race cars, motorcycles, running or bicycling and it works equally as well with wildlife. Panning can be used to photograph a bird in flight or a cheetah chasing a gazelle. While the technique seems easy, it requires an understanding of the camera settings and lots of practice.
Assignment: Find a moving subject and practice panning until the images are working. Good subject matter could be local sports activity or birds along a beach or river front. A good way to learn the technique is to photograph moving cars or motorcycles along a highway.
Lesson 4 - Experiment with Different Effects of Long Exposures
I remember when my daughter was young and dancing on a stage at school. I took a series of slow time exposures, about 1/8-1/15 of a second and was very pleased with the soft, out-of-focus dancers that appeared in the images. When people walk through an image that is being exposed slowly, they often appear as indistinct, ghost like images that add a feeling of mystery, as in the image at the top left. It is interesting to create images with long time exposures that reveal something which cannot be seen with the naked eye, and the results are often intriguing and compelling. Another unusual technique is to move the camera slightly while the image is being exposed - up and down, side to side or in a wave pattern. I will also cover photographing by moonlight in the lesson.
Assignment: Use the long exposure techniques we have been working with to create images that have surprising and pleasing results. Long exposure offers many possibilities to experiment and create fresh, dynamic images so feel free to use your imagination and experiment.
| | |
| --- | --- |
| © Doug Steakley | © Doug Steakley |
Requirements
Digital SLR camera with one or two lenses.
Tripod
Circular Polarizer Filter (highly recommended).
Cable Release (highly recommended).
No special image editing software is required but I do recommend Photoshop, Aperture or some image editing program.
An understanding of the relationship between aperture, ISO settings and exposure times.
FAQ
What level of photographer is this course designed for?
This class has been designed for everyone from upper serious hobbyists to the intermediate or advanced photographer. It requires a basic grasp of aperture, ISO settings and shutter speeds, and how they work in relationship to each other, as well as the ability to shoot in either aperture priority or shutter priority.
What equipment is needed for this course?
You will need a digital SLR camera and a tripod. I use a cable release but you can also set the camera to self timer mode so you are not touching the camera during long exposures. I also recommend a circular polarizer filter.
What about lenses - are any special ones required?
I tend to use wide-angle lenses quite a bit and mid-range focal lengths - 35mm to 70mm. A couple of lenses that cover wide-angle up to a short telephoto should be sufficient.
Do I need to use Photoshop or some other image processing program?
No special image editing program is required for this course. For myself, I prefer Adobe Photoshop CS4 and Lightroom.
What else should I know about this course?
This class is designed to make you comfortable shooting at various shutter speeds and understanding how these varying speeds create very different images of the same scene. It will absolutely increase your photography skills and guide you toward creating stunning images.
| | |
| --- | --- |
| © Doug Steakley | © Doug Steakley |
Do I have to be online at any specific time?
No, you do not need to be online at any specific time. The lessons are sent to your email and you are also provided the Campus Square - where you interact with your classmates and instructor. This is also where you upload your photos to be critiqued by your instructor. The instructors are very punctual and respond quickly.
Will I have access to the instructor to ask questions during the photo course?
Absolutely! Students can ask questions in the special Q&A forum set up in the course's Campus Square, or can ask the instructor via email.
Do you offer a money back guarantee?
Yes. We are confident that you will fully enjoy our courses. All the same, for our 8-week classes, we offer a 100% money-back guarantee before the Wednesday that Lesson #3 is sent out. If for any reason, you are not satisfied and let us know that you would like to withdraw before the Wednesday that Lesson #3 is sent, you will be promptly refunded.
For our 4-week courses, we offer a 100% money back guarantee before the Wednesday that Lesson #2 is sent out from BetterPhoto. If for any reason you are not satisfied and you let the ordering department know that you would like to withdraw before the Wednesday that Lesson #2 is sent, you will be refunded within 7 days. After the second lesson has been sent out, no refunds will be given.
Still have questions about this course?
Ask Us
Take the Next Step..
You can Get Started Today! The price is
$198.00
USD. Do this to start the class right away.
Add to Cart
today to get going in the class.
Add to Wishlist
---
Satisfaction Guaranteed!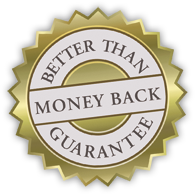 Better Than Money Back Guarantee
We Guarantee our courses.
100%, No Risk, No Hassle.
See you in class!