Get pro feedback on your photos in...
Creating Depth in Landscape Photography
Become a better photographer today!
Learn to create images that possess visual interest, movement and depth. In this four-week online photography class - taught by professional photographer Doug Johnson - you'll start making your photos really come alive with the concept of layering the image space to create a third dimension.
Key Features
Explore various angles and distance between camera and subject.
How the differences in focal length can expand or compress the visual space.
The effect of aperture on your composition.
How changes in shutter speed and camera movement affect your photo.
Learn how to arrange positive/negative space to create and support depth in photography.
Learn the concept of layering to create and enhance depth in a two-dimensional medium.
Become skilled at using aperture and shutter speed to create layers.
Explore how to create visually more interesting and dynamic images.
$198.00 USD
What You Get
Benefits:
You get direct feedback on your photos from world-acclaimed, professional photographers. You can learn photography in this way from anywhere in the world.

Learn at your pace, with structure.

Be guided by a real pro instructor.

Get your photos critiqued every week.

Join students from around the world.

Go far beyond any book or DVD.

Make great pictures, again and again!
Instructor
Doug J. Johnson
In a world that I perceive to be randomly chaotic there lies a simple benevolent spirit, in all things, from which I cannot separate myself. When I look through the camera, framed within dimensions, I allow myself to clarify, compose and remove any discord to form a simple image. This is an image my minds eye creates to stay in touch with that… spirit.
I'm a freelance documentary, editorial and fine art photographer from Missoula, Montana. I attended the Rocky Mountain School of Photography's, Summer Intensive Program more than a decade ago and began instructing photography workshops soon after graduating.
Before a zealous pursuit of photographic art, I was an outdoor educator for almost twenty years, passionately teaching people new backcountry skills in orienteering, mountaineering, avalanche awareness and wilderness first aid.
My teaching philosophy is fun, visionary and full of creative persistence, and I learn as much from every teaching experience as my students learn from me. The communication of knowledge and experience is always a two-way street.
Discovery is finding something… I found photography and my discovery began. Many years later, I'm still finding photography everywhere I go. I've come to recognize, it is within the "finding", not the "finding something", that is true discovery.

Sample Photos by the Instructor

© Doug Johnson
Course Outline
Lesson 1: Camera Position
By exploring various angles and distance between our camera's position and the subject, we begin to arrange the positive and negative spaces within the frame. This arrangement of space creates layers that maximize the perception of depth and result in rich and compelling photographs. Assignment: See how the camera position lets you take full advantage of visual depth.
Lesson 2: Lens Choice
Learn how the differences in focal length can expand or compress the visual space between elements, changing our perception of the elements and ultimately, defining how the subject is perceived. Assignment: Use differences in focal length to change your perception of positive/negative space.
Lesson 3: Aperture
Learn how choosing an aperture, controls depth of field, influences the perception of positive and negative space to achieve a richness of depth in our photography. Assignment: Use changes in aperture to minimize or maximize the effect that depth of field has on space relationships.
Lesson 4: Shutter Speed
See how changes in shutter speed and camera movement, control the visual motion in subjects and separate positive and negative space to create layers in a photograph. Learn how to creatively use these layers to enhance the perception of depth and create photographs that, move us. Assignment: Practice and demonstrate how changes in shutter speed affect space relationships within the frame to create motion and enhance visual depth.
| | |
| --- | --- |
| © Doug Johnson | © Doug Johnson |
Requirements
Digital or film-based camera.
An understanding of how to control exposure with aperture and shutter speed.
Lens or lenses that cover wide-angle to medium telephoto.
A camera with depth of field preview is recommended.
A lens with macro capabilities is suggested.
A tripod is strongly suggested.
FAQ
I only have one lens. Will it limit the benefits this course offers?
One lens is fine as long as it zooms and covers the focal lengths somewhere between wide angle and medium telephoto, about 28mm to 100mm, that's with the conversion factor of most digital cameras.
My new digital camera is fairly new. For this course, can I shoot film in my old 35mm camera?
Definitely! You'll just have to obtain digital files of your film in order to upload them to BetterPhoto.com for critiques of the assignments. There are no specific lessons on digital cameras during this course. This might be a good time to experiment with your new camera. Most of the basic controls will be familiar. Spending a little time reviewing your camera manual and navigating the camera menus, and you'll be on your way.
How much time should I expect to complete the weekly assignments?
It depends on you shooting style, but most assignments can be completed in about two or three hours. This doesn't include processing and uploading images to BetterPhoto.com. Some people really get creative and spend a lot more time completing the assignments.
I usually shoot in Aperture Priority. Will I be able to do all the assignments during this course?
Shooting in Aperture Priority is fine. Although with one of the assignments, you'll have to be keenly aware of the changes in shutter speed in order to get the most benefit from the lesson. Already knowing the relationship between aperture and shutter speed in terms of exposure will be helpful.
I find my tripod cumbersome and frustrating to use. Will I need to use one for the assignments?
Not necessarily, but to achieve critically sharp images, tripods are essential. They also slow us down so we can critically evaluate our compositions. With a little practice and patience, the adjustments and movements of a tripod will become second-nature and you'll love your tripod.
| | |
| --- | --- |
| © Doug Johnson | © Doug Johnson |
Do I have to be online at any specific time?
No, you do not need to be online at any specific time. The lessons are sent to your email and you are also provided the Campus Square - where you interact with your classmates and instructor. This is also where you upload your photos to be critiqued by your instructor. The instructors are very punctual and respond quickly.
Will I have access to the instructor to ask questions during the photo course?
Absolutely! Students can ask questions in the special Q&A forum set up in the course's Campus Square, or can ask the instructor via email.
Do you offer a money back guarantee?
Yes. We are confident that you will fully enjoy our courses. All the same, for our 8-week classes, we offer a 100% money-back guarantee before the Wednesday that Lesson #3 is sent out. If for any reason, you are not satisfied and let us know that you would like to withdraw before the Wednesday that Lesson #3 is sent, you will be promptly refunded.
For our 4-week courses, we offer a 100% money back guarantee before the Wednesday that Lesson #2 is sent out from BetterPhoto. If for any reason you are not satisfied and you let the ordering department know that you would like to withdraw before the Wednesday that Lesson #2 is sent, you will be refunded within 7 days. After the second lesson has been sent out, no refunds will be given.
Still have questions about this course?
Ask Us
Take the Next Step..
You can Get Started Today! The price is
$198.00
USD. Do this to start the class right away.
Add to Cart
today to get going in the class.
Add to Wishlist
---
Satisfaction Guaranteed!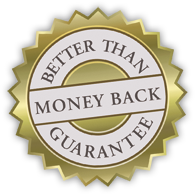 Better Than Money Back Guarantee
We Guarantee our courses.
100%, No Risk, No Hassle.
See you in class!