Get pro feedback on your photos in...
Introduction to Your Canon Flash
Become a better photographer today!
Learning how to use your Canon TTL flash has never been easier thanks to the system of using your camera with flash as taught by award-winning photographer Paul F. Gero. In this four-week online course, you will gain confidence in using your flash consistently as well as expanding your creativity with dramatic yet simple lighting techniques. Take your photography - especially your flash photography - to the next level by signing up for this class now!
Key Features
Introduction to Digital Flash Photography
Selecting On-Camera Flash Techniques
Using On-Camera Flash Outdoors
Advanced Techniques with your Canon flash
Beginner to intermediate level.
Learn how to effecitvely and confidently use your Canon dedicated flash unit.
Create interesting and unique portraits and event coverage using these flash units.
NOTE: Course recently updated with new lessons. Also, class was formerly titled "Mastering Your Canon Flash".
$198.00 USD
What You Get
Benefits:
You get direct feedback on your photos from world-acclaimed, professional photographers. You can learn photography in this way from anywhere in the world.

Learn at your pace, with structure.

Be guided by a real pro instructor.

Get your photos critiqued every week.

Join students from around the world.

Go far beyond any book or DVD.

Make great pictures, again and again!
Instructor
Paul F. Gero
Documentary wedding and portrait photographer Paul F. Gero shares his secrets about capturing great moments and working simply and quickly with on camera flash and photographing weddings and portraits.
Gero spent nearly twenty years in daily journalism shooting literally thousands of assignments ranging from Presidents to paupers, and everything from documentary essays, to lit portraits to dynamic action photographs.
He was on staff at The Chicago Tribune (both in Chicago and in their Washington, DC bureau) as well as on staff at The Arizona Republic in Phoenix.
His work has been published around the globe including publications such as Time, People, US News and World Report and Sports Illustrated magazines.
Those wide-ranging skills acquired over more than two decades of work have become distilled into his unique approach to wedding photography that values the beauty of natural moments, simple and effective portraiture on the day and the use of on camera flash to create light that looks natural and inviting.
Please join us for his engaging and highly personal teaching style, useful and instructive photo exercises and his perceptive critiques that help students grow their skills in capturing natural moments and utilizing flash.
Be prepared to see the wedding and portrait world in an entirely new manner after taking his classes. Paulís very popular book, Digital Wedding Photography, was published in 2005 by Course PTR and available on Amazon.com.
Sample Photos by the Instructor
| | |
| --- | --- |
| © Paul Gero | © Paul Gero |
Course Outline
Lesson One - Intro to Digital Flash Photography
Camera Set up for maximum efficiency, exposure consistency and photographic proficiency. Your flash as a Main or Fill light? Ambient Exposure and the role it plays in flash photography.
Direct Flash - how to master and artfully craft the most common type of flash photography.
Assignment: Create a dynamic portrait of a person using direct flash (gasp).
Lesson Two - Selecting On Camera Flash Techniques
Styles of Flash. Lens choices for using flash and their impact. On-camera modified flash. On-camera bounce flash.
Assignment: Create Four images using a variety of lenses (including wide-angle and telephoto) using on-camera flash.
Lesson Three - Using On Camera Flash Outdoors
Daylight fill flash. High-speed flash. The limitations of hand held flash. Extra: Out of the Hot Shoe.
Assignment: Use your on camera flash in a daylight situation and balance the ambient light and
flash light in an artful way.
Lesson Four - Digging Deeper with Flash
Auto mode (new on the 580 EX II flash). First curtain/second curtain flash. Manual flash. Extra: Beyond TTL - modifying your portable flash.
Assignment: Use your flash to create an image in manual mode and include an additional image from previous assignments for critique/assessment.
| | |
| --- | --- |
| © Paul Gero | © Paul Gero |
Requirements
A working knowledge of your Canon digital camera and Canon on-camera flash.
A Canon E-TTL II enabled camera and flash are strongly recommended.
Familiarity with Adobe Photoshop CS3 and CS4 and Adobe
Photoshop elements are strongly recommended (though for the class you may use any software that allows you to get your images online for comments and critiques).
A variety of lenses that cover a range of wide angle, normal and telephoto range though most of the images for the course can be made with lenses in the 28-50-85mm range (on a full-frame camera such as the Canon 5D M2).
FAQ
Is this course intended only for intermediates?
It's open to anyone with a basic understanding of how their camera works.
Do I need any background training in wedding photography or other discipline to benefit from this course?
No, just a strong desire to learn how to take control of your camera and dedicated flash unit.
What kind of equipment will I need to complete the photo assignments?
A 35mm film or digital SLR and lenses in the 16-35mm range. A standard 50mm lens would be useful, as would an 85mm or 100mm (35mm equivalent) lens. You will also need a Canon dedicated flash unit to work the exercises. Suggested flash units are the 580 EX II, 580 EX, 550 EX, 430EX and 220EX. Older Canon flash units may be used, but with the most recent Canon digital cameras, it would be best to work with flash units that utilize Canon's E-TTL II technology.
Will this course talk about wireless ttl and multiple flash techniques?
This course will delve into those topics briefly in the fourth lesson, but the bulk of the lessons are to teach effective use of on camera flash in the hot shoe. We'll be talking about techniques for direct flash, modified flash (using tools such as a Stofen Omni-bounce, for example) and the use of bounce flash techniques. The aim of this course is to give you tools to master this area of your flash since they are the foundations for further study with off-camera flash techniques.
What if I am a Nikon photographer - can I still take your class?
Sure! I'm happy to have Nikon users in the class even though the class is specifically geared toward Canon users. The principals are universal and are adaptable to Nikon cameras and flash units, though there are some slight differences in how the tools work. Please email Paul at paul at paul f gero dot com if you have any questions in this regard.
| | |
| --- | --- |
| © Paul Gero | © Paul Gero |
Do I have to be online at any specific time?
No, you do not need to be online at any specific time. The lessons are sent to your email and you are also provided the Campus Square - where you interact with your classmates and instructor. This is also where you upload your photos to be critiqued by your instructor. The instructors are very punctual and respond quickly.
Will I have access to the instructor to ask questions during the photo course?
Absolutely! Students can ask questions in the special Q&A forum set up in the course's Campus Square, or can ask the instructor via email.
Do you offer a money back guarantee?
Yes. We are confident that you will fully enjoy our courses. All the same, for our 8-week classes, we offer a 100% money-back guarantee before the Wednesday that Lesson #3 is sent out. If for any reason, you are not satisfied and let us know that you would like to withdraw before the Wednesday that Lesson #3 is sent, you will be promptly refunded.
For our 4-week courses, we offer a 100% money back guarantee before the Wednesday that Lesson #2 is sent out from BetterPhoto. If for any reason you are not satisfied and you let the ordering department know that you would like to withdraw before the Wednesday that Lesson #2 is sent, you will be refunded within 7 days. After the second lesson has been sent out, no refunds will be given.
Still have questions about this course?
Ask Us
Take the Next Step..
You can Get Started Today! The price is
$198.00
USD. Do this to start the class right away.
Add to Cart
today to get going in the class.
Add to Wishlist
---
Satisfaction Guaranteed!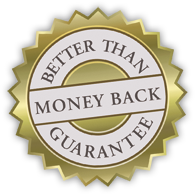 Better Than Money Back Guarantee
We Guarantee our courses.
100%, No Risk, No Hassle.
See you in class!