Get pro feedback on your photos in...
Fashion Photography Course
Become a better photographer today!
Learn to produce creative fashion images, whether you want to simply make beautiful photos or even pursue a career in professional photography. This course will give you insight into the fascinating world of fashion photography. With instructor and photographer Bruce Smith, you'll learn the fundamentals of preparing for a fashion shoot, and then setting up and photographing a fashion shoot.
Key Features
Research your ideas from magazines
Put together your team - Assistants, models, hair and make-up and stylists.
Find your locations - interior or exteriors.
Briefing your team
Preparation before your shoot
Start shooting - building a rapport with your team, and directing your photography.
Image selecting and editing
Wrapping up your presentation

Intermediate level.
Learn to shoot fabulous fashion images.
Intended for anyone who wants to shoot for fun or who wishes to become a professional fashion shooter.
$396.00 USD
What You Get
Benefits:
You get direct feedback on your photos from world-acclaimed, professional photographers. You can learn photography in this way from anywhere in the world.

Learn at your pace, with structure.

Be guided by a real pro instructor.

Get your photos critiqued every week.

Join students from around the world.

Go far beyond any book or DVD.

Make great pictures, again and again!
Instructor
Bruce Smith
Sample Photos by the Instructor
| | |
| --- | --- |
| © Bruce Smith | © Bruce Smith |
Examples of Student Photos
View photos by previous students. You can make pictures like this too!


| | |
| --- | --- |
| © Jennifer Tucker | © Jennifer Tucker |
Course Outline
Lesson 1: Research Your Ideas from Magazines
Put together a story board.
Assignment: Research and start making up a fashion story of your own. I want to see a set of at least 4 tear sheets that illustrates a fashion story that you would like to shoot.

Lesson 2: Put Together Your Team
Assistants, models, hair and make-up and stylists.
Assignment: I want to see contact sheets of all the images taken. Then 1 shot that reflects slow tempo, another shot for medium tempo, and a third for fast tempo. Thus: 3 finished images and as many contacts as you shot.
Lesson 3: Find Your Locations
Interior or exteriors. Getting prepared to be prepared.
Assignment: Go out with your camera to any locations that you think you would like to shoot. Be there very early in the morning or late afternoon, as these are the best times to shoot. Take lots of pictures; make notes of the time of day, direction of the sunlight. Look for locations where you will not have an audience when you're shooting.
Lesson 4: Briefing Your Team
Assignment: Write a brief but informative storyline. Upload tearsheets that show poses, type of model, type of location, type of lighting, style of make-up, style of hair. I would also like to see snaps of the products that you plan to shoot, along with snaps of accessories.
Lesson 5: Preparation Before Your Shoot
Determining what you will need. Checking that your equipment is working. Etc., etc.
Assignment: I want you to do a rehearsal for your shoot. This is to test your lighting and your poses and to make sure your location will give you what you want. You don't have to use your final shoot model. I will often set up the studio the day before, and I will shoot pictures of my assistant in similar poses to what I want for my final shots.

Lesson 6: Start Shooting ...
Building a rapport with your team - especially your model. Directing your photography.
Assignment: I want to see 1 contact sheet and a selection of 3 or 4 variations on each shot for your story. Within the variations, you should show possible left, right-hand pages, and cover shots and possible areas for text.
Lesson 7: Image Selecting and Editing
Assignment: I want to see your images put together like double-page spreads in a magazine. If you have 4 shots, you could make up to 4 double pages by using 2 images from each shot - as suggested earlier using a close-up and a full-length image together. Plus a front cover shot.
Lesson 8: Wrapping Up Your Presentation
Making your story hold together. Some basic techniques in Photoshop to enhance your pictures. Adding typography.
Assignment: For your final assignment, I'd like you to add text to one of your images. Use the tips in this lesson to add type to create an eye-catching layout.
Review: Voting on Best Work
| | |
| --- | --- |
| © Bruce Smith | © Bruce Smith |
Requirements
Digital or film-based SLR camera, although a digital is preferable, so results are seen right away.
Ability to control and understand aperture/shutter speed.
Lenses in the 16-35mm and 35mm to 200mm range. A standard 50mm lens would be helpful, too, but it's not required.
A good knowledge or your camera's functions.
FAQ
Is this course intended only for intermediate or advanced photographers?
It's open to anyone with a basic understanding of how his or her camera works - such as camera settings and exposure values. A basic knowledge of studio flash equipment can be helpful, but it's not essential.
Do I need any background training in fashion to benefit from this course?
No, just a passion for fashion.
What kind of equipment will I need to complete the photo assignments?
A 35mm film or digital SLR and lenses in the 16-35mm and 35mm to 200mm range. A standard 50mm lens would come in handy, too, though it's not required.
What if I have difficulty finding my team - such as assistants, models, and stylists?
I will guide you through various methods in finding them. It's essential to have a good team, but if you can't find them from the world of photography, you should look to your family and friends. Again, I can help you to do this.
When I finish one photo story, can I do another? Will I be good enough to send my fashion pictures to a magazine and get them published?
This course is geared to creating one fashion shoot - like an advertisement for a fashion client - or a fashion story that would not look out of place in a fashion magazine. Due to the nature of fashion - i.e., it changes every month as far as magazines go - I would not expect you to send your story to magazines and to get it published at this point. But I will let you know if I feel you you should try and get your story published.
If you have the time and interest to approach a second story - for instance, if you're shooting a single fashion shoot like fashion or beauty product advertisements - I am willing to work with you on that one, too.
| | |
| --- | --- |
| © Bruce Smith | © Bruce Smith |
Do I have to be online at any specific time?
No, you do not need to be online at any specific time. The lessons are sent to your email and you are also provided the Campus Square - where you interact with your classmates and instructor. This is also where you upload your photos to be critiqued by your instructor. The instructors are very punctual and respond quickly.
Will I have access to the instructor to ask questions during the photo course?
Absolutely! Students can ask questions in the special Q&A forum set up in the course's Campus Square, or can ask the instructor via email.
Do you offer a money back guarantee?
Yes. We are confident that you will fully enjoy our courses. All the same, for our 8-week classes, we offer a 100% money-back guarantee before the Wednesday that Lesson #3 is sent out. If for any reason, you are not satisfied and let us know that you would like to withdraw before the Wednesday that Lesson #3 is sent, you will be promptly refunded.
For our 4-week courses, we offer a 100% money back guarantee before the Wednesday that Lesson #2 is sent out from BetterPhoto. If for any reason you are not satisfied and you let the ordering department know that you would like to withdraw before the Wednesday that Lesson #2 is sent, you will be refunded within 7 days. After the second lesson has been sent out, no refunds will be given.
Still have questions about this course?
Ask Us
Take the Next Step..
You can Get Started Today! The price is
$396.00
USD. Do this to start the class right away.
Add to Cart
today to get going in the class.
Add to Wishlist
---
Satisfaction Guaranteed!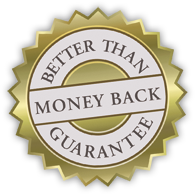 Better Than Money Back Guarantee
We Guarantee our courses.
100%, No Risk, No Hassle.
See you in class!