Get pro feedback on your photos in...
DSLR Features: When, Why and How to Use Them
Become a better photographer today!
This course offers the skills and experience you need to make the camera a natural extension of your eye. This exciting 8-week online class - taught by photographer, editor and writer Ibarionex Perello - will give you an understanding of the various features of your DSLR camera. You'll learn when and how your images will benefit from different exposure and metering modes, autofocus and white balance settings, and more.
Key Features
Exposure Modes
Metering Controls
Flash - Maximize your use of your built-in or auxiliary flash.
Autofocus - Single-sensor vs multi-sensor AF; single vs. continuous autofocus; focus tracking; lock focus.
White Balance and ISO
Raw and JPEG
Color Space - sRGB vs. Adobe RGB. Customize the look of your images.
Camera Maintenance


Understand numerous camera features and when you should use them.
Discover how to optimize your camera for portraits, landscape, close-up or action photography.
Learn how to creatively use flash indoors and as fill-flash outdoors.
Improve the color, contrast and exposure of your images by understanding metering, color space and white balance.
$396.00 USD
What You Get
Benefits:
You get direct feedback on your photos from world-acclaimed, professional photographers. You can learn photography in this way from anywhere in the world.

Learn at your pace, with structure.

Be guided by a real pro instructor.

Get your photos critiqued every week.

Join students from around the world.

Go far beyond any book or DVD.

Make great pictures, again and again!
Instructor
Ibarionex R. Perello
Ibarionex R. Perello is a writer and photographer who has over 15 years worth of experience in the photographic industry. For six years, he was the associate editor for
Outdoor Photographer, PC Photo,
and
Digital Photo Pro
magazines. He was a technical engineer for Nikon Inc. for 8 years where he provided technical support and training on both film and digital technologies.
Ibarionex also hosts and produces "The Candid Frame", an audio podcast where he interviews the best professional and emerging photographers in the world. The bi-weekly podcast is available by visiting www.thecandidframe.com.
His personal photographic projects include a 5-year documentary project that focused on Broadway in downtown Los Angeles. He is currently producing a series of portraits on established and emerging writers of Southern California.
Sample Photos by the Instructor
| | |
| --- | --- |
| © Ibarionex Perello | © Ibarionex Perello |
Examples of Student Photos
View photos by previous students. You can make pictures like this too!


| | |
| --- | --- |
| © Vicki Littlefield | © Vicki Littlefield |
Course Outline
Lesson 1: Exposure Modes
Learn how Program, Shutter Priority, Aperture Priority and Manual modes produce different results. Discover which mode produces the best result for different shooting situations.
Assignment: Shoot a portrait, action or close-up image using three different exposure modes.

Lesson 2: Metering Controls
Discover the differences between multi-pattern, center-weighted and spot metering. Learn which metering mode produces the best results when shooting scenics, portraits or close-up work. Learn how to use exposure compensation for the best exposure possible.
Assignment: Photograph a backlit subject with the three different metering modes that exist in your camera OR shoot a dominant white or black subject and use exposure compensation to correct for exposure.
Lesson 3: Flash
Maximize your use of your built-in or auxiliary flash. Learn to effectively use flash for fill-flash or as a primary light. Customize your flash output using flash compensation.
Assignment: Take a portrait at dusk with fill-flash, manually exposing for the background and letting the flash provide the fill-light.
Lesson 4: Autofocus
Learn when to use single-sensor or multi-sensor AF. The benefits of single vs. continuous autofocus. The effective use of focus tracking. How to confirm and lock focus.
Assignment: Create an image with a subject composed off-center using focus-lock. Produce an image with a fast moving subject moving directly towards or away from the camera.
Lesson 5: White Balance and ISO
Achieve the best color possible using the correct white balance setting. Learn the difference between the auto, preset and custom WB settings. Discover when and why you will want to increase or decrease your camera's ISO.
Assignment: Shooting images under directly sunlight, open shade or tungsten light using the auto, preset and custom white balance setting of your camera.
Lesson 6: Raw and JPEG
Discover the differences and advantage of shooting JPEG or RAW. Discover which provide the best workflow for different shooting situations.
Assignment: Shoot a subject of our choice in JPEG and Raw. Customize the look of the Raw file to your taste and preference.
Lesson 7: Color Space
Understand the differences between the sRGB and Adobe RGB color space. Customize the look of your images using the parameter settings of your camera for natural or vivid colors.
Assignment: Submit a trio of images using the camera default settings, and the user-adjustable settings for vivid color and black and white.
Lesson 8: Camera Maintenance
Learn to maintain and clean your camera body and sensor, and lenses. Numerous tips for protecting your camera and equipment.
Assignment: Using any of the techniques learned in the past 7 weeks, create and submit your favorite photograph for critique.
Review: Voting on Best Work
| | |
| --- | --- |
| © Ibarionex Perello | © Ibarionex Perello |
Requirements
Digital SLR.
Instruction manual.
A willingness to explore.
FAQ
Is this course intended only for beginning, intermediate, or advanced photographers?
This class is intended for beginning and intermediate photographers who want a greater understanding of the capabilities of their cameras.
What kind of lens do I need?
A standard kit lens that often comes with the purchase of a new digital SLR is sufficient. A wider selection of lenses may be helpful, but is not necessary
Do I need to have Photoshop?
No. This course is not about learning Photoshop techniques. Any level of image-editing software will be sufficient for this course.
| | |
| --- | --- |
| © Ibarionex Perello | © Ibarionex Perello |
Do I have to be online at any specific time?
No, you do not need to be online at any specific time. The lessons are sent to your email and you are also provided the Campus Square - where you interact with your classmates and instructor. This is also where you upload your photos to be critiqued by your instructor. The instructors are very punctual and respond quickly.
Will I have access to the instructor to ask questions during the photo course?
Absolutely! Students can ask questions in the special Q&A forum set up in the course's Campus Square, or can ask the instructor via email.
Do you offer a money back guarantee?
Yes. We are confident that you will fully enjoy our courses. All the same, for our 8-week classes, we offer a 100% money-back guarantee before the Wednesday that Lesson #3 is sent out. If for any reason, you are not satisfied and let us know that you would like to withdraw before the Wednesday that Lesson #3 is sent, you will be promptly refunded.
For our 4-week courses, we offer a 100% money back guarantee before the Wednesday that Lesson #2 is sent out from BetterPhoto. If for any reason you are not satisfied and you let the ordering department know that you would like to withdraw before the Wednesday that Lesson #2 is sent, you will be refunded within 7 days. After the second lesson has been sent out, no refunds will be given.
Still have questions about this course?
Ask Us
Take the Next Step..
You can Get Started Today! The price is
$396.00
USD. Do this to start the class right away.
Add to Cart
today to get going in the class.
Add to Wishlist
---
Satisfaction Guaranteed!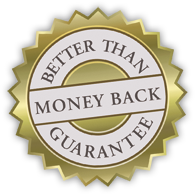 Better Than Money Back Guarantee
We Guarantee our courses.
100%, No Risk, No Hassle.
See you in class!