Get pro feedback on your photos in...
Learning the Canon 5D, 1D Mark IIn and 1Ds Mark II
Become a better photographer today!
Learn to use Canon's awesome digital SLR cameras - the 5D, 1Dn Mark II, and 1Ds Mark II. Taught by professional photographer
Jim White,
this course will take the mystery out of the camera controls, dials, menus, custom functions, etc. If you want to fully understand custom functions, ISO settings, white balance, file formats, buffer speeds, flash photography, what lenses to choose, and the like, then welcome aboard ... this course is for you!
Key Features
Basic Functions
Lenses and Flashes
Accessories and Options
In the Field - Image Capture
Beginner to Intermediate
All about the Canon Professional Digital SLR cameras: the 5D,
the 1Dn Mark II, the 1Ds Mark II.
How to get the most out of your Canon Pro DSLR: controls, dials, settings, custom functions, lenses, speedlights, etc.

$198.00 USD
What You Get
Benefits:
You get direct feedback on your photos from world-acclaimed, professional photographers. You can learn photography in this way from anywhere in the world.

Learn at your pace, with structure.

Be guided by a real pro instructor.

Get your photos critiqued every week.

Join students from around the world.

Go far beyond any book or DVD.

Make great pictures, again and again!
Instructor
Jim M. White
Jim White is a professional photographer and owner of The Digital Workflow, a company specializing in color management and printing solutions. Jim conducts workshops on digital photography, understanding and using digital SLR cameras, and color management and printing.
He is widely published, and has written a four-part course, The Complete Digital Workflow, which he teaches every four weeks at Peace Camera in Raleigh, NC. He just completed a two-day, four workshop seminar for the Northern Virginia Photographic Society.
Jimís interest in photography goes back to his college days in the mountains of NC, where there was no lack of subject matter. Nature Photography is still his number one interest, although he continues to do portrait and wedding work as well. In addition, Jim has had numerous photos published in various newspapers, magazines, and travel brochures. Currently, the State of North Carolina is using one of Jimís images at the State Welcome Center at the Tennessee border. It is a 3X5 foot poster captured with a Canon 20D. Jimís work is available online and in selected galleries.
Recently Jim has combined his love of nature photography with his teaching of the digital workflow. He and Tony Sweet have recently combined forces and are offering a series of field workshops titled, Image Capture to the Final Print.
Sample Photos by the Instructor
| | |
| --- | --- |
| © Jim White | © Jim White |
Course Outline
Lesson 1: Basic Functions
An introduction to the camera controls and the menus. Topics: setting the ISO, White Balance and File Formats; choices of memory cards; discussion of the valuable Custom Functions Menu; what settings to use and why; and a rundown of basic maintenance, including sensor cleaning.
Assignment: Setting ISO. Shooting the same scene with Auto and then a Custom White Balance.
Lesson 2: Lenses and Flashes
Explore the following issues and make better decisions regarding what lens and flash will give you the most bang for the buck:
The Canon L lenses vs. the after-market lenses.
Zoom lenses and prime lenses advantages and trade-offs.
Image Stabilization: what it is and who needs it.
F2.8 and f4.5: Are the faster lenses worth the extra cost?
What lens to use for specific jobs.
The EX430, EX550, and the EX580 flash: Compare the differences and select the right one for your use. ETTL and manual flash, plus what shooting modes works best with flash photography.

Assignment: Creative use of an exposure mode both with and without flash.
Lesson 3: Accessories and Options
Here we will explore the world of options and accessories for the Canon Pro DSLR cameras. We will learn about batteries, battery grips, remote releases, focusing screens, memory cards, flash accessories, tripods, ball heads, and the like.
Assignment: Creative use of a lense or lenses for a given situation.
Lesson 4: In The Field - Image Capture
You will learn the different shooting modes and what will work best for you in a given situation. Why some cameras have a green rectangle or a green camera on the dial, and why you don't want to use it. What settings work best for sports, nature, or flash photography and why the results are often inconsistent. We will basically apply everything we have learned thus far and apply it to real-world situations.
Assignment: A fun, putting-it-all-together assignment that incorporate many of the pro-DSLR creative functions.
| | |
| --- | --- |
| © Jim White | © Jim White |
Requirements
Either a Canon 5D, 1Dn Mark II, or 1Ds Mark II, or a desire to learn about and/or own one.
A basic working knowledge of camera controls and some shooting experience.
No special image-editing software required
FAQ
Can I take this class even if I don't own one of these cameras?
Yes. Although the class and the assignments are geared toward current owners, Anyone with an interest in the cameras is welcome to sign up.
Do I need any particular software program to take this course?
No. This class will focus on the camera, the controls, dials, settings, custom functions, lenses, speedlights, etc: rather than any software used to edit finished images.
I already own one of these cameras and I am getting good results. Why should I take this course?
If you are 100-percent happy with the camera and the images you are getting, then you may not don't need this course. If, however, you really like your camera, but you still have lingering questions or have specific problems with some aspects of the camera operation, then this course can help.
What about skill level. These are high-end cameras, and I don't want to be lost just because I'm not a pro.
Not a problem. A basic working knowledge of camera controls and some shooting experience are all you need.
| | |
| --- | --- |
| © Jim White | © Jim White |
Do I have to be online at any specific time?
No, you do not need to be online at any specific time. The lessons are sent to your email and you are also provided the Campus Square - where you interact with your classmates and instructor. This is also where you upload your photos to be critiqued by your instructor. The instructors are very punctual and respond quickly.
Will I have access to the instructor to ask questions during the photo course?
Absolutely! Students can ask questions in the special Q&A forum set up in the course's Campus Square, or can ask the instructor via email.
Do you offer a money back guarantee?
Yes. We are confident that you will fully enjoy our courses. All the same, for our 8-week classes, we offer a 100% money-back guarantee before the Wednesday that Lesson #3 is sent out. If for any reason, you are not satisfied and let us know that you would like to withdraw before the Wednesday that Lesson #3 is sent, you will be promptly refunded.
For our 4-week courses, we offer a 100% money back guarantee before the Wednesday that Lesson #2 is sent out from BetterPhoto. If for any reason you are not satisfied and you let the ordering department know that you would like to withdraw before the Wednesday that Lesson #2 is sent, you will be refunded within 7 days. After the second lesson has been sent out, no refunds will be given.
Still have questions about this course?
Ask Us
Take the Next Step..
You can Get Started Today! The price is
$198.00
USD. Do this to start the class right away.
Add to Cart
today to get going in the class.
Add to Wishlist
---
Satisfaction Guaranteed!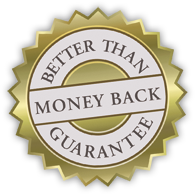 Better Than Money Back Guarantee
We Guarantee our courses.
100%, No Risk, No Hassle.
See you in class!