Get pro feedback on your photos in...
Mastering Macro Nature Photography
Become a better photographer today!
Spring, summer, winter, or fall, macro photography opens the door to a wonderful new world of photo opportunities. With instructor and author Brenda Tharp as your guide, this course will show you ways to use your existing camera gear to make
spectacular macro photographs.
The close-up world is a magical place full of pattern, color, and abstract imagery. Flowers become abstract works of art; rusty doors become textured canvasses; stones becomes polished gems; butterflies and other insects can become sci-fi monsters!
Key Features
Using Natural Light Effectively
Maximizing Focus and Controlling Depth of Field
Composing Creatively and Keeping It Simple
Using Selective Focus to Create Abstract Close-Ups
Great for advanced beginners and intermediates.
Expands your creative vision.
Covers both creative and technical aspects.
$198.00 USD
What You Get
Benefits:
You get direct feedback on your photos from world-acclaimed, professional photographers. You can learn photography in this way from anywhere in the world.

Learn at your pace, with structure.

Be guided by a real pro instructor.

Get your photos critiqued every week.

Join students from around the world.

Go far beyond any book or DVD.

Make great pictures, again and again!
Instructor
Brenda Tharp
Brenda Tharp is known for her inspirational and informative workshops. She is the author/photographer of the book Creative Nature and Outdoor Photography that has been receiving excellent reviews. Brenda has also written how-to articles for many photo magazines, including Outdoor Photographer.
Brenda followed her passion many years ago when she quit her corporate job to pursue a career in outdoor and travel photography. She has llama-trekked, sea-kayaked, flown in helicopters and hot-air balloons, cycled, and hiked to create her photographs. Those images have appeared on the pages of Alaska Airlines, Audubon, Discovery, National Geographic, Northwest Airlines, Sierra, Sunset and Travel Holiday magazines, along with many others. She has images included in books produced by Chronicle, Michelin, National Geographic, and Sierra Club.
Her keen eye for design and use of natural light and color are a signature in her work. Her photographs are regularly published in calendars and greetings cards for a variety of international companies. Brenda markets her own stock photographs, and is also represented by Workbookstock.com. She has co-starred in episodes of Canon's Photo Safari television program, and appeared on San Francisco area news shows to discuss photography techniques. She has developed a reputation as a teacher of unlimited energy with a compassionate yet honest approach to critiquing.
Sample Photos by the Instructor
| | |
| --- | --- |
| © Brenda Tharp | © Brenda Tharp |
Course Outline
Lesson 1: Using Natural Light Effectively
Introduction: How close can I get? The general differences between macro zooms, macro lenses, diopters and extension tubes. The benefits of using natural light for macro photography - and how to use and control it effectively.
Sidebar #1: Diffusion accessories.
Assignment: Create macro images in diffused light and backlight.

Lesson 2: Maximizing Focus and Controlling Depth of Field
How to get your subject sharp with such narrow depth of field in macro settings. F/16 vs. f/5.6: how to make that choice. How to create soft backgrounds in floral macros.
Sidebar #1: Tripods and other supports.
Sidebar #2: How to make backgrounds for macro work.
Assignment: Create macro images with different apertures.
Lesson 3: Composing Creatively and Keeping it Simple
Simplifying a scene and keeping backgrounds uncluttered.
Sidebar: How to control wind movement - the McClamp and other accessories.
Assignment: Create various compositions of macro subjects.
Lesson 4: Using Selective Focus to Create Abstract Close-ups
How to use selective focus and narrow depth of field to your creative advantage. What defines an abstract image.
Sidebar: Using complementary colors.
Assignment: Create abstract macro images with selective focus.
| | |
| --- | --- |
| © Brenda Tharp | © Brenda Tharp |
Requirements
Film or digital camera. Compact digicams are OK if the macro mode can get you really close (i.e., 1-2 inches).
For SLR cameras: A dedicated macro lens (strongly recommended), or a set of diopters or extension tubes that can get you close.
Ability to control aperture/shutter speed on your camera.
Tripod (required).
FAQ
Is this course intended for advanced photographers or can beginning photographers participate as well?
This course is open to any photographer who wants to learn how to do macro photography, but you should have a working knowledge of aperture, shutter speed, and depth of field.
What equipment do I need to make the most of this course and do the weekly assignments?
You will need either an SLR camera body that allows complete control of shutter and aperture. A compact digital camera is fine, if it can also get very close to a subject (about 1 inch in macro setting). For SLRs, you will need a dedicated macro lens (zoom lenses that have macro settings generally don't get close enough), or close-up filters (diopters) or extension tubes. Everyone will need a tripod. A warming filter (81B), a polarizing filter would be helpful as well.
Can I use a digital camera?
Digital cameras are fine, as long as you can control shutter and aperture and get very close to your subject (about 1 inch). However, this course is not about digital imaging, but rather a focus on creative vision and technique.
What are the requirements for sending in my work and getting it evaluated?
To be evaluated, you will need to upload images to BetterPhoto.com. This can be done by scanning via a film or flatbed scanner, via downloading from a digital camera, or having your images placed on a Photo CD. You can use your own scanner, or you might try using a scanning service at your local photo lab or copy shop. No matter how you do it, your images will look best if they are sized to about 500 pixels on the short end.
How much film should I anticipate using during these 4 weeks?
Film is cheap when compared to a lost opportunity. Why take the risk of running out? Even so, 12 rolls of 24- or 36-exposures should be fine if you only do the weekly assignments over the duration of the course.
Does it matter is I shoot print film or slide film?
No. Either is OK, as long as it's color film.
Is it OK with you if we submit previously created work for critique? Or do we have to do the assignments each week?
I would prefer to evaluate only the results of each week's assignment, as the goal of this course is to stimulate you to make fresh images, based on ideas discussed in the class. However, I know that weather, job changes, and other life experiences can get in the way of photography, so if you need to, you can submit previously created work but please let me know.
Can I use photo imaging software such as Photoshop?
Yes, but only if you use it as a corrective tool, with a goal to bring the image close to what it looked like originally. Adjustments to exposure, color, sharpening are fine in that case. For film users, scans often don't look the way the slide did, so you will want to adjust them in order to have them look as good as the slide. In this case, corrections to remove dust, hair, scratches that have become visible after scanning are also OK.
| | |
| --- | --- |
| © Brenda Tharp | © Brenda Tharp |
Do I have to be online at any specific time?
No, you do not need to be online at any specific time. The lessons are sent to your email and you are also provided the Campus Square - where you interact with your classmates and instructor. This is also where you upload your photos to be critiqued by your instructor. The instructors are very punctual and respond quickly.
Will I have access to the instructor to ask questions during the photo course?
Absolutely! Students can ask questions in the special Q&A forum set up in the course's Campus Square, or can ask the instructor via email.
Do you offer a money back guarantee?
Yes. We are confident that you will fully enjoy our courses. All the same, for our 8-week classes, we offer a 100% money-back guarantee before the Wednesday that Lesson #3 is sent out. If for any reason, you are not satisfied and let us know that you would like to withdraw before the Wednesday that Lesson #3 is sent, you will be promptly refunded.
For our 4-week courses, we offer a 100% money back guarantee before the Wednesday that Lesson #2 is sent out from BetterPhoto. If for any reason you are not satisfied and you let the ordering department know that you would like to withdraw before the Wednesday that Lesson #2 is sent, you will be refunded within 7 days. After the second lesson has been sent out, no refunds will be given.
Still have questions about this course?
Ask Us
Take the Next Step..
You can Get Started Today! The price is
$198.00
USD. Do this to start the class right away.
Add to Cart
today to get going in the class.
Add to Wishlist
---
Satisfaction Guaranteed!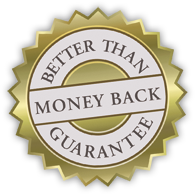 Better Than Money Back Guarantee
We Guarantee our courses.
100%, No Risk, No Hassle.
See you in class!