Get pro feedback on your photos in...
Digital Wedding Photography
Become a better photographer today!
In this online course, photographer and author Paul F. Gero will teach you how to capture great moments in the challenging and enjoyable world of wedding photography - every time! You will learn the tools and techniques to help you make great photographs of the bride, the groom, and the entire wedding event. You will also learn how to share and present images to your clients after the shoot in ways that are fun and innovative.
Note:
It's not necessary to attend a wedding to complete the assignments for this course. You can learn the principles of photographing brides, grooms, wedding parties, wedding receptions, and the ceremony before photographing an actual wedding.
Key Features
Camera overview for Wedding Photography
Planning the Wedding Coverage
Capturing Moments
Using Flash
Portraiture
Editing - Tools and the psychology of editing.
Post-Production
Presenting Your Work

Serious Hobby to Intermediate.
Learn the tools and the things to look for when documenting a wedding.
Create fun and fast portraits to accompany your documentary photos.
Learn how to share those images with you family, friends and clients.
$396.00 USD
What You Get
Benefits:
You get direct feedback on your photos from world-acclaimed, professional photographers. You can learn photography in this way from anywhere in the world.

Learn at your pace, with structure.

Be guided by a real pro instructor.

Get your photos critiqued every week.

Join students from around the world.

Go far beyond any book or DVD.

Make great pictures, again and again!
Instructor
Paul F. Gero
Documentary wedding and portrait photographer Paul F. Gero shares his secrets about capturing great moments and working simply and quickly with on camera flash and photographing weddings and portraits.
Gero spent nearly twenty years in daily journalism shooting literally thousands of assignments ranging from Presidents to paupers, and everything from documentary essays, to lit portraits to dynamic action photographs.
He was on staff at The Chicago Tribune (both in Chicago and in their Washington, DC bureau) as well as on staff at The Arizona Republic in Phoenix.
His work has been published around the globe including publications such as Time, People, US News and World Report and Sports Illustrated magazines.
Those wide-ranging skills acquired over more than two decades of work have become distilled into his unique approach to wedding photography that values the beauty of natural moments, simple and effective portraiture on the day and the use of on camera flash to create light that looks natural and inviting.
Please join us for his engaging and highly personal teaching style, useful and instructive photo exercises and his perceptive critiques that help students grow their skills in capturing natural moments and utilizing flash.
Be prepared to see the wedding and portrait world in an entirely new manner after taking his classes. Paulís very popular book, Digital Wedding Photography, was published in 2005 by Course PTR and available on Amazon.com.
Sample Photos by the Instructor
| | |
| --- | --- |
| © Paul Gero | © Paul Gero |
Examples of Student Photos
View photos by previous students. You can make pictures like this too!


| | |
| --- | --- |
| © Steve Nudson | © Steve Nudson |
Course Outline
Lesson 1: Camera overview for Wedding Photography
Raw vs. jpeg, film, storage strategies, exposure, digital camera basics, lens choices.
Assignment: Making fast-and-furious portraits.

Lesson 2: Planning the Wedding Coverage
Preparation and ceremony, portraits, background session, reception.
Assignment: Shooting a party.

Lesson 3: Capturing Moments
What to look for, lenses to consider, and using all aspects of the frame to capture great moments photographs.
Assignment: Capturing great moments.

Lesson 4: Using Flash
Using battery powered flash units, getting the flash off-camera, making great light with minimal tools.
Assignment: Getting the most out of your flash.

Lesson 5: Portraiture
Keys to making great group shots and great bride and groom portraits.
Assignment: Shooting a group photo.

Lesson 6: Editing
Selecting images to take, and then selecting images to keep and show your clients. Editing tools, and the psychology of editing.
Assignment: Editing your work.

Lesson 7: Post-Production
Photoshop tips and tricks for making your work stand out. Converting to black and white, sepia as well as split toning images, borders, drop shadows.
Assignment: Photoshop techniques geared to the wedding shooter.

Lesson 8: Presenting Your Work
Slideshows, Web sites and galleries, album designing.
Assignment: Envisioning your business.

Review: Voting on Best Work
| | |
| --- | --- |
| © Paul Gero | © Paul Gero |
Requirements
Digital or film-based camera
Adobe Photoshop CS or CS2 is recommended, but other image processors (including Elements) will work too. Familiarity with your program is a definite plus.
Lenses in the 16-35mm and 70-200mm range (not necessarily these particular lenses - prime lenses that fall within these ranges would also be recommended). A 50mm (normal lens) is also useful.
A working knowledge of your camera's functions as well as working knowledge of your computer. The ability to download images from your cf card or camera is important.
FAQ
I have never shot a wedding, but am interested in doing that. Can I still take this class?
Sure! Even though it helps to have shot some weddings leading up to this class, it's not an absolute requirement. In fact, it's not necessary to attend or shoot a wedding to complete the assignments for this course. We will have lessons that will simulate some critical aspects of wedding coverage, and those can be done in your home.
Will I be able to cover a wedding at the end of this class?
That is the goal. Like anything, you get better at covering weddings by covering weddings and this class will give you some of the basic skills that I think are imperative for a documentary wedding photographer to possess.
What kind of equipment do I need?
A digital SLR is ideal. A film camera will work fine, as well, and I suggest that you have the film scanned at the time of processing (I suggest a minimum size of the scans to be 1800 pixels wide - this will allow for images up to 6 x 9 size). I am a big fan of fast prime lenses, though one can definitely do this work with zoom lenses. I also recommend using the fastest zoom lenses possible (f 2.8 recommended but not required). Faster lenses allow you to shoot in low light with lower ISO ratings) in the 16-35mm, 24-70mm, and 70-200mm range. If using prime lenses, I recommend the 35mm 1.4, 50mm 1.4 and 85mm f1.8 or 100mm f2 lenses. I also recommend a TTL flash, such as the Canon 550 EX or Canon 580 EX flash unit.
What types of computer skills are required?
You will need to have a handle on digital aspects such as downloading compact flash cards, archiving to internal and external hard drives and using editing software such as PhotoMechanic by camerabits or iView Media Pro. Knowledge of Photoshop and using CS2's Adobe Camera Raw is helpful. (Note: Adobe Photoshop CS or CS2 is recommended, but other image processors - including Elements - will work too. Again, familiarity with your program is a definite plus.) Color correction skills are important if one is creating images for resale and albums.
| | |
| --- | --- |
| © Paul Gero | © Paul Gero |
Do I have to be online at any specific time?
No, you do not need to be online at any specific time. The lessons are sent to your email and you are also provided the Campus Square - where you interact with your classmates and instructor. This is also where you upload your photos to be critiqued by your instructor. The instructors are very punctual and respond quickly.
Will I have access to the instructor to ask questions during the photo course?
Absolutely! Students can ask questions in the special Q&A forum set up in the course's Campus Square, or can ask the instructor via email.
Do you offer a money back guarantee?
Yes. We are confident that you will fully enjoy our courses. All the same, for our 8-week classes, we offer a 100% money-back guarantee before the Wednesday that Lesson #3 is sent out. If for any reason, you are not satisfied and let us know that you would like to withdraw before the Wednesday that Lesson #3 is sent, you will be promptly refunded.
For our 4-week courses, we offer a 100% money back guarantee before the Wednesday that Lesson #2 is sent out from BetterPhoto. If for any reason you are not satisfied and you let the ordering department know that you would like to withdraw before the Wednesday that Lesson #2 is sent, you will be refunded within 7 days. After the second lesson has been sent out, no refunds will be given.
Still have questions about this course?
Ask Us
Take the Next Step..
You can Get Started Today! The price is
$396.00
USD. Do this to start the class right away.
Add to Cart
today to get going in the class.
Add to Wishlist
---
Satisfaction Guaranteed!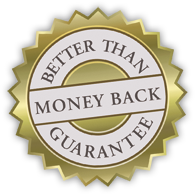 Better Than Money Back Guarantee
We Guarantee our courses.
100%, No Risk, No Hassle.
See you in class!