Get pro feedback on your photos in...
Creative Light and Composition
Become a better photographer today!
Go beyond snapshots and use professional field techniques to capture dynamic images of the great outdoors - winter, spring, summer, or fall. Team up with author / photographer Kerry Drager for this fun 8-week online photo course. Kerry shows you how to make the best photos by paying attention to light, composition, lens choice, developing your vision, and more. Whether you find yourself on the beach, in the snow, photographing mountains, trees, flowers, or any other outdoor scene, you'll benefit greatly from Kerry's lessons and constructive, helpful critiques.
Key Features
Expanding Your Vision

Beautiful Light

Composition - Simplifying Scenes & Placing Subjects

Dynamic Viewpoints: Wide Vs. Telephoto

Depth of Field - A Compositional Choice

Dynamic Light: Silhouettes & Shadows

The Sky: How Much or How Little?

Photographic Storytelling - Putting It All Together

Outdoor field techniques
Creative use of composition and natural light
Learn to shoot dynamic images
$396.00 USD
What You Get
Benefits:
You get direct feedback on your photos from world-acclaimed, professional photographers. You can learn photography in this way from anywhere in the world.

Learn at your pace, with structure.

Be guided by a real pro instructor.

Get your photos critiqued every week.

Join students from around the world.

Go far beyond any book or DVD.

Make great pictures, again and again!
Instructor
Kerry Drager
The content manager and course advisor for BetterPhoto.com, Kerry Drager is also the co-author of two books:
The BetterPhoto Guide to Creative Digital Photography
(2011) and
The BetterPhoto Guide to Photographing Light
(2012). In addition, he teaches photography online at BetterPhoto's digital photography school.
Be sure to check out Kerry's Pro BetterPholio website - www.kerrydrager.com.
Also, he is the author of Scenic Photography 101, the photographer of the photo-essay books The Golden Dream: California from Gold Rush to Statehood and California Desert , a contributor to the books BetterPhoto Basics and Daybreak 2000, and a co-photographer of Portrait of California. In addition, Kerry was profiled in the April 1994 issue of Outdoor Photographer magazine and in Vik Orenstein's 2010 book The Photographer's Market Guide to Building Your Photography Business, and his website was showcased in the January 2003 issue of Shutterbug magazine. Plus, his work has appeared in magazines, Hallmark cards and Sierra Club calendars, and in advertising campaigns for American Express and Sinar Bron Imaging.
Also see his Visual Creativity photography blog, and follow Kerry on Facebook.
Kerry lives with his wife, Mary, on California's Central Coast, with their three Newfoundland dogs, four cats, and a mixed terrier.
Sample Photos by the Instructor
| | |
| --- | --- |
| © Kerry Drager | © Kerry Drager |
Examples of Student Photos
View photos by previous students. You can make pictures like this too!


| | |
| --- | --- |
| © Davy Davis | © Davy Davis |
Course Outline
Lesson 1: Expanding Your Vision
Tips and techniques for breaking out of an artistic rut. Getting out & doing it (around home & around town). Quality vs. quantity. Expecting the unexpected. Exploring subjects in-depth. Using a tripod to expand your technical/creative horizons. Bonus Lesson: Tripods!
Assignment: "Working" a subject in your local environment
Lesson 2: Beautiful Light
Use natural light to inject drama, enhance tones, and create mood in your outdoor photos. Warm light of early and late day. Twilight time. Overcast (white sky) beauty. Mood of fog. Drama of weather's edge. Bonus Lesson: Polarizing Filters!
Assignment: Capturing beautiful light
Lesson 3: Composition - Simplifying Scenes & Placing Subjects
Identifying your subject, simplifying the scene, and making use of the "rule of thirds" principle for subject placement. Working with graphic-design elements, in which line, repetition, or pattern serve as the picture's "subject". A worthy goal: For the best image quality, the goal should be careful composing in the viewfinder, as opposed to "fixing" it later.
Assignment: Working with composition
Lesson 4: Dynamic Viewpoints: Wide Vs. Telephoto
Finding fresh viewpoints with both wide-angle and telephoto. Breaking the "rules." Taking advantage of lens perspective - i.e., telephoto (for isolating a subject or compressing space) and wide-angle (for story-telling ability and 3- dimensional effect).
Assignment: Shooting with telephoto and wide-angle
Lesson 5: Depth of Field - A Compositional Choice
What depth of field is and how to control it. Most importantly: Using depth of field to your creative advantage. Analyzing scenes and subjects. Deep DOF (sharpness from front to back) vs. selective focus (isolating a subject against a blurred background).
Assignment: Shooting scenes that emphasize depth of field
Lesson 6: Dynamic Light: Silhouettes & Shadows
Create drama with light-vs.-dark showstoppers and eye-popping color! How to shoot eye-catching silhouettes and shadow shots, and colorful sunsets and sunrises. Design tips. Exposure issues.
Assignment: Shooting shadows and silhouettes (or "rainy-day" option)
Lesson 7: The Sky: How Much or How Little?
"Rule of Thirds" for horizon placement. Working with lighting contrast (sunsets & sunrises; shadowed land vs. bright sky). Keeping horizons straight. Positioning distant shorelines. Deciding when no horizon line is best (white-sky day). Breaking the rules - i.e., splitting a lake reflection scene in two or slanting a horizon line for creative effect.
Assignment: Shooting scenes with different horizon-line placements
Lesson 8: Photographic Storytelling - Putting It All Together
Choosing a good subject with lots of visual options (i.e., lighting and compositional variety). Using the cinematographer's approach to tell your photographic story: i.e., overall setting-the-scene shot; middle views; and finally, detail shots.
Assignment: Using the various field techniques to produce a photo essay!
Review: Voting on Best Work

| | |
| --- | --- |
| © Kerry Drager | © Kerry Drager |
Requirements
Digital camera with the ability to control exposure settings.
Knowledge of aperture, shutter speed, and ISO.
Zoom or other lenses that cover wide-angle to telephoto.
A tripod, and the willingness to use it!
Polarizing filter recommended, but not required.
FAQ
Is this course intended only for serious hobbyists (skill level 3)?
This course is open to any advanced beginners through intermediates who have a working knowledge of f/stops and shutter speeds and who wish to explore the realm of composition and natural light.
What kind of equipment will I need to complete the photo assignments?
Any digital or film camera that allows for creative adjustments - i.e., the ability to control shutter speed and aperture - will do. This course doesn't require an arsenal of lenses, but you will need either a wide-to-tele zoom lens - or a few fixed focal-length lenses that cover from wide to telephoto. A tripod is strongly recommended.
What about flash photography?
This course focuses on natural, non-flash outdoor light - plus window or available natural light indoors. Fill flash is OK, just so long as the dominate light is natural.
Can we use photo imaging software on our weekly submissions?
Yes, but only if the software is used as a corrective tool. Don't lean on it for creativity. For example, you can:
- Lighten or darken an image that is over- or under-exposed.
- Beef up the color of a digital or scanned image.
- Use a software filter such as the Unsharp Mask to correct for softness that happens during the uploading process.
- Remove any image flaws - specs from the sensor, dust from scanning, etc.
- Use one of the PS methods that duplicates a camera filter - i.e., shooting two different exposures of the exact same high-lighting-contrast scene and putting them together in Photoshop (a technique that mimics the graduated neutral-density filter).
But please DO NOT use it for things such as adding motion effects, creating soft backgrounds, or cleaning up or eliminating large distractions, such as trees or telephone poles. And, please, no major cropping.
Is black-and-white OK?
Yes. I definitely appreciate the world of blacks, whites, and shades of gray. And the "yes" applies to either b&w film or b&w conversion in Photoshop. Also, sepia tone is acceptable for this class too. However, something to keep in mind: I specialize in color photography, so there is naturally many references to color throughout the course - i.e., lessons, discussions, etc.
| | |
| --- | --- |
| © Kerry Drager | © Kerry Drager |
Do I have to be online at any specific time?
No, you do not need to be online at any specific time. The lessons are sent to your email and you are also provided the Campus Square - where you interact with your classmates and instructor. This is also where you upload your photos to be critiqued by your instructor. The instructors are very punctual and respond quickly.
Will I have access to the instructor to ask questions during the photo course?
Absolutely! Students can ask questions in the special Q&A forum set up in the course's Campus Square, or can ask the instructor via email.
Do you offer a money back guarantee?
Yes. We are confident that you will fully enjoy our courses. All the same, for our 8-week classes, we offer a 100% money-back guarantee before the Wednesday that Lesson #3 is sent out. If for any reason, you are not satisfied and let us know that you would like to withdraw before the Wednesday that Lesson #3 is sent, you will be promptly refunded.
For our 4-week courses, we offer a 100% money back guarantee before the Wednesday that Lesson #2 is sent out from BetterPhoto. If for any reason you are not satisfied and you let the ordering department know that you would like to withdraw before the Wednesday that Lesson #2 is sent, you will be refunded within 7 days. After the second lesson has been sent out, no refunds will be given.
Still have questions about this course?
Ask Us
Take the Next Step..
You can Get Started Today! The price is
$396.00
USD. Do this to start the class right away.
Add to Cart
today to get going in the class.
Add to Wishlist
---
Satisfaction Guaranteed!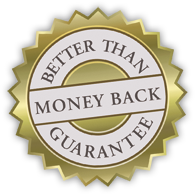 Better Than Money Back Guarantee
We Guarantee our courses.
100%, No Risk, No Hassle.
See you in class!