Get pro feedback on your photos in...
Introduction to Product Photography
Become a better photographer today!
Learn to make photographs that will help you sell the product - whether for eBay or for a business. In this exciting 4-week online course, instructor and professional photographer John Siskin draws on more than 15 years of experience in teaching professional lighting.
Key Features
Getting the Tools
Tabletop Set-up
Controlling Shadows and Reflections
Shooting Large Objects

Shooting products.
In-studio (or home) and on-location.
Buying tools for your applications.
Using umbrellas, light panels, tents and soft boxes.
Techniques for businesses and photographers.

$198.00 USD
What You Get
Benefits:
You get direct feedback on your photos from world-acclaimed, professional photographers. You can learn photography in this way from anywhere in the world.

Learn at your pace, with structure.

Be guided by a real pro instructor.

Get your photos critiqued every week.

Join students from around the world.

Go far beyond any book or DVD.

Make great pictures, again and again!
Instructor
John H. Siskin
John Siskin is a commercial and fine art photographer who makes architectural, portrait and macro images. He has worked for General Motors and Disney Studios. He teaches the BetterPhoto course
An Introduction to Photographic Lighting
and is the author of the book
Understanding and Controlling Strobe Lighting: A Guide for Digital Photographers
.
In addition, he teaches studio lighting black and white photography at Los Angeles Mission College. His studio is in Reseda California and more of his work can be seen at www.siskinphoto.com
His work has been part of many exhibits. His photographs have been shown at the Brand Library, 2nd City Art Gallery, Harold's Gallery, Farmani Gallery, and The Atelier. He has been a participant in the Valley Studio Tour several times.
John has published quite a number of technical articles about photography. His articles have appeared in Photo Techniques, View Camera, Studio Photography and others. He has written about photographic lighting, building lenses, framing, photographic lab work, building cameras, as well as some more speculative photographic subjects. Since he is so well versed in photographic subjects, he is often hired as a consultant by businesses.
Sample Photos by the Instructor
| | |
| --- | --- |
| © John Siskin | © John Siskin |
Course Outline
Lesson 1: Getting the Tools
We will examine the kinds of cameras, lights, tables and other tools needed to do product photography. We will discuss the differences between hot lights and strobes. Students will be encouraged to discuss their goals for product photography on the Q&A page.
Assignment: Upload two shots that represents the kind of work you are currently doing with a camera, this does not have to be a product shot.
Lesson 2: Tabletop Set-up
How to use diffusers and how to balance light on a product. Evaluating the shot. How to shoot in Raw, and preparing the image for the web or e-mail.
Assignment: Hopefully, you will have enough equipment to do a tabletop shot. If you do not have quality lights,you can use clamp lights for this assignment. Shoot two cereal boxes, individually and as a group. Be sure to concentrate on showing shape.
Lesson 3: Controlling Shadows and Reflections
How to use tents and the light table to shoot with out shadows and to control reflection from shiny objects. How to set-up a small studio.
Assignment: Shoot a shiny metal object with your lights with and without diffusers, play with this long enough to get a feel for how the tools work. Upload a sample of each with a shot showing how you did the set-up.
Lesson 4: Shooting Large Objects
How to make furniture and machines look good. How to set up a temporary studio on location. How to take your gear on location.
Assignment: Shoot a large product - even an oversized box would be okay. Shoot at least 2 angles and shoot your set-up.
| | |
| --- | --- |
| © John Siskin | © John Siskin |
Requirements
Image editing software and some experience using it.
Digital camera ... optimally, one with a PC socket, Raw capture and Manual exposure.
Basic knowlege of how your camera operates would be helpful.
FAQ
Do I need professional lights to take this course?
No, but you should be prepared to get them during the class. That will give you an opportunity to try them out during the class. The first lesson will help you choose equipment. I will discuss both strobe and hot light equipment to help you choose the right light for your applications.
I was looking at used lighting equipment. Will the class discuss what is available on the used market?
Absolutely! Because of the volume of equipment necessary to do some sorts of product lighting well, the used market is often the only practical way to outfit yourself. The class will discuss what is practical and what might be a bad deal.
I am primarily interested in lighting jewelry. Will we spend time on that?
Yes, but since this is an introductory level class, we will not be able to discuss all aspects of this difficult specialty.
I am shooting a company catalog of auto parts. Will this class help?
| | |
| --- | --- |
| | I sure hope so. Much of what we do will be focused on the in-house studio for business. I have helped several companies set up these sorts of studios. |
Will this course help my pictures look better on eBay?
Absolutely!
Will we need to buy lights in the first week of class?
No, but it wouldn't hurt.
Are there really digital lights?
Well, some of the manufacturers are not exactly truthful, so no. There are some differences in using digital with strobes: most digital cameras are small capture areas, consequently they exhibit good depth-of field at fairly wide apertures, meaning you need less power. Digital does, however, show up relatively small differences in the color of lights, so we have to be careful to maintain the same color from each light.
Will we be able to develop our own equipment list, or will we be buying what the instructor thinks is best?
Each student will be helped to develop his or her own goals for lights, and from that list, the student's own equipment list. I will give a list to help you cut through the jungle of equipment choice out there, but it is just a suggestion.
| | |
| --- | --- |
| © John Siskin | © John Siskin |
Do I have to be online at any specific time?
No, you do not need to be online at any specific time. The lessons are sent to your email and you are also provided the Campus Square - where you interact with your classmates and instructor. This is also where you upload your photos to be critiqued by your instructor. The instructors are very punctual and respond quickly.
Will I have access to the instructor to ask questions during the photo course?
Absolutely! Students can ask questions in the special Q&A forum set up in the course's Campus Square, or can ask the instructor via email.
Do you offer a money back guarantee?
Yes. We are confident that you will fully enjoy our courses. All the same, for our 8-week classes, we offer a 100% money-back guarantee before the Wednesday that Lesson #3 is sent out. If for any reason, you are not satisfied and let us know that you would like to withdraw before the Wednesday that Lesson #3 is sent, you will be promptly refunded.
For our 4-week courses, we offer a 100% money back guarantee before the Wednesday that Lesson #2 is sent out from BetterPhoto. If for any reason you are not satisfied and you let the ordering department know that you would like to withdraw before the Wednesday that Lesson #2 is sent, you will be refunded within 7 days. After the second lesson has been sent out, no refunds will be given.
Still have questions about this course?
Ask Us
Take the Next Step..
You can Get Started Today! The price is
$198.00
USD. Do this to start the class right away.
Add to Cart
today to get going in the class.
Add to Wishlist
---
Satisfaction Guaranteed!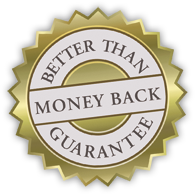 Better Than Money Back Guarantee
We Guarantee our courses.
100%, No Risk, No Hassle.
See you in class!