Get pro feedback on your photos in...
Better to Best Color in Digital Photography
Become a better photographer today!
Learn how to get great color with your digital images, while optimizing your shooting and Photoshop technique. Besides his work as magazine editor, book author, and professional photographer, instructor Rob Sheppard writes a popular column, "Digital Horizons," for
Outdoor Photographer
magazine and is an experienced workshop instructor.
Key Features
Understand Color for Better Photography
Levels in Photoshop for Better Color
Controlling Midtones in Photoshop for Better Color
Exposure for Better Color
Light for Better Color
The Best Way to Use Hue/Saturation
Using Camera Raw to Get Optimum Color
Color in the Print

Get better color from your digital photos.
Learn to explore exciting new photographic possibilities.
Guidance from an experienced digital photographer, editor, and writer.
Course designed for any recent version of Photoshop or Elements.
$396.00 USD
What You Get
Benefits:
You get direct feedback on your photos from world-acclaimed, professional photographers. You can learn photography in this way from anywhere in the world.

Learn at your pace, with structure.

Be guided by a real pro instructor.

Get your photos critiqued every week.

Join students from around the world.

Go far beyond any book or DVD.

Make great pictures, again and again!
Instructor
Rob Sheppard
Rob Sheppard has had a long-time and nationally recognized commitment to helping photographers become better photographers, regardless of the equipment and technology. He was the editor of
Outdoor Photographer
magazine for 12 years and was the original editor of
PCPhoto
(now
Digital Photo
). Now he is editor-at-large.
He is also the author/photographer of over thirty photo books, including The Magic of Digital Landscape Photography, The National Geographic Field Guide to Photography - Digital, and Adobe® Photoshop Lightroom for Digital Photographers Only. He writes regularly for Outdoor Photographer and teaches around the country, including workshops for the Palm Beach Photographic Centre and the Light Photographic Workshops. His Web site for workshops, books and photo tips is at www.robshepppardphoto.com, and his blog on nature and photography is at www.natureandphotography.com.
As a photographer, Rob worked for many years in Minnesota (before moving to Los Angeles), including doing work for the Minnesota Department of Transportation, Norwest Banks (now Wells Fargo), Pillsbury, 3M, General Mills, Lutheran Brotherhood, Ciba-Geigy, Anderson Windows, and others. His photography has been published in many magazines, ranging from National Geographic to The Farmer to, of course, Outdoor Photographer and PCPhoto.
He and his wife, Vicky (married 30+ years), live in the Los Angeles area. They have a son working on his Ph.D. in youth sports and education, and a daughter studying communications/journalism.
Also see Rob's Nature and Photography blog.
Sample Photos by the Instructor
| | |
| --- | --- |
| © Rob Sheppard | © Rob Sheppard |
Examples of Student Photos
View photos by previous students. You can make pictures like this too!


| | |
| --- | --- |
| © Roxie Guilhamet | © Roxie Guilhamet |
Course Outline
Lesson 1: Understand Color for Better Photography
How do we react to color and how can that knowledge be used to get better color right from the start? Learn to recognize and use color in dramatic ways. Discover ways you can quickly kick up your color work a notch by seeing what color is really doing to your subject and surroundings.


Lesson 2: Levels in Photoshop for Better Color
Consistently, Rob Sheppard finds that digital photographers (from pro contributors to the magazines to photo enthusiasts at workshops) are starting their color work on a weak footing because blacks and whites are not set properly in the image. Levels is not just for controlling contrast and brightness. You'll learn how to get the most from Levels in Photoshop so colors look good.


Lesson 3: Controlling Midtones in Photoshop for Better Color
Midtones have a huge effect on color. If they aren't set properly, any other adjustment is just a band-aid approach to fix the image. Learn how midtones will get your photos on the path to best color.


Lesson 4: Exposure for Better Color
Back to field work in this lesson. Levels and midtones are so important that they needed to be covered in the first lessons. Now its time to get the best exposure possible so levels and midtones have the right color information to work with. Exposure has a big effect on color and you'll learn how to best control it here.


Lesson 5: Light for Better Color
Obviously, light is key to any photography. However, light also strongly affects what you can and can't do with color in your photos. Learn to see the effect of light on color and how you can work with light to get improved color results.


Lesson 6: The Best Way to Use Hue/Saturation
Photoshop's Hue/Saturation is a greatly over-used tool in Photoshop. Yet when used right, it offers a lot of power to get really superior color in your photos. You'll learn to master it here.


Lesson 7: Using Camera Raw to Get Optimum Color
Raw images offer increased control over the digital image and Camera Raw is a great tool for optimizing color. You'll learn how to use Camera Raw adjustments deliberately to gain the best color possible from a Raw file.


Lesson 8: Color in the Print
If you do all the things in the earlier lessons, you will gain a great deal of control over your image's color. But what about the print? How can you keep control over you color when you go to print to make that print reflect all the color work you've done so far?


Review: Voting on Best Work
| | |
| --- | --- |
| © Rob Sheppard | © Rob Sheppard |
Requirements
Digital or film camera, although lessons are mostly geared to digital camera users. Camera must allow you to control aperture and shutter speed, and use a variety of focal lengths (i.e., zoom lens or multiple lenses).
Any recent version of Photoshop or Elements.
Some familiarity with Photoshop is important, but you needn't be a Photoshop expert.
FAQ
Is this course intended for beginning, intermediate, or advanced photographers?
This class is intended for everyone from the "serious hobbyist" to the advanced amateur or aspiring pro. It is for anyone who has been shooting for a while and wants better color from their digital photos. You do need to know a little about Photoshop, but the emphasis is on making you a better color worker, not a Photoshop pro.
Do I need to have a digital camera?
That's helpful, but not a necessity. However, the lessons will be oriented toward digital camera users.
But if you are shooting with film, you need a way to digitize your images. You can use your own scanner to do this, or you might try using a scanning service at your local photo lab or copy shop.


Do I need to have to be an expert Photoshop user?
Not at all. Some familiarity with the program is important. You need to know where the tools are, and it helps to know a little about layers. I know this class will have a range of experience with Photoshop, and that's okay. The class can be a time to expand your Photoshop skills as you learn more about color, or it may be perfect for seeing how you can refine your Photoshop skills as oriented specifically to color.
In your estimation, how much time will I need to spend each week?
That is totally up to you. Some people spend about a couple of hours a week. Others really get into it and spend about an hour a day or even more. Anywhere within that range is fine by me. You will discover that as you go through the lessons that you will become more aware of colors around you. You'll start taking pictures in your head as you go on errands, go to and from work, sit in your church pew, and so on!
Does my digital camera need to be expensive - a professional model?
No, as long as your camera allows you to control aperture and shutter speed and use a variety of focal lengths - those are important things. A digital SLR is ideal. However, an advanced compact digital camera would also work fine. But without the creative options of exposure control, plus a range of focal lengths, you will likely find the camera insufficient for this course.
Do I need anything else?
Yes. A tripod. Sure, you can do every lesson in this class without one, but part of the joy of color photography is when colors really snap and pop in the photo. A tripod is often necessary to achieve that. We will also cover topics and do assignments that would require the following. While you do not need all of these functions and tools, the more you have will have a direct relationship on how much you enjoy the class:
LCD monitor.
The ability to shoot in JPEG and Raw.
The ability to lock your exposure as well as your focus.
Exposure compensation.
The ability to view a histogram in your LCD monitor.
At least one zoom lens.
The ability to control white balance settings.
A macro mode or macro lens.
Remember, you do not need all of these items... a few would be enough. But the more, the merrier.
| | |
| --- | --- |
| © Rob Sheppard | © Rob Sheppard |
Do I have to be online at any specific time?
No, you do not need to be online at any specific time. The lessons are sent to your email and you are also provided the Campus Square - where you interact with your classmates and instructor. This is also where you upload your photos to be critiqued by your instructor. The instructors are very punctual and respond quickly.
Will I have access to the instructor to ask questions during the photo course?
Absolutely! Students can ask questions in the special Q&A forum set up in the course's Campus Square, or can ask the instructor via email.
Do you offer a money back guarantee?
Yes. We are confident that you will fully enjoy our courses. All the same, for our 8-week classes, we offer a 100% money-back guarantee before the Wednesday that Lesson #3 is sent out. If for any reason, you are not satisfied and let us know that you would like to withdraw before the Wednesday that Lesson #3 is sent, you will be promptly refunded.
For our 4-week courses, we offer a 100% money back guarantee before the Wednesday that Lesson #2 is sent out from BetterPhoto. If for any reason you are not satisfied and you let the ordering department know that you would like to withdraw before the Wednesday that Lesson #2 is sent, you will be refunded within 7 days. After the second lesson has been sent out, no refunds will be given.
Still have questions about this course?
Ask Us
Take the Next Step..
You can Get Started Today! The price is
$396.00
USD. Do this to start the class right away.
Add to Cart
today to get going in the class.
Add to Wishlist
---
Satisfaction Guaranteed!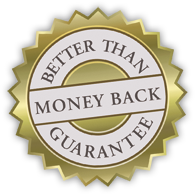 Better Than Money Back Guarantee
We Guarantee our courses.
100%, No Risk, No Hassle.
See you in class!