Get pro feedback on your photos in...
Advanced Adobe Photoshop Elements
Become a better photographer today!
Would you like to make your own Christmas cards or greeting cards, photo albums, or simply outstanding photos? Learn advanced techniques for one of the best software programs in the business: Adobe Photoshop Elements. This excellent course, taught by instructor and master photographer-author Robin Nichols, will teach you how to add text to photos, understand selections and layers, make custom album pages and produce sharper photos. Whether you're interested in making Xmas cards, layouts for Valentine's Day, Easter, birthdays, or other special occasions, or just creating a great-looking photo gallery, this is the course for you.
Key Features
An introduction to the creative potential of Photoshop Elements
Working with Text
Understanding Selections
All About Layers
Adjustment Layers and Masks
Creative Blend Modes and Processing RAW Files
Custom Album Pages and Making Sharper Shots
Photo Galleries and Online Services


How to get the best from the techniques described, regardless of the version or platform used. This course covers Mac and PC, Windows XP and Vista, OSX and Elements versions 4.0 to 6.0.
An introduction to the creative potential of Photoshop Elements.
Working with text.
Understanding Selections, Layers, and Basic Masks.
Blend modes and Raw file processing.
All about making custom album pages and producing sharper shots.
Create an awesome-looking photo gallery, learn about uploading via FTP to the Internet and Adobe's many online services.
$396.00 USD
What You Get
Benefits:
You get direct feedback on your photos from world-acclaimed, professional photographers. You can learn photography in this way from anywhere in the world.

Learn at your pace, with structure.

Be guided by a real pro instructor.

Get your photos critiqued every week.

Join students from around the world.

Go far beyond any book or DVD.

Make great pictures, again and again!
Instructor
Robin Nichols
Like many other instructors at BetterPhoto.com, I'm in the envious position of combining one of my life's passions, photography, with my job, photography and publishing. And, although I'm normally in front of the computer way too much for my liking these days, it remains one of the best jobs in the world.
Originally from the UK, I've spent the past 20 years living in Sydney, Australia, working initially as a rostrum cameraman in the audio-visual business, then as freelance photographer. More recently, I've worked (struggled) as a freelance writer, then as a full-time magazine editor for eight years. For the past six years, I have run my own small publishing business, Better Digital, producing Australia's largest-selling specialist digital photo publication. (As an interesting side note, Better Digital is not affiliated with BetterPhoto.com - we simply have similar good tastes when it comes to names!)
With the launch of Better Digital, I have passionately pursued the goal of producing clear, well-illustrated publications written in "plain English". I have continued to develop this plain-speaking style in another specialist magazine devoted almost exclusively to Photoshop, called Better Photoshop Techniques. Recently I added Digital Photo ART to the list of publications. This deals more with project-based techniques for the digital enthusiast whose interests, those with a crafty bent wanting to do something more with their shots.
I have also written several books, including www.imaging, efficient photo preparation for the world wide web (Watson Guptill, ISBN: 0-8230-5855-7), co-written with Philip Andrews, Paint Shop Pro 8: a guide to creating professional images (Focal Press/Elsevier Press, ISBN: 0-240-51698-2), and recently, Paint Shop Pro 9 for Photographers, co-written with Ken McMahon, (Focal Press/Elsevier Press, ISBN: 0-240-51981-7).
When I'm not out shooting, travelling, or writing for one of my publications, I teach digital photography! In fact, there's nothing I like better than showing newcomers how to fine-tune their shooting skills and how to get the best from their gear. The beauty of digital photography, of course, is that students can appreciate their efforts almost immediately, a fact that fuels greater exploration of the craft.
Sample Photos by the Instructor
| | |
| --- | --- |
| © Robin Nichols | © Robin Nichols |
Examples of Student Photos
View photos by previous students. You can make pictures like this too!


| | |
| --- | --- |
| © Margaret Hyslop | © Margaret Hyslop |
Course Outline
Lesson 1: Introduction to Creative Potential of Photoshop Elements
Because this is an advanced class, we are going to dive right in with an exercise for creating an 'artistic' canvas effect using the brush settings and the Pattern Stamp tool.
Assignment: Shoot a group of close-up shots of household objects: maybe a set of spoons, glasses, food grater. Submit the Before shots, and the same ones after they've been "fixed up".
Lesson 2: Working with Text
Text is a feature that many students want to include in their picture-making. In this lesson we look at how to add text to a blank document, and then to a photo. Learn the finer points of creating good, legible text, how to work with text boxes, about fonts, and alignment and how to 'lift' the text off the page using pre-set layer styles as well as making your own custom layer styles.
Assignment: Make your own business card and letterhead including text, different fonts, styles and layer styles. Use your own images if you'd like to add a visual element.
Lesson 3: Understanding Selections
In this overview, we look at the selection tools available in Elements; what sort of images they might be used for, plus tips on how to get the best from each. Learn how to identify what each selection tool does and how to combine several selection tools into one 'master' selection, how to 'Save' that selection and how to 'reload' it once the document has been closed and re-opened. Understanding the Magic Wand, Geometric Marquee, Lasso tools and Magic Selection brush and the Selection Brush tool, the Magic Eraser and the Background Eraser tools. Discover the practical aspects of using some of these tools when replacing a sky for one that's stronger and how to isolate parts of the picture for special tone correction treatment.
Assignment: Take the test image and, using the Magic Extractor, remove the sky and replace it with either the supplied image, or do it on one of your own!
Lesson 4: All About Layers
Layers is a powerful editing tool that enables us to maintain control over the edit process at all times. We can switch them off and on, depending on requirements. Learn how to view the Layers palette, what all the icons on the palette mean, useful shortcuts, how to duplicate, delete, shuffle layers and more. Discover how to move photos that are on different layers, how to change their perspective, distort them, and more. Plus all about saving layered documents in specific file formats.
Assignment: Shoot images of your choice (but pictures that belong together), and add them one by one to a blank Photoshop document to make a poster.
Lesson 5: Adjustment Layers and Masks
Elements has a number of options for making 'lossless' tone and colour changes to the image through a feature called Adjustment Layers. The good thing about these layers is that they can be used to give us a great deal more control over how we make specific changes to any image. Learn how to combine layers and adjustment layers and use selective erasing and opacity changes to give the ultimate masking control over the final artwork.
Assignment: Send in images that have been adjusted using Adjustment layers and Adjustment Layer masks.
Lesson 6: Creative Blend Modes and Processing RAW Files
A feature that's not always understood, Blend Modes can add power and creativity to your day-to-day picture-making processes. Learn how to use this in combination with photos and text to create some impressive results. Plus; all about RAW files, how to open, process and re-save these files.
Assignment: Create your own blank document and add text and add a layer style to lift it off the page and finally add a Blend Mode change to blend the text into the image.
Lesson 7: Custom Album Pages and Making Sharper Shots
Using our newfound skills and understanding of the layer-making process, we will assemble a base page, decorate it, using vector and bitmap layers, and add pictures to the 'album' pages to make a true custom photo album as well as looking into the creative potential offered by version 5.0 creative themes.
Assignment: Design four pages for your own custom photo album!
Lesson 8: Photo Galleries and Online Services
Photoshop Elements has a number of cool tools that permit us to create an animated Photo Gallery with no previous experience. In this lesson, we look at how to do this, how to make the most of the tool parameters and how best to get this work loaded and uploaded to the Internet and how to use the new online services like creating a calendar, printing greeting cards, digital photo books and even your own postage stamps.
Assignment: Create your own Web Gallery and, following the precise instructions, email it to the instructor!
| | |
| --- | --- |
| © Robin Nichols | © Robin Nichols |
Requirements
Adobe Photoshop Elements 4.0, 5.0 or 6.0 for PC, and version 4.0 for Mac.
A PC or Mac with plenty of RAM (at least 1Gb RAM is essential), and a fast processor (Pentium 4, 2Ghz+ CPU or Dual Core) is recommended.
We cater to users of Windows XP, Vista. and Mac OSX.
FAQ
Is this course intended for beginning, intermediate, or advanced image-makers?
Because this is a direct follow-on from the
Basic Elements course, this is designed for intermediate to advanced level users.
Do I need to own a digital camera?
It's not mandatory but to get the best from this course, you'll need to have access to your own digital files, either from a camera of from scanned prints of film.
If we get stuck, can we talk to the instructor?
Sure, if you'd like to email the instructor personally, you can do this through the course Web site (called Campus Square). The great thing about email is that it crosses time zones easily and is guaranteed to get a response.
What version of Photoshop Elements do I need?
Adobe Photoshop Elements 3.0, 4.0 or 5.0 for PC. PC with plenty of RAM (at least 512Mb RAM) and a fast processor (2Ghz+ CPU is also recommended). Please note that although the Mac version is almost the same as the PC version in its Edit mode, it does not have the Organizer section (this is supposedly covered by Apple's iPhoto software). This shortcoming should not have any impact on this class as all of the assignments are based around the powerhouse Editing mode.
Do I need to do this course if I already have Adobe Photoshop?
Depends. If you find Adobe Photoshop too complex, Elements will do everything else for you! And it is a lot more fun and user-friendly. Sure, you can also use the software that comes with the camera, but none is as good as Adobe Photoshop Elements.
Is Elements a good program?
You betcha! Adobe Photoshop Elements is one of the best photo-editing programs on the market. It's designed to make the job of editing, fixing and creating images easy. In fact, it can do pretty much everything you'd care to think of plus it does a lot of stuff that Photoshop CS doesn't!
What topics do we cover?
In this advanced class, I'd expect all students to at least be familiar with how to fix up their pictures, as we do in the basic lessons. "Advanced" deals mostly with layers: working with layers, using Adjustment Layers and making your own layer masks. Of course there's also a range of cool things to do as well including learning some neat advanced sharpening and retouching techniques, making special effects, text layout options and more…
| | |
| --- | --- |
| © Robin Nichols | © Robin Nichols |
Do I have to be online at any specific time?
No, you do not need to be online at any specific time. The lessons are sent to your email and you are also provided the Campus Square - where you interact with your classmates and instructor. This is also where you upload your photos to be critiqued by your instructor. The instructors are very punctual and respond quickly.
Will I have access to the instructor to ask questions during the photo course?
Absolutely! Students can ask questions in the special Q&A forum set up in the course's Campus Square, or can ask the instructor via email.
Do you offer a money back guarantee?
Yes. We are confident that you will fully enjoy our courses. All the same, for our 8-week classes, we offer a 100% money-back guarantee before the Wednesday that Lesson #3 is sent out. If for any reason, you are not satisfied and let us know that you would like to withdraw before the Wednesday that Lesson #3 is sent, you will be promptly refunded.
For our 4-week courses, we offer a 100% money back guarantee before the Wednesday that Lesson #2 is sent out from BetterPhoto. If for any reason you are not satisfied and you let the ordering department know that you would like to withdraw before the Wednesday that Lesson #2 is sent, you will be refunded within 7 days. After the second lesson has been sent out, no refunds will be given.
Still have questions about this course?
Ask Us
Take the Next Step..
You can Get Started Today! The price is
$396.00
USD. Do this to start the class right away.
Add to Cart
today to get going in the class.
Add to Wishlist
---
Satisfaction Guaranteed!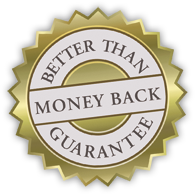 Better Than Money Back Guarantee
We Guarantee our courses.
100%, No Risk, No Hassle.
See you in class!