Get pro feedback on your photos in...
Portrait Photography Using Available Light
Become a better photographer today!
Learn how to capture memorable portraits without sophisticated lighting equipment. In this 4-week online course, portrait photographer Ibarionex R. Perello will show you how to make your subject - and not the camera - the focus of successful portraiture. Capture great images of faces in perfect light, where the eyes come shining through. You'll put what you learn in this class to good use every time you aim to make outstanding pictures of people.
Key Features
Laying the Groundwork - Approaching potential subjects.
Getting Started - Looking for the light.
Refining Your Vision - light and shadow.
The Final Look - environmental portraits.

For serious hobbyists, intermediates, and advanced photographers.
How to take a better portrait.
Seeing and controlling available light.
Mastering your digital camera.
Enhancing a portrait in software.

$198.00 USD
What You Get
Benefits:
You get direct feedback on your photos from world-acclaimed, professional photographers. You can learn photography in this way from anywhere in the world.

Learn at your pace, with structure.

Be guided by a real pro instructor.

Get your photos critiqued every week.

Join students from around the world.

Go far beyond any book or DVD.

Make great pictures, again and again!
Instructor
Ibarionex R. Perello
Ibarionex R. Perello is a writer and photographer who has over 15 years worth of experience in the photographic industry. For six years, he was the associate editor for
Outdoor Photographer, PC Photo,
and
Digital Photo Pro
magazines. He was a technical engineer for Nikon Inc. for 8 years where he provided technical support and training on both film and digital technologies.
Ibarionex also hosts and produces "The Candid Frame", an audio podcast where he interviews the best professional and emerging photographers in the world. The bi-weekly podcast is available by visiting www.thecandidframe.com.
His personal photographic projects include a 5-year documentary project that focused on Broadway in downtown Los Angeles. He is currently producing a series of portraits on established and emerging writers of Southern California.
Sample Photos by the Instructor
| | |
| --- | --- |
| © Ibarionex Perello | © Ibarionex Perello |
Course Outline
Lesson 1: Laying the Groundwork
Approaching a potential subject. Creating a comfortable setting. Getting equipment ready: lens selection. The importance of a tripod and remote release. Exploring the frame.
Assignment: Approach someone you have not photographed before and ask them to sit for you. Create an image with a simple background.
Lesson 2: Getting Started
Looking for the light. Using the histogram for best exposure. Depth of field and selective focus. Interacting with your subject. Importing and prioritizing best images from a shoot.
Assignment: Shoot a series of portraits under different lighting conditions: direct sunlight, window light, open shade, and tungsten bulb.
Lesson 3: Refining Your Vision
Creative use of light and shadow. The use of reflectors to control light and contrast. Pacing yourself and your camera. Using burning and dodging techniques and layers to control the look of the image.
Assignment: Create a series of portraits under high-contrast lighting conditions, using a reflector to control the shape and appearance of the light.
Lesson 4: The Final Look
Shooting the environmental portrait. The importance of confidence. Sharing only the best images with your subject.
Assignment: Shoot an environmental portrait of a subject with an interesting hobby or job. Use an object from their activity as a key element in the portrait.
| | |
| --- | --- |
| © Ibarionex Perello | © Ibarionex Perello |
Requirements
Digital SLR, but a film SLR is acceptable too.
Tripod.
Light reflector.
Intermediate to advanced image-editing software.
FAQ
Is this course intended for beginning, intermediate or advanced photographers?
This class intended for intermediate or advanced photographers who have a good familiarity with an SLR and are comfortable working with image-editing software.
Do I have to have a digital camera?
No, the majority of techniques and suggestions are applicable whether you're using film or digital. However, some of the topics will be specifically targeted for the digital shooter.
How much time will be involved in completing assignments?
You should likely shoot a portrait for each assignment within a hour. Besides image editing, some of your time may be taken up by an arranging for a subject to photograph. Approach several subjects and arrange a specific time for a sitting.
What kind of lens do I need?
You will need a lens that has a focal length range of between 50mm and 135mm. A zoom lens within this range is acceptable - though I recommend investing in an affordable 50mm f/1.8 lens.
What kind of reflector do I need?
There are numerous light reflectors available through any local camera store. These collapsible light modifiers come in varying sizes. I recommended a minimum size of 24 inches to begin with. Otherwise, a white foam-core board will be sufficient.
Do I need a tripod?
For the best results possible, it's highly recommended. But you can apply many of the techniques without one.
| | |
| --- | --- |
| © Ibarionex Perello | © Ibarionex Perello |
Do I have to be online at any specific time?
No, you do not need to be online at any specific time. The lessons are sent to your email and you are also provided the Campus Square - where you interact with your classmates and instructor. This is also where you upload your photos to be critiqued by your instructor. The instructors are very punctual and respond quickly.
Will I have access to the instructor to ask questions during the photo course?
Absolutely! Students can ask questions in the special Q&A forum set up in the course's Campus Square, or can ask the instructor via email.
Do you offer a money back guarantee?
Yes. We are confident that you will fully enjoy our courses. All the same, for our 8-week classes, we offer a 100% money-back guarantee before the Wednesday that Lesson #3 is sent out. If for any reason, you are not satisfied and let us know that you would like to withdraw before the Wednesday that Lesson #3 is sent, you will be promptly refunded.
For our 4-week courses, we offer a 100% money back guarantee before the Wednesday that Lesson #2 is sent out from BetterPhoto. If for any reason you are not satisfied and you let the ordering department know that you would like to withdraw before the Wednesday that Lesson #2 is sent, you will be refunded within 7 days. After the second lesson has been sent out, no refunds will be given.
Still have questions about this course?
Ask Us
Take the Next Step..
You can Get Started Today! The price is
$198.00
USD. Do this to start the class right away.
Add to Cart
today to get going in the class.
Add to Wishlist
---
Satisfaction Guaranteed!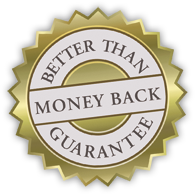 Better Than Money Back Guarantee
We Guarantee our courses.
100%, No Risk, No Hassle.
See you in class!